Take a closer look into the mirror
Imagine Dragons, an American rock band from Las Vegas, Nevada, kickstarted their career in 2012 when they released their freshman album Night Visions. After lead singer Dan Reynolds, guitarist Daniel Wayne Sermon, drummer Daniel Platzman and bassist Ben Mckee formed in 2008, they began with some modest EPs and local performing in nearby cities. The band later signed with Interscope which jump started their career in 2011. Their sophomore album Smoke + Mirrors, released on February 17, now holds a place on the iTunes top 3, charts where it passed Taylor Swift's new album, 1989.
The band went full arena rock after their debut album was released and their song Radioactive became one of the biggest hits of 2013 and drove the band into stardom in  short notice.
In order for a band to achieve the viral term "arena rock," rock music that uses arena venues for concerts or series of concerts linked in tours, they must typically put in years of work to attain the level of this phenomenon. Now, due to "arena rock" being a term to describe the sound characteristics found in today's pop rock, freshman-grade bands have equipped that sound as a way to arise into rock stardom- the Imagine Dragons are a key example of this strategy. Smoke + Mirrors' pop sound flavors with the clap and sing along splendor that intends to rouse thousands of crowds.
Their first song, Shots, leads the album with a friendly jittery-disco rock style. The title suggests party shots, but the lyrics express something different. Starting with an apology "for everything I've done," the song speaks about a bad relationship and Reynolds talks about he "shot shot shot a hole through everything I've done." The band performed this song in Las Vegas and Target teamed up with them for an ad and aired it during the 2015 Grammy Awards
The album itself carries several different sounds throughout its tracks. Gold holds an electric sound that emulates Radioactive, while I Bet My Life draws more into folk territory with a chorus that feels like something from a Mumford & Sons track. Reynolds' lyrics come off as hopelessly sincere t in this track where he addresses his parents' dissatisfaction over his decision to pursue his career in the music industry.
The Rolling Stone magazine and musictimes.com compared Smoke + Mirror to several different artists such as Coldplay, U2, The Killers, Arcade Fire and The Black Keys, supporting  marketable sounds comprised of hip-hop beats, EDM synth, emphatic drums and expansive guitar work.
About the Writer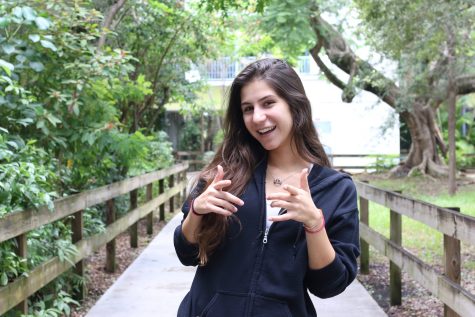 Roberta Nicastro, Senior Design Editor
Roberta Nicastro is the Senior Design Editor. This is her third year on staff and she is looking forward to work with this year's incoming staff. She has...