Miami Palmetto Senior High's Third Hall of Fame Induction Ceremony 
Have you ever looked around your math class and wondered where your fellow classmates will end up in the next 10 or 20 years? Have you ever asked yourself who will be the next Shakira, Oprah Winfrey or Karine Jean-Pierre? How about the next Jeff Bezos, Ketanji Brown Jackson or Katie Phang? On March 6, Miami Palmetto Senior High held its third Hall of Fame Induction Ceremony in conjunction with the Alumni Association— recognizing Panthers who went on to achieve greatness. 
With a total of 16 honorees determined by nominations from the alumni website and one "Committee's Choice," those honored at the ceremony varied in age, profession, race, ethnicity and high-school focus— yet one feat stayed constant: they have all made significant contributions to their corresponding field and accomplished at an outstanding level by exhibiting exceptional leadership, character and service toward their community.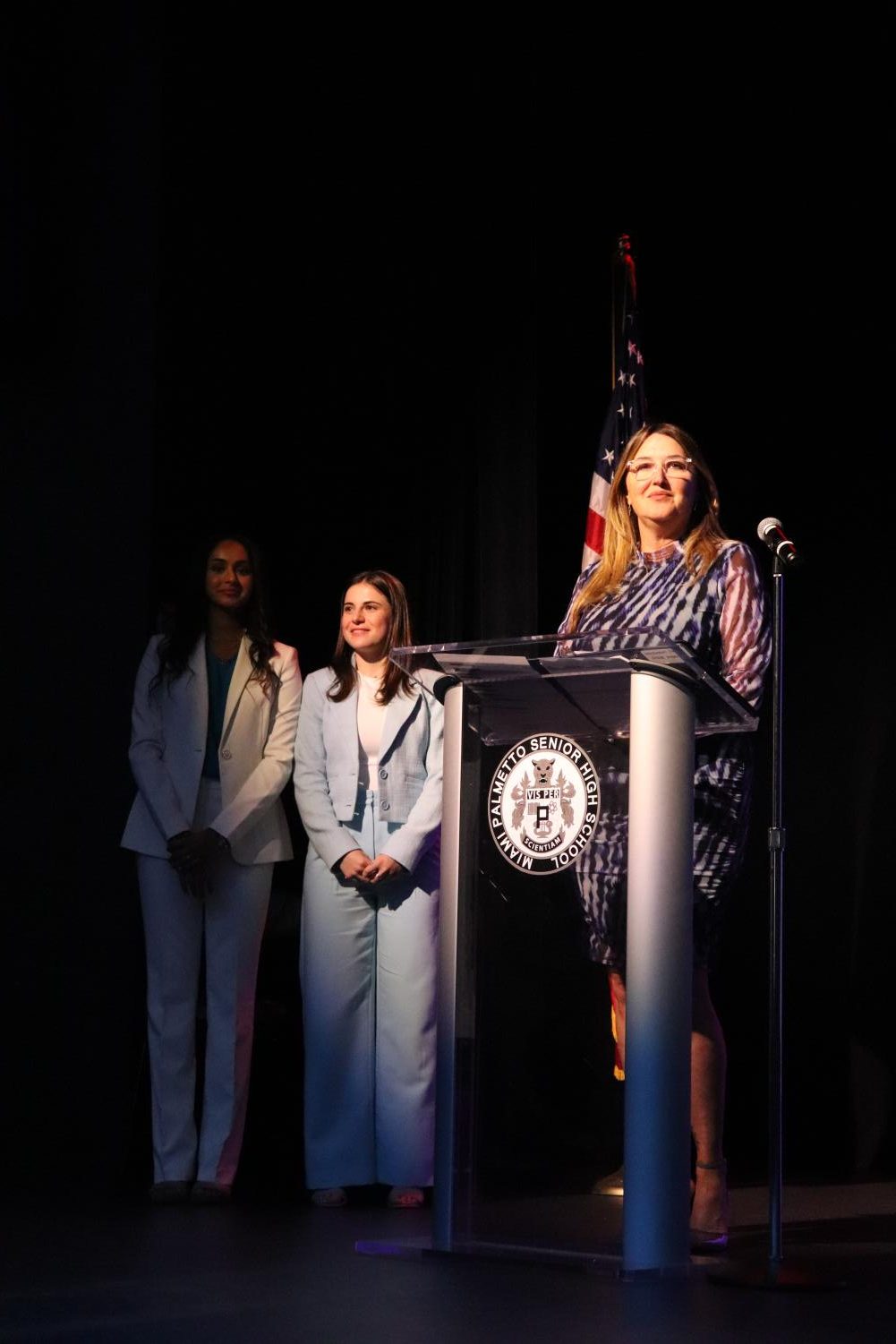 The day of festivities began with a luncheon service in the Media Center, where honorees enjoyed bagels and juice before taking the auditorium stage to accept their inductions. Then, students, teachers, select clubs including 5000 Role Models and Student Council, past Hall of Fame inductees and each current inductee's chosen guests viewed the event. The ceremony, put together by MPSH's Television Production and hosted by Student Council President Abigail Lambert and Vice President Devica Shah, demonstrated the large role of student leadership at the event. 
To introduce each individual nominee and highlight their accomplishments, brief videos played in the background, highlighting key points of each nominee's achievements, before they took the stage and presented their 90-second speech. Lambert and Shah alternated awarding each inductee with a "Hall of Fame" plaque to commemorate their achievements. 
Inductees ranged from alumni to past teachers and administrators. No matter the profession, every speech and anecdote instilled inspiration among students, so they too can strive to attain what the inductees have.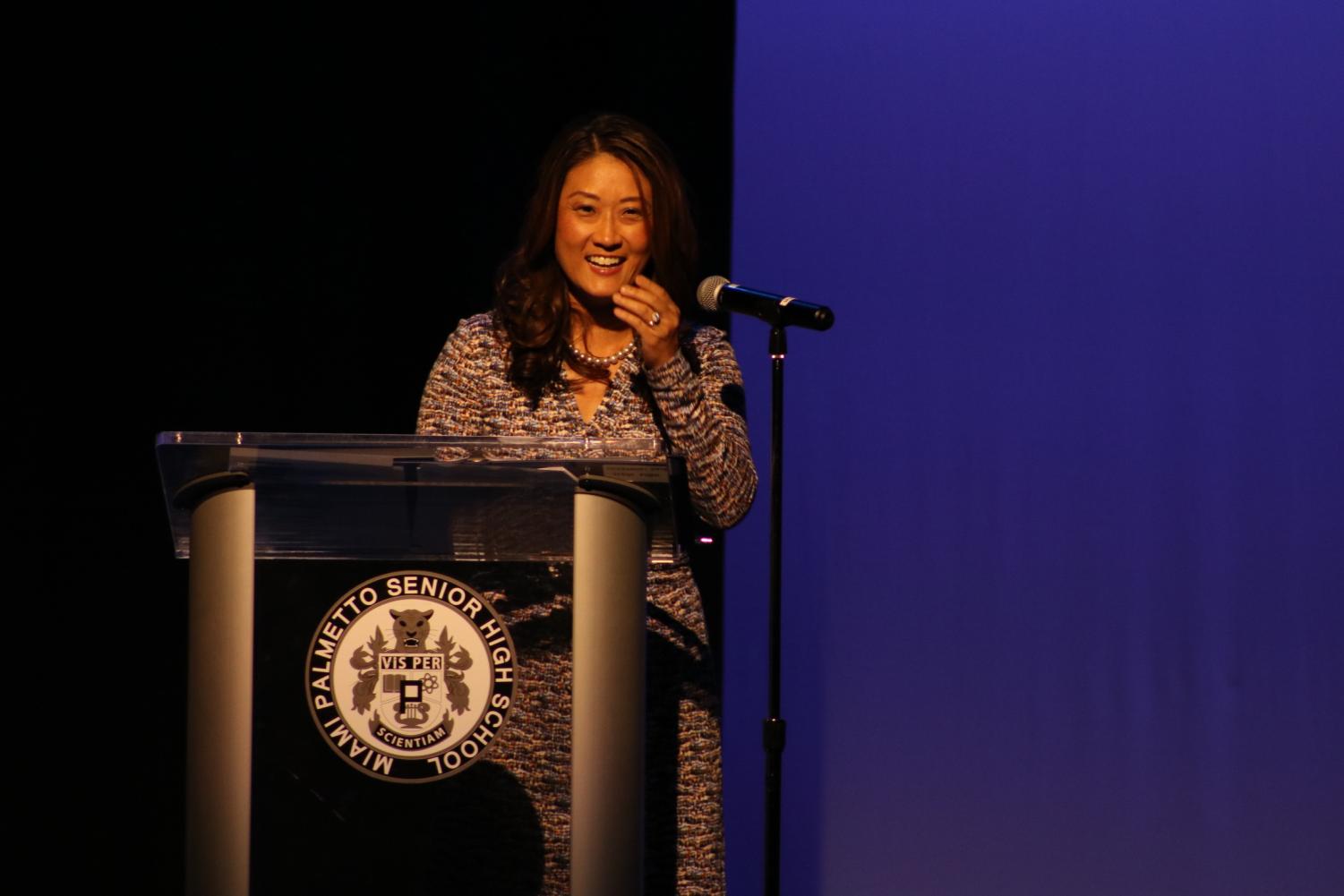 "I'm here to talk about investment and not the financial kind. Around the years, I've been blessed with a collected investment of time, energy and resources in me and my future by my family and friends as well as my teachers and administrators. But ultimately it was and remains the additional investment of faith in myself that has allowed me the privilege of being able to stand here before you today," Class of 1993 and host of "The Katie Phang Show," Katie Phang said. "Success is not an accident. There is so much hard work and sacrifice. There's long hours and there's sometimes little to no recognition for the hard work that you are putting in, but when you believe in yourself and you have faith in yourself, your dreams can be a reality. There's a saying that's become something of a mantra for me over the years: always be a first-rate version of yourself than a second-rate version of someone else. Listen to who you are and set your gaze on who you want to be and then do it."
Throughout the ceremony, MPSH's jazz band played music while inductees walked on and off the stage. While the auditorium traditionally hosts non-professional events, the jazz band's music and TVP's lighting and video contributed to the professional ambiance in the room. Additionally, MPSH's drama Troupe 1298 took the stage halfway through the ceremony to perform an excerpt from their recent play, "Legally Blonde." MPSH's Variations dance team performed a lyrical dance near the end of the ceremony, highlighting MPSH's arts department to students, teachers, nominees and guests before inductees continued with their speeches.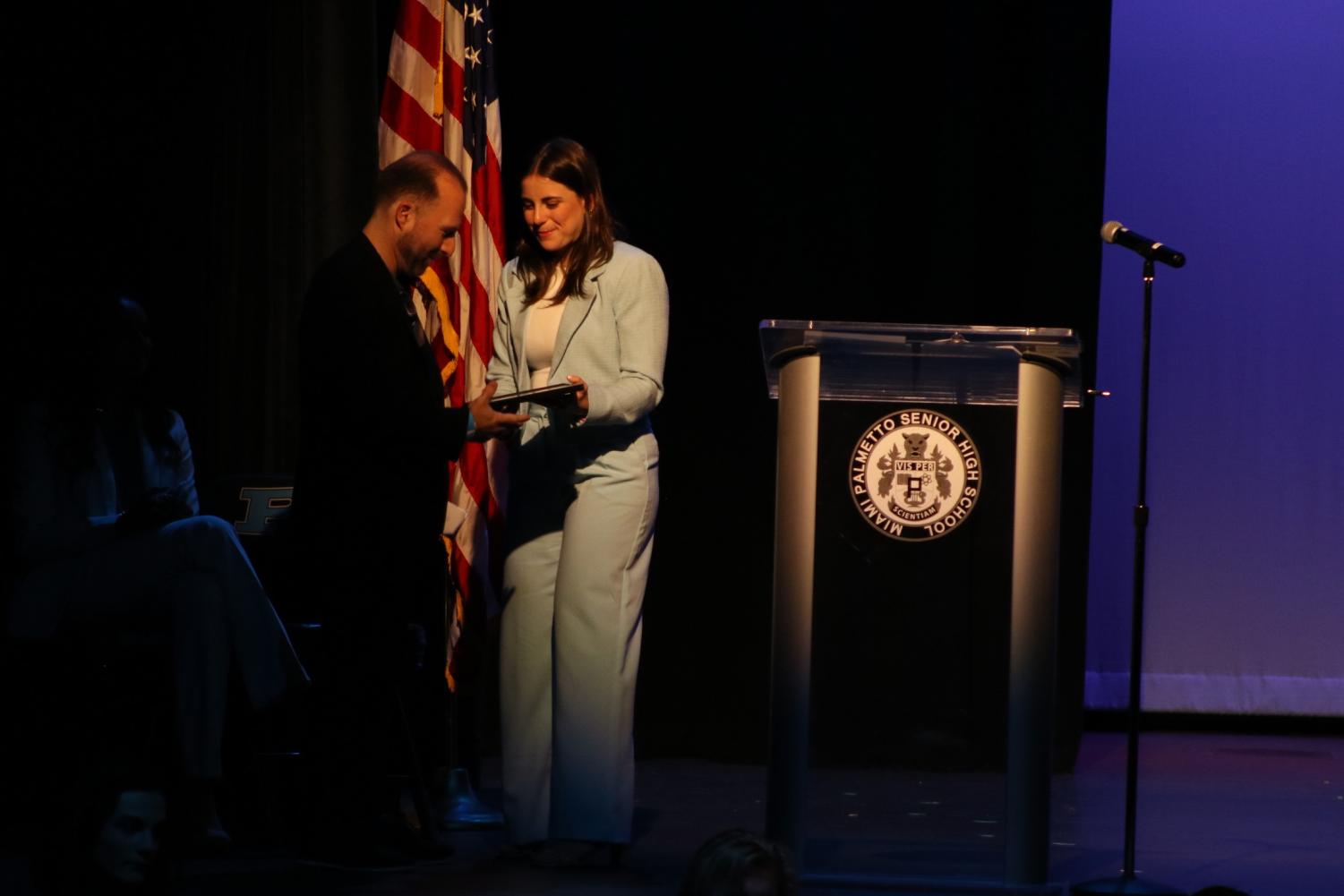 Inductees shared valuable life experiences and offered meaningful advice to the students in the audience. As Class of 1985 Lee Levin approached the stage, he gave a fist bump to MPSH jazz band drummer before giving the audience his insight as a Grammy award-winning musician. 
"If I had to give one piece of advice that truly helped me to become successful, I would say that my whole career has never been about me; it's been about helping and supporting others. As a drummer for hire, I help the artists find their vision and create art that expresses the way they hear the music. I help song-writers express their deepest feelings by supporting the melody and the lyrics so the listener understands the beauty and the meaning of their song," Levin said. "I work with the producer to take the artistic vision they have in their head and help develop music that will fulfill that vision for themselves. But in doing all those things for those around me, I became successful in myself doing exactly what I love to do, which is play drums. I didn't want a spotlight, nor do I care about the fame; I've seen how fame can be an endless struggle to remain relevant in a rapidly changing world. Instead, I'm known as an individual who can support others and by helping to fulfill their dreams, I've been able to live my own."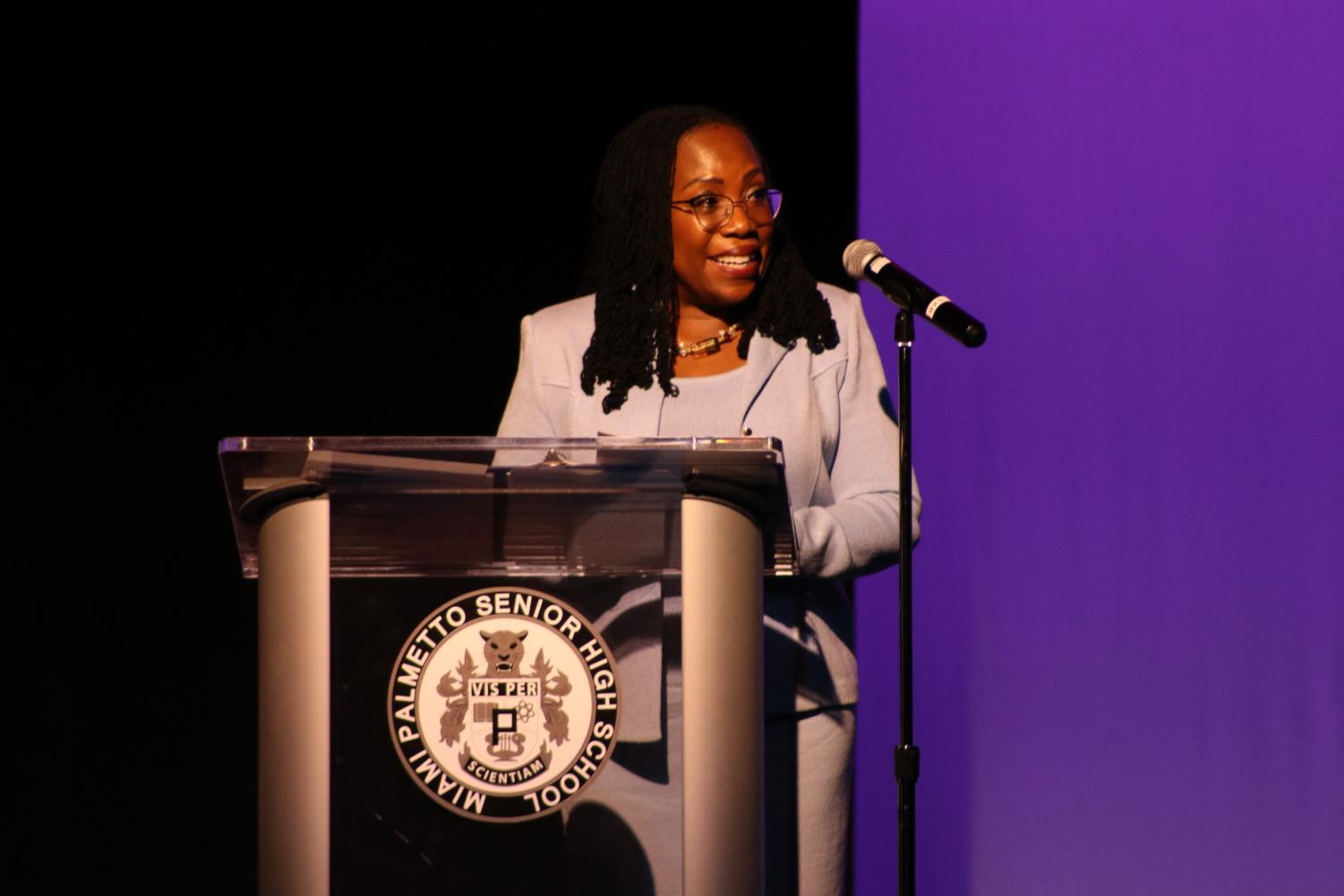 Students, teachers, nominees and guests highly anticipated the final inductee's video and acceptance speech. Everyone rose to their feet as Class of 1988 Ketanji Brown Jackson, United States Supreme Court Justice walked the stage to receive her plaque and speak to the audience.
"Attending Miami Palmetto High School, in particular being part of the Speech and Debate team, was the experience that best prepared me for success in law and in life. An extraordinary teacher here, a wonderful woman named Fran Berger was my coach and my mentor and she had an enormous influence on me… she taught me how to reason and to write, and through forensics, I gained the self-confidence that can sometimes be quite difficult for women and minorities to develop at an early age," Jackson said. "I have no doubt that all the things that I've done, it was my high school experience as a competitive speaker that taught me to lean in despite the obstacles, to stand firm in the face of challenges, to work hard, be resilient, strive for excellence and believe that anything is possible."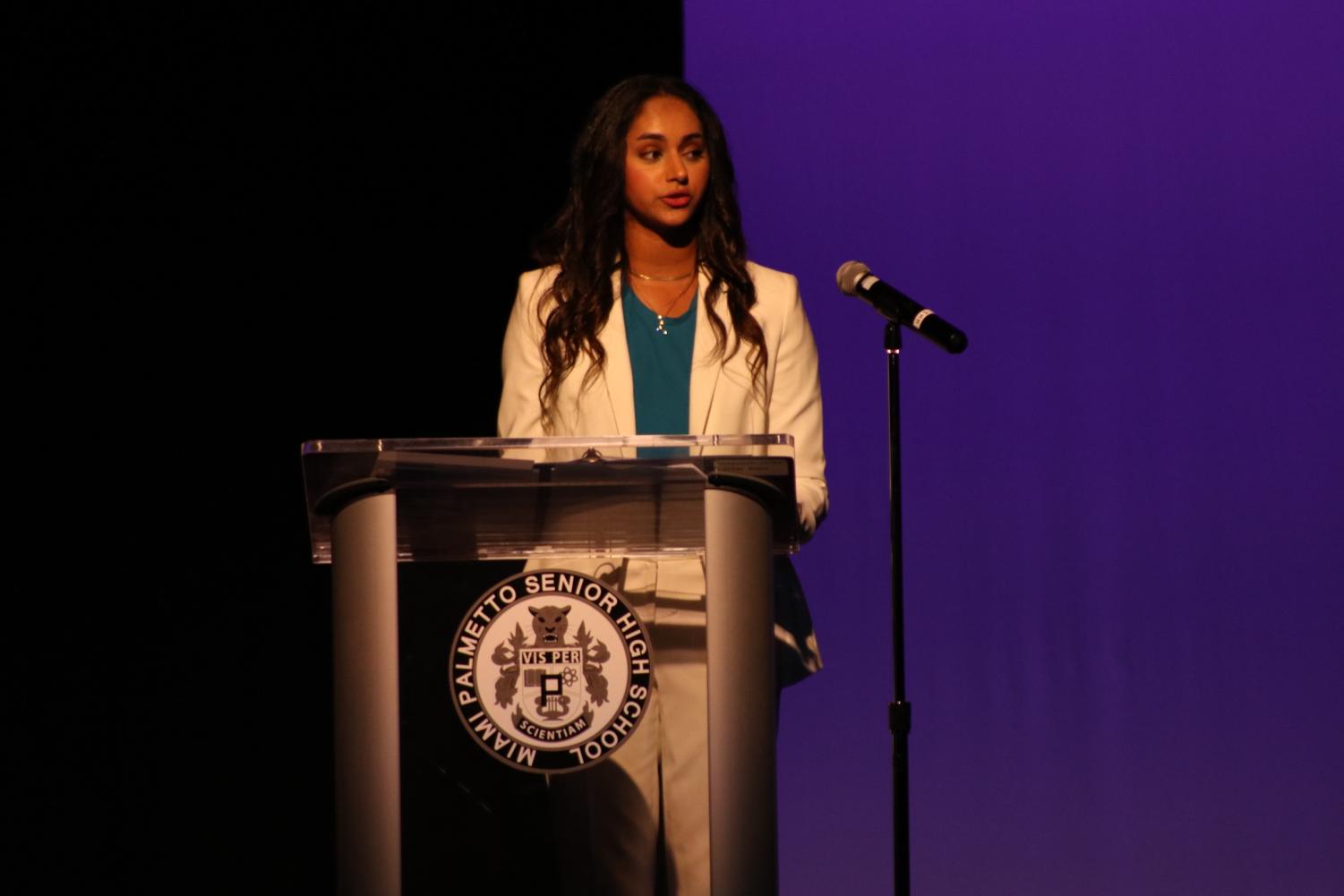 In a closing statement, Shah spoke directly to the student audience, urging them to believe in their futures and proceed to strive for greatness. Students left the event feeling not only inspired, but proud of attending a high school that raised remarkable people and will continue to establish a foundation for their own successes.
"I want you to take a moment to realize something. Sitting amongst you today is a Major League Baseball player, former Senior Editor for the Miami Herald, an American Aviation wizard and a Supreme Court Justice of the United States of America. You may be thinking 'wow that is where I want to be, what I want to do.' You may be thinking 'wow that's my dream job, my dream path,' but why should it be a dream? Most of the inductees attended Palmetto and started their dreams right here in these halls, these classrooms and on this stage," Shah said. 
Following the ceremony, inductees returned to the Media Center to enjoy a spread of fruit, cheeses, drinks and more. The room, filled with joy and pride, created an embracing environment as alumni mingled and reminisced on their classes and memories together. 
To join or keep up with Palmetto's Alumni Association click here.