Meet The Vamps debut album
The Vamps — a clean-cut, British pop band comprised of lead vocalist Bradley Simpson, lead guitarist James McVey, bassist Connor Ball and drummer Tristan Evans. The 2014 release of their debut album, Meet the Vamps, has the potential to transform them into the next teenage music stars.
Formed after finding each other on their individual YouTube channels, the boys convened and quickly began posting weekly covers to gain the recognition they hoped for. The videos allowed them to create a strong backbone for themselves, establishing a solid fan base called the "Vampettes."
During an interview with The Telegraph, the band said they hoped to steer clear from a boy band pop-act. However, their songs consist of catchy choruses and common chord progressions, resulting in a sugary-pop vibe that cements in your head. Once you listen to a song, you inevitably find yourself subconsciously singing along to it for hours.
Most songs on Meet The Vamps do not drastically differ from one another. The band, composed of the 18 and 19 year-old boys, write lyrics heavily influenced by recent experiences they have shared.
The Vamps' career seems to have kicked off at a time where their style of guitar-pop could not be more wanted. In order to survive today's pop market, artists have added melodic vibes and hype to their music to captivate the listeners. The Vamps' new album consists of exactly that.
Meet the Vamps has a formula that may vary in style but keeps the same ear-pleasing vibe. While the song Girls on TV gives off a tropical Hawaiian feel and Somebody To You, featuring Demi Lovato, takes on a more country serenade, both songs having ear-warming choruses. The tunes range from mid-tempo pop ballads such as Last Night to songs like Another World with slow tempos or Move My Way, which features a ukulele giving the song a clean, vibrant sound.
The Vamps performed at multiple festival-style events around the UK as supporting acts for more popular artists such as The Wanted, JLS, Little Mix, Lawson and Demi Lovato. They even recently opened for Taylor Swift during her sold-out show at the London O2 Arena. To start off the new year, they released their own UK tour dates, starting in April. American fans hope that the band will set dates for an American tour but have yet to receive confirmation. The band releases recent updates and announcements through Twitter, Instagram and their website, http://thevamps.net.
Meet The Vamps track list
 Can we Dance
 Somebody To You – ft. Demi Lovato
 Last Night
 Oh Cecilia (Breaking My Heart) – ft. Shawn Mendes
 Girls On TV
 Risk It All
 Hurricane
 Wild Heart
 Another World
 Move My Way
 She Was The One
 Smile
About the Writer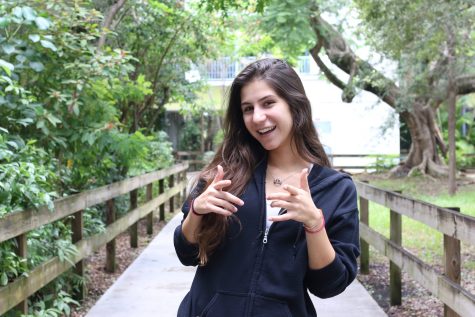 Roberta Nicastro, Senior Design Editor
Roberta Nicastro is the Senior Design Editor. This is her third year on staff and she is looking forward to work with this year's incoming staff. She has...