Going pro with GoPro
The Hero 4+, one of most critically acclaimed action cameras of the 21st century, has recently been released as the newest installment to the GoPro product line.
Before 2002, the idea of an action camera was obsolete. Nick Woodman, the founder of Woodman Labs Inc. and the GoPro camera, brainstormed the idea after a surf trip to Indonesia. Woodman realized that photographers were too far away to get a decent action shot of the surfers. Woodman decided to fix this issue, using the outdoors and action sports as inspirations for his successful product, the GoPro.
The GoPro allows users to capture footage of extreme sports such as surfing, snowboarding and climbing, while also boasting superior video quality. The camera weighs a slim 152 grams and is waterproof up to 131 feet deep.
The GoPro has evolved significantly over the years. The personal camera began using 35mm film. The new model uses digital film with high definition, 4K30 quality —used to film many television programs and movies. The camera has a retail price of $500, but many sacrifice the cash for the top of the line product.
Furthermore, GoPro created a line of products to accompany their cameras. The wide variety of mounts helps owners of the personal camera use it to the fullest extent. They range from a floating handgrip, which enables users to film themselves, a dog harness, which captures the first person point of view of an animal, and even a surfboard suction cup mount.
The GoPro features a simple and easy user-friendly design, with only 3 buttons. The user presses the top button to start and stop the video, while the lower button  changes the mode between photo and video. The user presses the side button to turn on Wi-Fi and Bluetooth.
Likewise, GoPro created its own app to accompany the device. Giving users the ability to watch their videos directly after capturing them. Through the app, GoPro features a daily competition in which users can view what other GoPro owners are filming with their cameras.
The GoPro has become a rival for top photography companies such as Nikon and Canon, which have led the photography industry since 1937. GoPro's net worth has reached 2.25 billion dollars and Nick Woodman owns 43% of the billion-dollar corporation.
About the Writer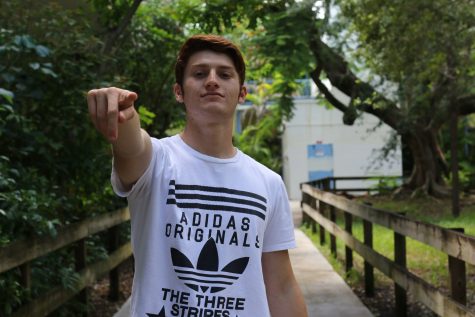 Maxwell Landy, Video Editor
Maxwell Landy is a senior and the Video Editor on the Panther staff. He created this position and is fulfilling the role for the second year in a row....