Frigid fundraising
Unless you have been living under a rock for the past month, Instagram, Facebook, and Twitter have been overflowing with notifications, and it's not just casual "selfies" this time. The ALS Ice Bucket challenge, which raises money for Lou Gehrig's disease, became a craze after NBC's Matt Lauer took the challenge. Currently, there is no cure for ALS that exists, but donated money from the challenge could potentially help find a cure for it. The challenge requires participants to dump a bucket of ice water on their heads within 24 hours of being "nominated" or else they must donate $100 to ALS research.
ALS is a progressive neurodegenerative disease that affects nerve cells in the brain and the spinal cord. The body loses control of motor skills, and after degeneration, the person dies. ALS must be cured to save harm to those who are affected by it. The most popular treatment is a medicine, Rilutek, which is proven effective at slowing disease progression.
Many celebrities have taken part in the challenge such as Bill Gates, LeBron James, and David Beckham. 50 Cent challenged Floyd Mayweather, one of the world's greatest boxers and the most paid athlete in the world. Mayweather declined the bath of subzero water and instead donated $72,276,000 to The ALS Foundation.
"I think ALS is good for those impacted." Sophomore Rebecca Rousseau said. "The more awareness the organization receives, the more people that will donate to the fund."
Another social media craze on the rise is the Hummus vs. Hamas challenge. Three Israeli Defense Force (IDF) soldiers created a challenge to help fund their military during their battle versus Hamas.
Hamas, a terrorist organization with headquarters in Palestine, aspire to eliminate the Jewish homeland, Israel.
Completing the Hummus versus Hamas challenge takes nearly 10 seconds. First, wipe Hummus on your face. Second, donate money to the IDF. Third, upload the video and nominate friends and family. Although they are one of the wealthiest militaries in the world, the challenge allows IDF supporters to appreciate and encourage the Israeli soldiers against Hamas.
"Hamas is not a joke." Junior Garet Weinstein said. " The Israeli Defense force should not be compared to a humorous challenge. The soldiers in the IDF face a serious issue that should not be taken lightly. Israel should not be represented by a dipping sauce."
The ALS ice bucket challenge and the Hamas versus Hummus challenge are both examples of the world supporting each other through social media, although interpreted in many fashions both share a similar purpose.
About the Writer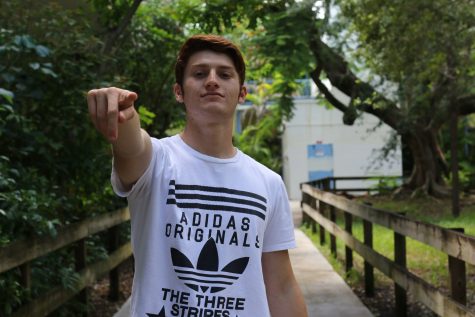 Maxwell Landy, Video Editor
Maxwell Landy is a senior and the Video Editor on the Panther staff. He created this position and is fulfilling the role for the second year in a row....