Alumni Association Feature 2: Cullen Bullock
Retired Palmetto science teacher Cullen Bullock always held biology as his favorite subject, even in his high school years.
"In 12th grade I also took advanced biology and advanced chemistry, and we didn't have any AP classes available, so I guess I took the highest ones you can take," Bullock said. "It was just something I really enjoyed."
After teaching at Palmetto for 36 years, Bullock received his induction to the Miami Palmetto Hall of Fame for his time spent educating the students of Palmetto and making lasting impacts on the science department. 
"I'm very honored, but I was not expecting it," Bullock said. "It wasn't even on my mind until I got a letter congratulating me."
Although Bullock did not graduate from Palmetto, he spent more time at it than all of the other Hall of Fame honorees combined. 
"I am not a MPSH alumni, although I did spend far more time on our campus than I ever did at my actual alma mater," Bullock said.
Born in Baltimore and raised in Miami since the age of three, Bullock graduated from Coral Gables High School. He then attended Georgia Tech for three years in pursuit of an electrical engineering career and coached a swim team during the summers. 
"Thankfully I decided that it [teaching] was so much more fun than engineering was," Bullock said. "So I ought to be a teacher and a coach instead."
Bullock then transferred to Florida State University where he received a degree in biology and started teaching almost immediately at Gables, but later transferred to Palmetto after taking a job coaching swimming and teaching biology.
Bullock says the epitome of his years teaching at Palmetto were the birthday parties his old friend Bill McCreary threw every year. The whole science department, along with several other teachers from different departments, went to his house for an annual celebration. 
"One of the fondest memories I have would be his birthday party, which was in August," Bullock said. "It kind of illustrates the feeling of family the science department had over a long period of time. The teachers are not only colleagues, but friends, and good friends."
Bullock now lives in Orlando, a little more than a year into his retirement. He serves as the assistant coach for the University of Central Florida's water polo team along with his daughter, the head coach. 
"I was a water-polo coach for a long time," Bullock said. "It seemed like the perfect way to help her out."
Bullock and his wife of 33 years moved to Orlando in the wake of Hurricane Irma, hoping to dodge the storm, but ended up staying indefinitely in the house he owns along with his wife and family close by. 
"After we got [to Orlando] my wife goes, 'well the dogs are here, the cats are here, I'm here, we've moved,'" Bullock said. "So we've been living here ever since."
Bullock prefers the classroom, but does not regret his decision to retire.
"There are a lot of fond memories I have," Bullock said. "I've just really, really, really been blessed with all the various things that have happened to me over the years and I look back on it all very fondly."
About the Writer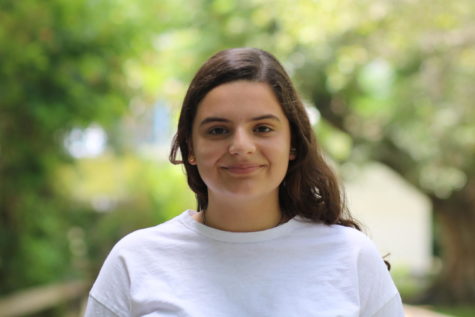 Allessandra Inzinna, Senior Copy
Allessandra Inzinna is a senior and senior copy editor of The Panther. This is her third year on staff and she looks forward to helping improve her own...