Wrestling team keeps health in mind this season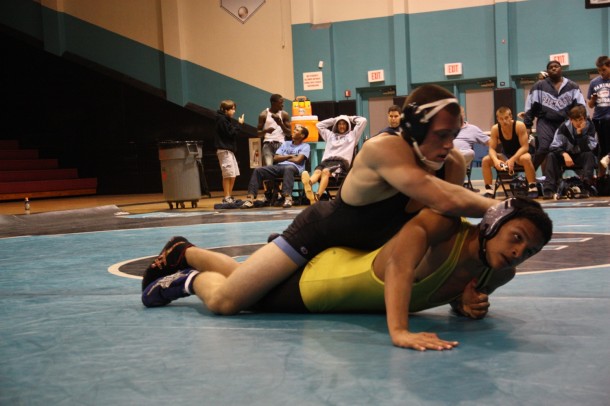 Natalie Rodriguez, Staff Writer
February 8, 2011
The wrestling team consists of a  group of tightly-knit boys looking out for each other and acting like a family.
"We all hang out whenever we have the chance and we always have each other's backs," sophomore Kristopher Iglesias said.
Additionally, the teammates exercise discipline and dedication.
"What keeps me motivated in wrestling is that I want to win the state title, and what makes me special from other wrestlers is that I'm aggressive when I wrestle," senior Justin Cook said.
Although the final outcome depends on the team as a whole, each wrestler's fate depends on his individual strength and technique. However, the matches are anything but easy.
These players push through the struggles and the obstacles for the ultimate satisfaction  of defeating an opponent.
"The best feeling is getting your hand raised, knowing that you won the match,"  senior Sydney Douge said.
Senior wrestlers Justin Cook and Nathan Segal act as role models on the team, keeping underclassmen from making poor and detrimental decisions. For this, Coach Soderholm is appreciative and proud.
"We expect the kids to become leaders over time and the upperclassman to teach the younger men right from wrong," Soderholm said.
Wrestlers have been known to drop ten pounds in water weight in a day, which is sometimes required in order for them to compete. Losing the weight too fast can be dangerous and can lead to dehydration and heart palpations. However, according to livestrong.com, only ten percent of wrestlers have difficulties with weight management.
"I drop weight by exercising two times  daily  and  I  cut  back on what I eat," Iglesias said.
Wrestling can be time-consuming and those lacking the drive to wrestle can rarely last their first semester. But freshman Jeremy Greenidge fully understands that.
"If you love something it's never a sacrifice," Greenidge said.
Comments like that show true desire from Palmetto's wrestling team.