Top 10's of the 2010's: Part 1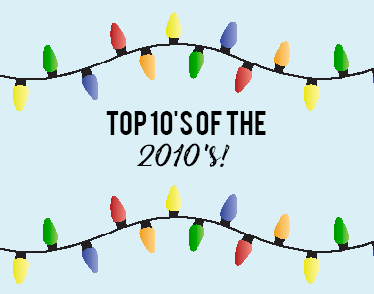 Top 10 Influential People
Written by Ana Martinez, Design Editor
The past decade has transformed the world with the help of many inspirational individuals. Activism, technology and pop culture have changed the world's social climate, creating a more accepting and progressive community. Below are 10 notable people who have changed world conversations and dynamics.
This American media executive, actress, first African-American talk show host, actress, television producer and philanthropist has brought awareness to women's rights and social justice. In November 2013, Winfrey received the Presidential Medal of Freedom from President Obama, and in January 2018 Winfrey donated $500,000 to the March for Our Lives Demonstration after the Marjory Stoneman Douglas attacks. Following the "Me Too" movement of 2017, Winfrey's Golden Globe speech in early 2018 rallied young girls across the world to call out against sexual abuse and racial discrimination.
As a media proprietor, investor, founder of the online selling company Amazon and former Palmetto alumni, Jeff Bezos has greatly influenced the way people use the internet for online shopping. The now-$160.2 billion in net income company Amazon,  popularized in the year 2011, has a product line including items such as Amazon Alexa, Photos, Prime Video, Music, "Ring" security system and "Kindle." has affected many people's everyday lives, making them simpler. Bezo's franchise has modernized the world  by creating certain products to make life easier for others and make goods more accessible.
Throughout the decade, this popular American family has radically changed beauty standards. Beginning with the popular sitcom television show "Keeping Up With the Kardashians," the Kardashians have monetized their brand of fame into a multi-million dollar business, launching a makeup and skincare line (Kylie Cosmetics), fragrance line (KKW Fragrance) and clothing line (Good American), to name a few. With their popularity, the Kardashians have also influenced beauty standards. The American Society of Plastic Surgeons, for instance, have reported an increase in the number of Kardashian-like cosmetic procedures in teenagers, which likely resulted from the large influence the Kardashians had in pop culture.
Barack Obama served as the 44th president of the United States from early 2009 to early 2017. Obama was the first African-American president, the first black president and the first president born in Hawaii. Throughout his presidency, Obama passed much legislation and addressed multiple pressing issues changing the dynamics of the United States as a whole. For instance, Obama reformed health care legislation, ended U.S. military presence in Iraq and legalized gay marriage. In his second term of presidency, Obama signed an international climate agreement to reduce carbon emissions and implemented the Affordable Health Care Act, which expanded Medicaid coverage in participating states to all nonelderly adults with incomes below 133% of the federal poverty level.
Through her music, popular singer Beyonce advocates  for social justice and politics. Songs on Beyonce's album "Lemonade" (2016), such as "Formation," bring awareness to racial equality. Moreover, Beyonce shared her views on feminism and female empowerment while performing the songs "Run the World (Girls)," "Single Ladies" and "Pretty Hurts," with a large light behind her reading "feminist" during her 2014 MTV performance. With over 136 million followers on Instagram, Beyonce's empowering songs have greatly influenced and empowered many people — especially African-Americans and women — around the world.
Philanthropist and Chief Executive Officer of Facebook Mark Zuckerberg has greatly influenced how people stay in contact with each other, especially as technology became (and continues to become) more and more accessible. The popular social media site Facebook took the internet by storm when  it reached one billion users in 2012. The popularity of the social media site has since resulted in a proliferation of other social media sites such as Instagram (2010) and Snapchat (2011). Moreover, Zuckerberg received the Time Person of the Year Award in 2010 and ranked 10th on Forbes' list of the World's Most Powerful People.
A Swedish environmental activist for climate change, Greta Thunberg's campaigning has brought international recognition and awareness to the issue. Thunberg originally gained popularity when she skipped school and went to the Swedish parliament, rallying for stronger action on climate change. This international movement soon became known as "Fridays for the Future," where students miss school on Fridays to rally for climate change action. Thunberg further influenced the world when she went to the United Nations Climate Change Conference in 2018, and adopted several lifestyle changes, including giving up air travel and becoming vegetarian. This year, Times named Thunberg the Most Influential Person of 2019 for her activism on climate change, making her the youngest-ever recipient of the honor.
Businessman and current president of the United States, Donald Trump remains controversial on an international scale. During his presidency, Trump has created over four million new jobs, resulting in the lowest unemployment rate ever.  However, Trump has been in a few scandals, including one involving inappropriate language directed toward a former "Access Hollywood" host, and another about alleged Russian interference in the 2016 U.S. elections, both of which caused  international outrage. More recently, an impeachment investigation was started by House Speaker Nancy Pelosi in September 2019 after a whistleblower alleged that Trump withheld military aid to pressure the president of Ukraine into investigating Joe Biden, another 2020 presidential candidate, and his son.
An American lawyer, university administrator, author and 44th First Lady of the United States, Michelle Obama inspired people around the country through implementing new policies and advocating for women's rights, poverty awareness, education, nutrition, physical activity and healthy eating. In her recent book "Becoming," Obama reflects on her initiatives as First Lady, including the "Let's Move!," "Reach Higher," "Let Girls Learn" and "Joining Forces" campaigns. These initiatives advocated on behalf of military families, women balancing work life with family life and promoting the arts and education in youth.
An influential basketball player, LeBron James has expanded his career farther than just sports off the court. The current Los Angeles Lakers and former Miami Heat player supports several non-profit organizations, including After-School All-Stars, Boys and Girls Clubs of America and the Children's Defense Fund. Additionally, James began his own charity foundation, the "LeBron James Family Foundation," recognizing education throughout the country. James's efforts in basketball means he is considered one of the best basketball players in the world, inspiring youth around the world to achieve their goals.
Top 10 Trends of the 2010's
Written by Allison Gould, Opinion Editor
Each decade has its  "things." Whether it be the big hair and mixtapes of the 80s or the extremely low-waisted jeans and frosted tips from Y2K, each trend helps define the decade. Throughout the 2010s, moments within pop culture and history started to leave an impact on what popularized and what did not. As a new decade approaches and the current one comes to a close, it calls for a time of reflection on what each year entailed.
Below are ten of the key trends that will define the 2010s for years to come:
In 2010, "Just Dance"—a video game based on following a dance tutorial— took off and soared in popularity. This video game incorporates both exercising and the popular music of the time, from all genres. Each year since 2010 "Just Dance" releases a new version with updated dances and songs in order to keep up with the changing culture. Some of the earliest dances from 2010 include Moves Like Jagger, Firework, We No Speak Americano and Airplanes. "Just Dance" extended throughout the decade, intriguing people as each new version came out.
2011 entailed a year full of semi-permanent hair accessories, such as the iconic hair feathers. Girls ranging from all ages could be seen with one in their hair at a point throughout the year.
"Hair feathers by far have been my favorite trend of the decade. I would get one and once it fell out, I begged my mom to let me get another that would be different from the hair feather before," junior Miranda Shapiro said.
The hair feathers would come in all different lengths, styles and colors, so each person that wanted one could still be unique, yet still follow the trend.
In 2012, Marvel released the first ever "The Avengers" featuring superheroes such as Iron Man, Hulk and Captain America. This movie took the world by storm and set a foundation for future Marvel movies. Throughout the decade, Marvel has become one of America's largest, most prosperous franchises. The company has made many more Avengers movies, including most recently "Avengers: End Game," and created more superheroes such as Black Panther. Many Marvel films and characters have shaped the definition of the superheroes as we know it. In terms of superhero movies, the original Avengers movie that came out in 2012 set the stage for the rest of the decade.
Created in 2013, Vine sparked a trend in the way we speak, with incorporating phrases like "Look at all those chickens," "A child," and "It's Wednesday my dudes." While the platform has shut down, these phrases have yet to die out almost seven years later. Through Vine, people could produce seven second videos from any genre for no cost. Many of these videos were comedic and provided a basis for many popular memes. The hype of the app lasted until the creators could not keep up with the finances due to the app being free and having no advertisements. Although Vine discontinued, it left a lasting mark on modern jokes and is continuously referenced within daily life.
The cover of winter edition of "Paper" magazine featured a now extremely well-known picture of Kim Kardashian and a champagne bottle. Although the television show "Keeping Up with the Kardashians" has aired for many years, this picture made Kim blow up, and the popularity of her entire family followed. From this one cover, she began to take the internet by storm, sparking the fast popularizing Kardashian brand. This family has paved a path for many trends incorporated into the decade such as the extreme desire for large lips, the "perfect" body and the need for fame.
From the Runway to the Red Carpet and into our homes, off-the shoulder fashion made its mark in 2015. This straight-across neckline from shoulder to shoulder became a staple piece in many people's wardrobes. Either incorporated into everyday clothing or dresses for a gala, people owned an item of clothing with an off-the shoulder style for every occasion. Although this trend had its moment, it died in 2016, making way for other similar trends to follow.
"Ultimate" by Denzel Curry played as you had your water bottle in hand ready to flip it in front of all of your friends. Bottle flipping took over and people around the world tried to land a bottle more times in a row than the person before them. It was almost like a mini competition that created a wave of excitement as one's bottle landed up right. Social media served as  a catalyst in this trend, allowing people to post their own videos of landing their bottles after doing something that would make them stand out. During meals, social gatherings and other events, one could almost always find someone attempting a bottle flip. This trend still lingers as people can occasionally spot another casually flipping a water bottle.
Slime became the 2017 hype. People began to make this popular trend out of glue, shaving cream and an "activator" to create their own personal batch. YouTube tutorials, Instagram and snapchat allowed for the trend to spread quickly and gain popularity throughout all ages. As slime grew, more and more types of slime came out, such as butter slime and clear slime. This served as a way for people to reduce stress and combat, as well as having a fun activity to do with friends, as you babysat and much more. Slime appealed to all ages, but the "activator" caused some health issues, causing the trend to dissipate in 2017.
As skinny jeans started to leave people's wardrobe, a new style took its place: mom jeans. Rather than sticking to the low-waited, skin tight pants that people wore for so many years, fashion trends began to shift to looser, higher-waisted pants. This fashion trend was prominent in the 80s and began to make a come back in 2018, having a very distinct look.
"Mom jeans are the best trend of the decade. When I wear them I can look put together but still be super comfortable which is super different than skinny jeans," sophomore Angelina Gonsalves said.
Mom jeans do have a modern twist with the popular distressing of jeans that has been incorporated into many designs of this decade.
The newest trend, sparking interest in 2019 is Tik Tok. Similar to Vine, this app allows people to create different videos that range from dancing, lip syncing, singing and acting. Tik Tok provides a platform for people that want to impact the culture and share their ideas. Many artists use it to promote their music in order to gain popularity. Right now, Tik Tok dominates society today influencing clothing trends, such as scrunchies and biker shorts, common slang, including the popular saying "and I oop" and dances that have been made up that are just like muscle memory to many people like the "Renegade dance."
Top 10 Shows of the 2010's
Written by Kate Stuzin, Copy Editor
The last decade has been incredible for television. From who we watched — more diverse cast and storylines — to how we watched it —  now accessible on phones through streaming services — every part of the TV experience changed. Listed below are the top 10 most influential TV shows of the decade.
Pretty Little Liars (2010-2017)
Based off Sara Shepard's novel series of the same name, PLL helped to shape the childhood and teenage years of many. The show's antagonist, A, tormented a group of friends by sending anonymous, threatening texts to the teen girls. The show parallels our own lives in that it draws attention to the dangers of social media, as well as cyber bullying. The show built a one-of-a-kind horror story that represented a whole generation's experience amid its melodrama.
Arrow (2012-Present)
Though Marvel dominates the box office, DC has taken over broadcast television, and it all started with Arrow. Arrow's immediate success — more than 4 million tuned in for its premiere — prompted the network to build almost its entire schedule around superhero shows over the next few years. Shows including The Flash, Supergirl, Legends of Tomorrow, Black Lightning and Constantine were introduced. These shows often join forces each season for a crossover, forming the network's biggest event of the year.
RuPaul's Drag Race (2009-Present)
Contestants on the show entertained viewers with their slicing one-liners and wrenching vulnerability, but at the same time taught some very important lessons. No other series has done more to celebrate and elevate the artistry of drag performance, and has turned a spotlight on the discrimination, trauma and injustice that LGBTQ+ people face simply for being true to themselves. Its popularity soared and the show won multiple Emmys, which helped bring the beauty and artistry of drag into the mainstream. The show also helped to educate the public on gender identity and proper usage of pronouns.
House of Cards (2013-2018)
Netflix's first original television series kicked off a new era for streaming shows. Since all the episodes came out at once, viewers crammed their viewing of U.S. Rep. Francis Underwood and his equally conniving wife to exact revenge on the people who betrayed him into one sitting, thus sparking the trend of binge watching. Other streaming services like Hulu, Amazon Prime Video and HBO hopped on the bandwagon, but none have had the same success as Netflix and its numerous original series. Not only did House of Cards fuel the streaming revolution, it became a touchstone moment in another defining cultural movement: #MeToo. Netflix fired alleged sexual predator Kevin Spacey (Francis Underwood) from the show before the final season.
Stranger Things (2016-Present)
This show may be set  in the past, but it surely is not stuck there. Heavily influenced by Stephen King and Steven Spielberg, Stranger Things transports the viewer through a portal into the kid-focused and fantasy-fueled films of the 1980s. According to the television ratings compiled by Nielsen, the third season of Stranger Things has been the most-watched Netflix original show for the past two years. The show also introduced a host of young stars who look set to dominate film and TV for years to come.
Grey's Anatomy (2005- Present)
Grey's Anatomy was well into its run at the start of the decade, but over the past ten years it has remained one of the most talked about TV shows. Characters have come and gone, but Meredith Grey still holds down the fort. With 351 episodes as of now, the show has yet to exhaust all of its storylines and each season comes back juicier than ever. The show has inspired a myriad of medical dramas — The Good Doctor, Chicago Med, and Nurse Jackie —  but none have surpassed the success of Grey's Anatomy. The show's perfect blend of comedy and drama makes it an instant classic.
The Good Place (2016-2020)
What does it mean to be a good person? What is the meaning of life? This existential comedy helps to answer these questions through its wide-open view on the afterlife. As the story goes, when you die you go to either the good place or the bad place. The irony is, afterlife can be just as complicated as life itself. Through the show's twists and turns, viewers have gotten a chance  to see the transformation of a once deeply-flawed and unlikable group of characters into people we love and root for in their quest to find that elusive happy ending, if it even exists…
The Handmaid's Tale (2017-Present)
This show could not be more timely. Based on Margaret Atwood's 1985 novel, The Handmaid's Tale captures the mood of an unsettled nation and mirrors our current social and political climate. The show depicts a dystopian society in which the birth rate has plummeted and the government forces fertile women to repopulate America (Gilead). The costumes from the series appeared in women's rights protest situations in the real world, and viewers felt the tenuous line between fiction and reality.
American Horror Story (2011-Present)
The show's creator, Ryan Murphy, revived the the anthology format of television, popularized in the 1950s and 1960s, when he created American Horror Story. He delivered a single season of television that told the whole story, then brought back many of its actors for a second season that told an entirely new, but related story. This story model proved to be an instant success, and it did not take long for new shows to try and emulate it. Murphy worked on two more anthologies for FX — American Crime Story and Feud — and others, like Fargo, The Haunting of Hill House, True Detective and American Crime also joined the mix.
Game of Thrones (2011-2019)
Yes, the show's ending disappointed many fans. Yes, the show dipped in quality after it surpassed the book. But, the show set a precedent for other shows that bigger and more expensive production is better. Episodes cost around $15 million to make, well more than double the cost of the typical episode of high-end cable television. This risk surely paid off, since the show made $2.28 billion in profit and became the most awarded series in Emmy Awards history, with a total of 38 wins. Also, it allowed viewers to feel fully immersed in  the fantasy world. Other genre shows and period dramas followed in GoT's  footsteps — HBO's Westworld and Netflix's The Crown  reportedly cost $10 million per episode — and this trend will most likely continue into next year's shows.
Honorable Mention- The Mandalorian
"I have to say that the Mandalorian is my personal favorite show of the decade.The series depicts a lone bounty hunter in the outer reaches of the galaxy far from the authority of the New Republic," sophomore and Thespian Rachel Greidinger said. "The baby Yoda memes have allowed the show to gain popularity, but there are more important aspects of the show that fly under the radar. Like, the show has intense battle scenes, but also sweet scenes so it stays balanced and we get to know the characters. Also I love how you can tell all of their [the Mandalorians] emotions without ever seeing their faces; it's simply brilliant."