The Green Upgrade: Pinecrest Freebees Convert to Teslas
After a year-long hiatus, the Pinecrest Freebee ride service has replaced their General Electric Motorcars carts with Teslas. This transition to the Tesla Model X came with the partnership of the Village of Pinecrest, the Miami Dade County Transportation Planning Organization and Freebee.
Freebees have served greater Miami since 2012 and were established in early 2019 in the Pinecrest Village. With just the tap of a button, citizens have access to a free, safe ride.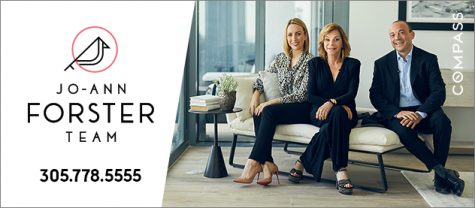 "Freebee provides a transportation service for parts of the community like Palmetto High School. Since not every high schooler has a car, or sometimes parents are busy, Freebee provides a safe way for the kids to get home," Director of Economic Development of Freebee John Janusz said.
One can order a Freebee through the app Ride Freebee. After requesting a ride, it often takes mere minutes for the Freebee to arrive at your location. Pinecrest Freebees offer ride service throughout the Village and connect to the South Dade Transitway and Metrorail station.
"Freebee provides an equitable transportation service to Pinecrest. Allowing people going to work in houses who take the Metrorail or bus, to take a Freebee that connects them to the home, which is known as first mile, last mile transportation service," Janusz said.
This switch to Teslas offers benefits, as the car is fully electric, emits much less carbon dioxide and has a wider mile range, allowing for increased clean energy. Freebee has already saved 1,234,150 pounds of carbon dioxide and continues to save more by the second. 
"The vehicles Freebee utilizes are 100% electric, and the average passenger car emits about nine-tenths of a pound of carbon dioxide for every mile it is driven. Our drivers are driving hundreds of miles in Pinecrest a day; if we used gassed pilers, there would be hundreds of pounds of carbon dioxide emitted directly into the community," Janusz said.
The increased mile range means a much easier and efficient drive. 
"The G.E.M cars get about 70 miles per charge, so sometimes the cars run out of battery and have to come out of rotation to charge up for 45 minutes, while the Teslas get a few 100 miles per charge – so it is very unlikely to have to take one off the road for charging," Janusz said. "This also adds more vehicle time to the fleet, as the Teslas are full speed vehicles while the G.E.M cars max out at 25 miles per hour, which adds an obstacle of avoiding U.S. 1."
Freebee continues to benefit the community with its eco-friendly, cost-free transportation.
"For years, Freebee has allowed for easy-access transportation with its feasibility and practicality," Public Works Administrative Assistant for the Village of Pinecrest Nicole Tobias said.