Tech Executives Moving From Silicon Valley to Miami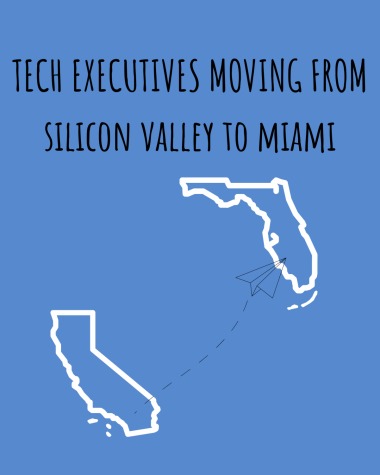 Recently, in Silicon Valley, a shift out of the city has grown commonplace — a shift that may prove quite detrimental to the lively tech hub.
Silicon Valley — an area in San Francisco well-known for its population of young, fresh-faced university graduates looking to make it big in the tech industry — is a place synonymous with progress, technology and the future. This population is further built up by local universities near the area, such as Stanford and Berkeley, which are two of the most prestigious schools in the country. 
Support from huge tech companies such as Apple, Google, Facebook, Twitter and many others has further built up Silicon Valley. These huge tech companies bring in workers that help grow the city's infrastructure and funding. When these companies start moving out, Silicon Valley has problems.
Businesses recently have been moving out of California in so many different fields: entertainment, sports and even technology. Large companies, growing tired of California's high taxes and increasingly high cost of living, have started to relocate and take their workers with them. A perfect destination for many of these large companies has been locations with no state-income tax such as Florida and Texas.
According to the U.S. Census Bureau, since 2018, the migration of Californians to Texas has increased to numbers not seen since 2006. In both 2018 and 2019, over 80,000 Californians migrated to Texas. As for Florida, according to the 2020 U.S. Moving Migration Patterns Report from North American Moving Services, it ranks as one of the top eight states for immigration from other states.
 Florida's most iconic city, Miami, has accepted these tech companies with open arms. Miami Mayor Francis Suarez has sought to expand the tech sector in Miami. Suarez has openly met with people such as the Winklevoss Twins, founders of Gemini, a cryptocurrency exchange, has discussed with Elon Musk the possibility of building underground tunnels in Miami to eliminate toxic gases and has even recently appointed the city's first Chief Technology Officer.
Suarez has largely taken this initiative on his own in attempts to expand and further Miami's outreach. His largest platform for discussion has been his Twitter account, where he directly mentions tech entrepreneurs and openly discusses his plans and hopes for Miami, which has shown results..
Since 2017, many huge tech CEOs have moved to Miami, such as: Alexis Ohanin, the co-founder of Reddit, Shervin Pishevor, Keith Rabois, and David Blumberg, all three major venture capitalists, and Jonathan Oringer, the founder of Shutterstock. However, some residents do not see that much importance in the location of work.
"I always knew that it was something that didn't really matter where you were located, and that has become something especially apparent now that remote work has become the new standard," Miami Palmetto Senior High School alumni and application developer for tech startup Teckpert, a Miami-based web development agency that assists clients with their online presence, Chris Aitken said.
Aitken loves the untapped Miami market in contrast to the oversaturated market on the West Coast.
"There's this sense that these other places like Silicon Valley have too much going on, or too many people involved so it's hard to really stick out or to even make an impression on a software project, while here… There are less institutional roadblocks," Aitken said. 
Moves to Miami have detrimentally affected the San Francisco area. According to MoveBuddha, a national moving company, 2.3 times more people moved out of the area than moved in during 2020; San Francisco served as the second-most common source of moves to Miami. 
With all of this talk, Miami has huge shoes to fill in the future, and politicians such as Suarez are seeking to see them through. With lofty plans such as becoming the most crypto-competitive city on the planet, Suarez wants to see technology become a basic facet of everyday life in Miami.