PromJama! A Special Event for Palmetto Seniors
As the school year begins to wind down, Miami Palmetto Senior High seniors have had little-to-nothing of a senior experience due to the pandemic. 
To honor the class of 2021, Palmetto's activity office announced a small, COVID-friendly event: Promjama.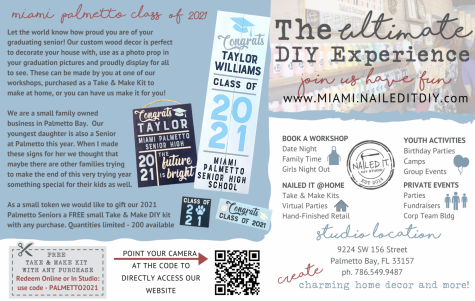 Promjama was a small celebration on Apr. 16, in which the students received a bag of 2021 merch and goodies. Students picked up their goody bags via drive-thru.
Seniors RSVPed with this link and provided their first and last name, as well as their student identification number. On April 16, seniors came by after school from 2:45- 4 p.m. to claim their goodies.
"PromJama [started] because we didn't have a conventional prom,"  Miami Palmetto Class of 2021 President Andres Laventman said.
Class of 2021 Treasurer Robert Mazer explains how the student council developed an idea to replace an average prom into a gift of surprises for the seniors.
"We decided to use some of our funds that we would have allocated to the prom celebration itself into goodie bags and some really exciting gifts for seniors who RSVP to the PromJama link… and then we'll also have a video that will commemorate our senior year, the greater high school experience," Mazer said.
Mazer and Laventman both wish to give the class of 2022 some advice based on how the pandemic affects senior events and believe that next year's class should head on as another successful class of Palmetto Panther graduates. 
"[Some advice I would give the next senior class treasurer is] to work hard and develop those relationships with some companies and your friends… and have fun with it," Mazer said.
For more information, visit the activities office, located right next to the attendance office, or follow the senior class on Instagram @mpsh2021.