Day 4: Siblings of seniors prepare for separation
As their high school careers come to an end, the Miami Palmetto Senior High School Class of 2016 leaves behind the school they attended for the past four years and welcome the journey ahead of them. Siblings of seniors around Palmetto prepare their goodbyes for their brothers or sisters attending the school.
For the next one to three years of high school, current freshmen to juniors who are siblings of these seniors will experience life without their older brother or sister present at Palmetto.
"My brother definitely had a huge impact on my high school experience so far," freshman Justin Saruski said. "I felt less nervous coming into high school knowing he would be there looking after me and having my back. When he goes off to college, I'm going to miss having someone to guide me through my day if something goes wrong and I'll miss him giving advice to me."
As for sophomore Anthony Leone, who attended Palmetto with their his brother for more than one year, he was treated differently by him during school.
"I'm going to miss my brother trying to embarrass me every time I run into him in school," Leone said. "But on a more serious note, he definitely made an impression on my high school experience, because he is someone I could relate to and always get advice from."
While almost all siblings have different relationships with each other, each has the ability to make an individual impact on who their younger sibling develop into and what college they may decide to attend.
Junior Maisy Lam feels like her brother Sy helped initiate her involvement in student council, AP classes and honor societies, along with his advice for college.  
"Sy has decided to attend UM, so he will definitely be telling me about the university and giving me information next year," junior Maisy Lam said. "However, college campuses are pretty big and ultimately I'll make the decision based on what happens for me next year and the opportunities I have, regardless of where Sy is."
Each senior sibling has the ability to make an impact on their brother or sister in their own way.
"My sister has had an impact on my high school career because she always has acted as a counselor for me," junior Noah Rolnick said. "She had taken a lot of the classes that I selected because I knew what to expect in the courses from her. My sister going to FSU doesn't really impact where I want to go. I want to find the right school that's right for me and where I'll do best."
Whether or not students go to where their sibling will attend college, they can influence how they perform throughout high school.
"Jaewon definitely established a name for herself in high school, leaving me with big shoes to fill," sophomore Louis Moon said. "Having her guide me for the past two years has opened up several opportunities for me, but I've worked harder to ensure that my success and legacy would be defined by my own accomplishments, not because I share Jaewon's last name, but in spite of it."
About the Writer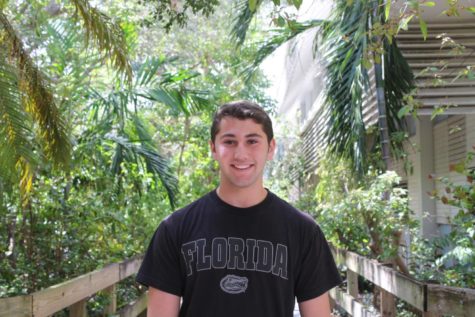 Blake Rubenstein, print managing editor
Blake Rubenstein is a senior and the print managing editor. This is his third year on staff, and he is excited to provide his talents to The Panther for...