14 Days of Love Day 4: The Most Iconic Romance Movies of All Time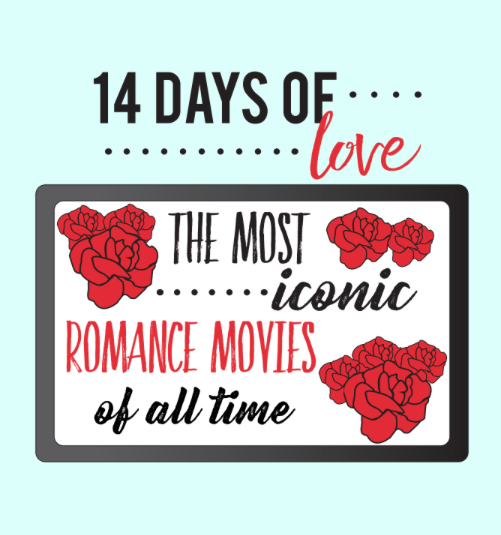 "Breakfast at Tiffany's" (1961)
"Breakfast at Tiffany's," directed by Blake Edwards, tells the story of a young woman in New York City and her journey finding her way through high society. Based on the 1958 Truman Capote novel, this movie is one of the foundational romantic comedies of our time. With Audrey Hepburn's charisma and beauty paired with George Peppard's undeniable charm, viewers cannot help but fall in love with the 1960s romance and root for the success of their relationship. In addition to the chemistry between the characters, the portrayal of New York City in this decade is almost undefeated. This movie, representing the vintage, well-executed cinematography and costume design of the 1960s, became a standard for many future movies. 
"Grease" (1978)
One of the most successful musical movies of all time, "Grease," starring John Travolta and Olivia Newton-John, follows a teenage romance between two opposite archetypal high school students. The obstacles they face throughout their relationship exemplify — to an extent — the ways in which friend groups and cliques can interfere with love. Although the ending demonstrates many relationship do-nots, the songs and plotline serve as of the most iconic of all time, with "Summer Lovin'" still a commonly-heard phrase today. Sandy and Danny, a love story for the books, continues to go down in history because it touches upon many societal expectations, while still developing a famous on-screen relationship with catchy songs to support it. 
"Dirty Dancing" (1987)
"Dirty Dancing" has provided some of the most commonly- known quotes, songs and dances of all time. Leaping into open arms to Bill Medley's "(I've Had) the Time of My Life," originates from an infamous scene in this 1980s movie. The story follows a young Jennifer Grey, playing the role of Baby, who goes to a summer camp with her family and falls in love with her dance instructor, Patrick Swayze, playing the role of Johnny. Again, reiterating the common theme of forbidden love regardless of social classes and ages, "Dirty Dancing" was one of the foundational movies to develop this theme. As one of the best-known movies of all time, if you ever hear your parents say, "nobody puts Baby in the corner," you now know where it comes from. 
"10 Things I Hate About You" (1999)
Following a more familiar romantic-comedy structure, "10 Things I Hate About You" reflects the infamous style of 1990s movies. Based on William Shakespeare's comedy "The Taming of the Shrew," the movie begins with a forbidden love between Ms. Popular, played by Larisa Oleynik, and her scrawny, nerdier French tutor played by Joseph Gordon-Levitt. In order to lift the limitations of their debatably one-sided relationship, they make a deal involving Oleynik's older sister, played by Julia Stiles. Intending on portraying the "shrew" of the story, Stiles reluctantly finds a prom date in order to help her younger sister. The movie follows the accidental high school romances between Gordon-Levitt and Oleynik as well as Stiles and Heath Ledger, the Australian transfer student with a "bad-boy" reputation. Each character's development adds to the magnificence of this movie, making it one of the most iconic of all time. 
"The Notebook" (2004)
A love story in its core, "The Notebook" takes viewers on an emotional rollercoaster as actors Rachel McAdams and Ryan Gosling narrate the story of their lengthy relationship. The juxtaposition between old and young, rich and poor, establishes a multifaceted story between the two lovers, filled with moments of tragedy and moments of happiness. Despite the evident differences between the two characters, the on-and-off-screen passionate connection between McAdams and Gosling evokes feelings of intense care and admiration in viewers. Based on the Nicholas Sparks novel, this iconic love story shows the struggles different classes may face when falling in love. Although families, friends and expectations stand in the way of a functional relationship between these star-crossed lovers, no obstacle is too large for a timeless love. 
"La La Land" (2016)
A classic Los Angeles story, "La La Land," starring Ryan Gosling and Emma Stone, perfectly exemplifies the sacrifices one makes out of dedication to his or her passion. An aspiring actress, Emma Stone's character, Mia, experiences the gut-wrenching struggles an actor faces in the film industry. On the other hand, Ryan Gosling's character, Sebastian, an aspiring jazz musician with financial barriers, tries to make ends meet while still pursuing what he loves. Although closely confined in Hollywood's borders, their driven mentalities separate them emotionally and ultimately force them apart. Their prosperous relationship unfolding throughout the colorful scenery of L.A., and creates admiration from viewer to screen, developing a connection and a wish of success to the characters, their relationships and both of their separate passions.