Thrift Shopping 101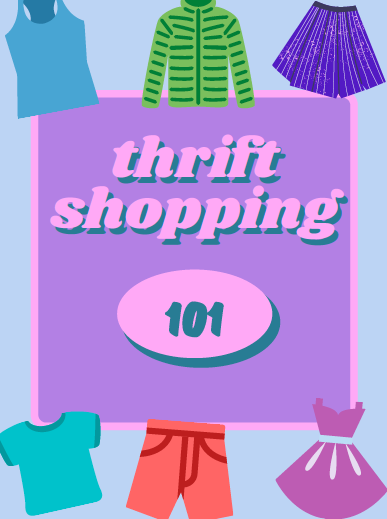 Thrift shopping allows for people to find cute clothes at an affordable price point, but many people wonder where to get started.
Best days to go thrifting:
On Tuesdays, chain stores usually restock, which leaves a great assortment of clothes to choose from. Thrift stores usually restock on Mondays, Tuesdays and Wednesdays. These days at chain and thrift stores are recommended as the best times to go on a search for new pieces of clothing and accessories.
What to wear to go shopping:
When going thrifting, wear comfortable and easy-to-change-out-of clothes, since one may find pieces that they like but want to try on first to make sure they made the right choice. Currently, with the pandemic, people cannot try on clothes, because it could contribute to the spread of COVID-19. A trick to see if a pair of jeans can fit someone starts by testing whether the waistband wraps around the neck fully. If it does not wrap around the neck, then look for some more options that do. With shirts, put them on the center back and see if the sleeves reach both sides of the shoulders and if it has a comfortable enough length. 
Where to start once in the store:
Just head to a rack and start looking for items. When looking at clothes, check and see if they have stains or holes. Take a look at the tags to see if the brand could possibly come from a high end brand. Even if it ends up not having a high end or name brand tag, the piece of clothing can still have value. Just make sure the piece does not have damage and that the clothes' have durable fabric. When it comes to accessories, keep an eye out for stains or tears. 
Leave or buy:
When going thrifting, buy what one may plan on wearing. Do not spend money on something that later on ends up sitting at the end of the bed or at the back of the closet. Buy wearable items that qualify as truly great finds. It does not always have to be about quantity. With thrifting, think about it as looking for good quality items. Even if it takes a while to find all the pieces, buying every piece found in a thrift shop does not sound like a good idea.
Save for others:
Although thrifting can turn into a really fun activity, try and remain cautious of what one may buy. Many people who come from low-income families buy clothes from thrift stores. Leave clothes like coats and jackets when winter time comes around and tank tops and t-shirts when it starts to get hot in the summer. Oftentimes, these people need the clothes more than others.