Once a Wildcat, Always a Wildcat
The cast of High School Musical reunited ten years after the completion of the first movie in the series,on Wednesday January 20th, in a televised event, featuring Vanessa Hudgens, Ashley Tisdale, Corbin Bleu, Lucas Grabeel and Monique Coleman, with the exception of Zac Efron. Fans excitedly watched as cast members reminisced about Hudgen's audition tape, the widespread popularity of the movies and the energy on the set of some of their most iconic scenes.
"The reunion was great I thought. It made me happy to see them all together, remembering the time of their lives," sophomore Samantha Villafana said.
Many teens and adults, after ten years, look back on the ways High School Musical impacted them  fondly and a steadfast love for the movies.
"When the third High School Musical movie came out in theaters I took all my friends to the midnight premiere because it was my 11th birthday," junior Anabelle Paz said. "I loved the singing and all the fun dances. I'm pretty sure I still have them all memorized and obviously I wanted to be Gabriella."
High School Musical's plot centered around ideals of self-expression and breaking out of the status quo, which resonated with many pre-teen and teen audience members during its time in the spotlight, such as when Troy Bolton decided to continue with musical theatre while maintaining his identity as an athlete. Cast members glowed when recounting their memories and audiences responded similarly.  
"I love High School Musical. It's about everybody hoped high school to be like. High School Musical is what got me to be interested in theater and being in musicals," sophomore Samantha Villafana said. "The reunion was great I thought. It made me happy to see them all together, remembering this time of their lives."
Zac Efron's absence dampened the excitement of the reunion, and a taped message beforehand served to lessen the blow; however, many fans remained dissatisfied.
"Zac Efron's absence made me kind of upset," Villafana said. "I understand he's a busy guy, but his career probably wouldn't have gotten far without High School Musical."
Although it was widely speculated that Efron may have not gone because of a promotion conflict for his new movie Dirty Grandpa, some argued that it was to avoid being in the presence of his ex-girlfriend Vanessa Hudgens. Angry fans took to multiple social media platforms to criticize him when he missed the reunion.
"I was really sad about him not being there because the entire squad would have been complete," junior Airra Durangparang said. "I think he should have been there because he was such a huge part of the trilogy but I don't think it should have been handled the way it was. He has other priorities and and he has a new movie coming out."
Regardless of surrounding controversy, the reunion seemed memorable even with his absence.
"Fave part of the reunion was when Monique gave Corbin a replica of the class ring they gave him a while back," Durangparang said. "I felt extremely happy. It was my childhood movie and seeing characters back together was refreshing to see and see how much they grew up."
To listen to your favorite tunes, here is a playlist of all the HSM songs. Enjoy!
About the Writer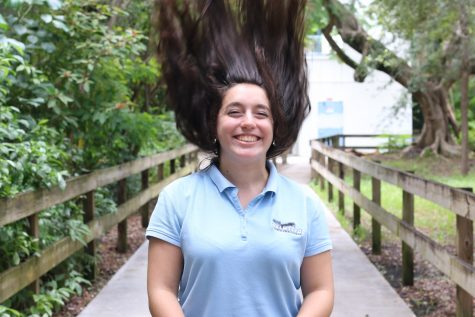 Carmella Jimenez, Copy Editor
Carmella Jimenez is a senior and the Senior Copy Editor. This is her second year on staff and she hopes to improve The Panther's quality of writing....