Jump, Shout, Yell: Netflix Original 'Cheer' Returns for Second Season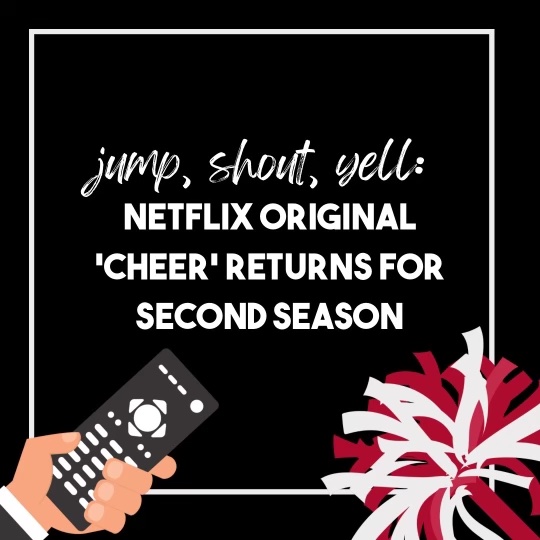 The Netflix Original sports docuseries "Cheer" returns on Jan. 12 for a nine-episode second season. The new season, which follows the Navarro College competitive cheerleading team on their track to a national competition in Daytona Beach, Florida, will introduce new challenges, athletes and rivalries.
After the release of the first season in Jan. 2020, the show's young stars became overnight sensations. One of them, 21-year-old Jerry Harris, was arrested in Sept. 2020 for charges of child pornography after months of media attention. 
Harris, despite his tragic background, found acceptance within the close-knit family of cheerleaders from all walks of life at Navarro College. His story of rising up from poverty and the loss of his mother to cancer as a young boy led him to become the heart of the Navarro cheerleading team.
The newly-released trailer for "Cheer" shows the aftermath of these events and how the athletes came to terms with the accusations against Harris, as well as how they learned to handle their newfound fame. The season will tackle the events as they unfolded, beginning in Jan. 2020 and ending in April 2021. 
 "Cheer" is filled with stories like these – stories of young adults who find homes and families within their cheerleading team, all united by a singular goal: to become national champions. 
This season will also spend more time highlighting the rivalry between the Navarro Bulldogs and Trinity Valley Community College, the underdogs. With the help of ringer Angel Rice, known as the Simone Biles of cheerleading, TVCC will prove to be fierce competition for the Bulldogs this season and threaten their national title. 
The stars of the first season — like teammates Lexi Brumback, Gabi Butler and La'Darius Marshall — will all return for the new season, as will Coach Monica Aldama. Viewers can also expect to see some new athletes. 
Moreover, the season will highlight the effect that COVID-19 had on the 2020 cheerleading season, upending the team's plans for everything from competitions to daily cheerleading practice. 
To access the official trailer, click here.