Earth Day 2022: How Miami Activists Advocate For The Planet
On Apr. 22, the world celebrated Earth Day to commemorate and signal support for environmental protection. First held on Apr. 22, 1970, EarthDay.org – as well as many other organizations – hosts a wide range of global events. The official theme for Earth Day 2022 is "Invest In Our Planet." "
Miami — a city known for its nature and scenery — serves as the prime place to celebrate the annual tradition. Miami commemorated the holiday via small businesses, markets and month-long events. 
One of these stores, The Verde Market, is a sustainable and clean store dedicated to selling sustainable products without creating waste. So far, its plan to be as waste-free as possible has proven successful.
"The whole idea of the stores is basically people bringing in their own containers and only paying for the product within. So it really fosters the low-waste lifestyle because we're not using containers that are made from materials out of the earth and we're trying to reuse materials that have already been manufactured," Verde Market sales associate Katie Schumann said. 
Maintaining and supporting sustainable stores is vital when it comes to protecting the environment. This is especially important in South Florida, as the area is home to a diversity of wildlife.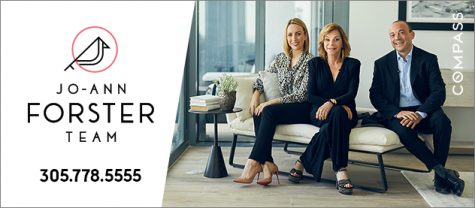 "Having stores like Verde and trying to reduce that footprint and contribute towards more of a low-waste lifestyle really helps retract all of the wasteful habits that we're producing and practicing that are really harmful to the earth," Schumann said. 
Verde Market's sustainable system allows for a zero-waste relationship between the market and its customers. 
"Some of the products that allow for practice of a plastic-free lifestyle would be reusable mason jars, dryer balls for laundry, compostable bags for trash, reusable tea strainers and a lot of stuff that's made from plants that is biodegradable as opposed to made from plastic," Schumann said. "A service that we provide that especially contributes towards a healthy Earth would be our composting system. We allow clients or customers to drop off their compost here and we use the composting service that turns it specifically into soil that is used in local farms here."
Verde Miami partners with the eco-friendly business Compost for Life for its composting needs. Compost for Life picks up the compost and food waste collected from Verde Market and transforms it into soil to deliver to local Miami farms. 
Miami is also home to other sustainable businesses such as Dragonfly Thrift, a thrift store that aims to keep shopping sustainable while supporting women. 
Dragonfly Thrift's goal is to facilitate sustainable shopping while empowering women to "put prison in their past." 
"At Dragonfly, we are all about second chances – second chances for fashion, furniture and people. Our aim is to improve the lives of women, our community and the planet. When you shop at Dragonfly, you're helping things stay in circulation that would otherwise end up in a landfill; [you're] reducing your carbon footprint, preserving water, reducing pollution and helping formerly incarcerated women put in prison in the past," Director of Marketing & Workforce Development Zoe Perito said. "Dragonfly is a part of Ladies Empowerment & Action Program, our nonprofit re-entry program that empowers women who have experienced incarceration through education, housing and employment."
Stores like Dragonfly Thrift hope to inspire other shops to start selling conservatively and sustainably. 
"The reality is that people and the environment are paying the price of the fashion industry's unregulated exploitation and waste. Brands are avoiding the realities of climate breakdown by continuing to pursue extractive business models and greenwashing their way to sustainability. It is up to small businesses like Dragonfly Thrift Boutique…to pave the way to a more sustainable and ethical fashion industry," Perito said. 
Other Miami markets and institutions also advocate for the planet, such as the Pinecrest Farmers' Market, Lincoln Road Farmers' Market, Coconut Grove Farmers' Market and the University of Miami. 
Throughout this month, the University of Miami hosts events in honor of Earth Day for their annual "Earth Month." Click the link here to see their calendar. 
Miami has continued to become more sustainable over the years and with these companies (and many more) advocating for the environment, the future is bright.