14 Days of Love Day 1: Best Famous Love Triangles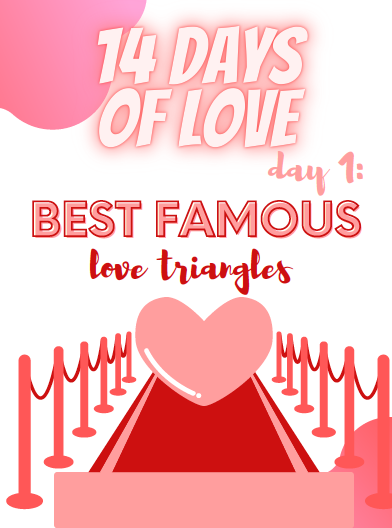 With all the chaos and stress one experiences in everyday life, other people's drama can work as a great escape from reality. Whether the tensions stem from fictional characters or real-life celebrities, as long as one has no personal affiliation with those affected, the gossip can grow entertaining. Below are arguably some of the most well-known love triangles in pop culture:
Jennifer Aniston, Angelina Jolie and Brad Pitt 
A staple couple in the late 90s and early 2000s, Brad Pitt and Jennifer Aniston's relationship turned sour in 2004. Married in the summer of 2000, Brad and Jennifer were the Hollywood couple until Brad Pitt started filming "Mr. and Mrs. Smith" with Angelina Jolie in 2004. Rumors started floating around that the co-stars fell in love during Brad's marriage. Jolie confirmed these rumors by describing how she could not wait to go to work with Pitt everyday during the filming of the movie. Later on, more rumors spread about the reason for Aniston and Pitt's divorce, claiming that a cause of it included Aniston not wanting to have children, a rumor she denies. Pitt and Aniston's divorce finalized in Oct. 2005 and Pitt continued to date Jolie. The new couple, donned Brangelina, officially married in Sept. 2014 and have six children — three adopted children and three biological. Brangelina filed for divorce in 2016 and hearsay that Aniston and Pitt may have gotten back together have swirled since but, for now, none of the people involved in this ever so public love triangle remain romantically involved with one another. 
Justin Bieber, Hailey Bieber and Selena Gomez 
For years, Justin Bieber and Selena Gomez's on and off relationship had fans hoping they would finally stay together forever. News of every new piece of information between their relationship would pop up on the covers of every tween magazine. Hailey Bieber, at that time Hailey Baldwin, first came into the picture in 2015 when she dated Bieber during one of Jelena's breaks. The pair would remain friends and eventually marry in a private ceremony in 2018. The couple held a more traditional wedding a year later. Though some fans try to make claims of a feud, especially because of Gomez's 2020 single "Lose You To Love Me," all three of the people involved continue to deny those claims. 
Princess Diana, Prince Charles and Camilla Parker Bowles 
In honor of the Netflix Original Series "The Crown" including Princess Diana's of Wales story in their latest season, the details of this love triangle has once again grasped the media. Though the marriage seemed like a happy one at first, some details have since released which prove the relationship far from picture-perfect. Ten years prior to tying the knot, Prince Charles fell in love with Camilla Parker Bowles, but a marriage between them was not permitted because she lacked an aristocratic bloodline and did not have a pure enough image. The lovers wed to different partners but rekindled their affair in 1986. The royal couple officially divorced in 1996 and Prince Charles married Bowles in 2005. The affair dominated tabloids and caused Bowles to gain the title of "most hated woman in Britain" for some time. 
Disney Show Love Triangles
Disney Channel has proven that love triangles serve as extremely entertaining and gripping plot lines in their shows. They have also proved that Disney does not have the most sound dating advice. Let's take two of Disney's popular shows, "Hannah Montana" and "Good Luck Charlie," for example. Both shows include big love triangles and cheating scandals but, worst of all, the protagonist of both shows chose to return to their cheating ex than with the clearly better option. In "Hannah Montana," Miley chooses Jake over Jesse; in Good Luck Charlie, Teddy Duncan chooses Spencer over Beau, even though she made that iconic song dissing Spencer. On the bright side, at least Miley ends up with Jesse at the end of the show. The moral of the story: do not take relationship advice from Disney Channel shows, and if you do, learn from Teddy and wish yourself good luck. 
Gale, Katniss and Peeta (The Hunger Games)
"The Hunger Games" was the source of an extremely popular love triangle when Young Adult novels and movies became all the rage. One, a relationship based on the need to survive and appease the media, the other, based on childhood friendship and mutual hardships, deciding between either relationship acted as a divisive choice. In the end, Katniss picks the tortured baker Peeta over the brooding soldier Gale. The epilogue reveals that Peeta and Katniss have learned to live past their struggles and trauma in District 13 and form a family together with two children.
Honorable Mention: Elizabeth Taylor, Eddie Fisher and Debbie Reynolds 
This celebrity drama serves to prove that romantic scandals have happened since way back when. Tensions formed between two of the most iconic actresses of the 1950s, high school friends, Elizabeth Taylor and Debbie Reynolds, when Taylor began dating Eddie Fisher, Reynold's husband. The relationship between the two began when Taylor's boyfriend Mike Todd died and Fisher rushed to her side to comfort her. Fisher split from Reynolds a month later and eventually a divorce occurred between Fisher and Taylor in 1964. Over the years, the two actresses reconciled and remained close friends until their passing.