The Top 10 Best Fashion Trends for Summer 2021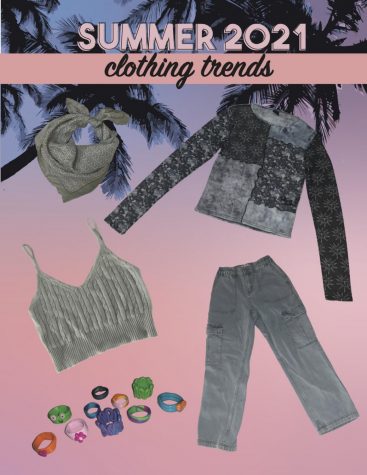 With vaccines becoming more accessible nationwide, it's time to start preparing a wardrobe for all the excitement this summer has to offer. Even though it's April and hotter than ever in the Miami sun, students still have a few months to get through before summer officially begins. Until then, you can start searching for outfits to wear once final exams end and there is nothing but white sand beaches and blue skies ahead.
Below are the top fashion trends to watch out for this summer:
Crochet:
This 1960s trend is experiencing a resurgence. Gaps in the intricate patterns provide for an airy fit amidst the summer heat. Zara has a multitude of items featuring crochet, from tank tops to vests; you can also try and make your own by following the latest TikTok tutorial. 
Oversized Button-down Tops:
This reinvented basic acts as a wardrobe essential for the season ahead. Style this piece by wearing it over a tank top, securing only one button in the middle or by tying it in the front — the possibilities are endless. Either steal a top from your dad's closet or find one on Target or Urban Outfitters.
Groovy Prints:
When the 1970s episode of Disney+'s WandaVision aired this year, the groovy prints and bold colors definitely resonated with viewers. I'm talking vibrant, floral designs and psychedelic swirls. Some great finds include the swirly satin bandana top on Boohoo, pink floral mini skirt on DollsKill and green paisley print dress on LadyStylist.
Three Piece Bikini:
This trend goes beyond just the bikini by adding a matching mini-skirt to the mix. The skirt allows for a more complete outfit that you can wear after a long day at the beach. Some examples include this hibiscus floral set on Blackbough Swim, vibrant striped set on Soulmia and yellow tie dye set on Rosegal.
Mesh Tops: 
A staple in Y2K fashion, mesh tops have made a comeback this season. To accompany this sheer top, you can wear a basic tee underneath, or if you feel bold, try a black or metallic bralette. You can find these tops for relatively inexpensive prices on sites such as Forever21 or Amazon.
Chunky Rings:
The dainty, metallic rings of 2020 are long gone; instead, chunky, acrylic rings are the latest jewelry trend. A throwback to the 1990s, this accessory is graphic, vibrant and just in time for summer. Learn how to make your own clay rings with this Pinterest DIY , or buy your own on Etsy or Ebay.
Wide Leg Pants:
Say goodbye to skinny jeans and hello to wide leg pants. Make some room in your closet for this comfortable, yet chic option. Balance out these loose fitting pants with a tighter shirt and you are good to go. Purchase some wide leg jeans on OldNavy, wide leg trousers on Express and wide lego boho pants on Free People.
Halter Neckline:
Halter tops from the 90s and early 2000s have been given a modern twist — literally. They now feature bold colors with twisting, plunging necklines and the sleeveless aesthetic is perfect for the summer heat. The following websites all carry this style for under $25: H&M, EMMIOL and ASOS.
Head Scarves:
You have probably seen the viral TikTok trend of people driving, wearing sunglasses and headscarves, while the wind blows and the music blasts. If your hair gets messy from the beach, simply put on a headscarf to complete your outfit. Aeropostale, Amazon and ASOS all carry these fun accessories.
Terry Cloth: 
The fluffy, towel-like texture of this fabric will be all the rage this summer. You can add this beachy look to your outfit in the form of  shorts, skirts, polos, rompers, bucket hats and even scrunchies. Check out Pacsun, EchoClubHouse and Zara for this fun fabric.