The future of youth (tackle) football
Youth sports culture in America has become centrally focused on safety: the equipment, proper form and precautions are perfected to a tee in youth leagues. Football receives what seems to be the most criticism toward its safety for its players – especially for kids – in the wake of the NFL's scandals and lawsuits surrounding Chronic Traumatic Encephalopathy, causing dozens of retired football players to develop early memory loss and severe depression. Now that the media has exposed the issue, parents' concerns over their kids playing tackle football are on the rise – but they are not necessarily causing the expected plummet in participation.
Palmetto Panthers football coach Michael Manasco stays true to the sport he grew up loving while acknowledging the concerns surrounding the game. He implements proper form and tackling techniques every day at practice in order to ensure the safety of his players; bad form means no play.
Many current coaches, such as Manasco, implement rugby-style tackling in order to prevent injuries caused by improper form. This means players tackle lower, with their shoulders, rather than knocking helmets and causing brain trauma. The studies performed on rugby, Manasco suggests, have improved the safety of players when applied to American football.
Manasco recalls when he started playing football at age 11, and notices the changes that have taken place for the better in equipment, helmet technology and scientific knowledge.
"When I was taught to play football, I was taught to stick my head in there, bite the bullet, and that's how I learned," Manasco said.
Plenty of parents across the country eagerly enroll their toddlers in tackle football as a way to initiate them into the great American sport boys (and girls) often dream of playing as a career. Manasco suggests flag football as a safer and more ethical alternative to placing young kids at risk of obtaining a serious head injury.
"Flag football teaches kids a lot of great things about football early on, because when we teach tackling we teach them how to hit," Manasco said. "But in flag football, you're reaching for the hit with a flag, so it's almost a precursor to what we're doing [at Palmetto]. Certainly flag football should be a requirement for anyone who is going to play."
Kids face safety risks as young as four years old, the age the Palmetto Bay Broncos tackle football teams begin accepting players.
Risk Advisor Frank Gowin of the Palmetto Bay Broncos at Coral Reef Park has spent 26 years with the organization and claims to never have experienced concussion scares with the players.
"Some parents may be reluctant to allow their children to play at younger ages, and the effects of concussions on younger players is a point of emphasis if concussion signs appear," Gowin said. "The youngest players have not yet developed the speed or muscle strength to incur the types of collisions where concussions can happen.  This being the case, we take concussion protocol very seriously."
The Palmetto Bay Broncos, a member of Pop Warner Little Scholars, Inc. (a partner of USA Football and the Heads Up program), ensure the safety of their young players by requiring all coaches to attend instructional workshops for coaching techniques and safety measures. Coaches must pass a written exam and receive a valid certification in order to coach.
Despite reluctant parents who fear for the safety of their children, Gowin claims he has never experienced a parent or player pulling themselves out of the league for safety reasons.
While the media's attention to football's issues appears to be negative, it may have the opposite effect. With more knowledge about how to improve the safety of the game (and the reasons behind it), equipment providers and coaches are turning to safer solutions, producing a positive outcome.
"I've been coaching for fourteen years and I played way before then, and I see every few years the equipment get better, the products become safer," Manasco said. "The helmets we use today are ten times better than what I ever used."
The technology seems to improve in accordance with a collective love for the sport–a part of American culture that continues to thrive.
"Maybe there will be a dip [in participation], but I think there's too many adults who got so much from the game that they realized how much it impacted their lives," Manasco said.
If it were not for his own love of the sport, he claims, he would not be the coach he is today.
"I believe in the good of the game," Manasco said. "Just like I try to coach these kids, I still believe you can coach by caring about kids."
Palmetto football, according to information provided by Manasco, has not suffered recent declines in participation. Spring practice participation declined slightly from last year due to behavioral issues, and participation increased in the fall from 2014 and 2015.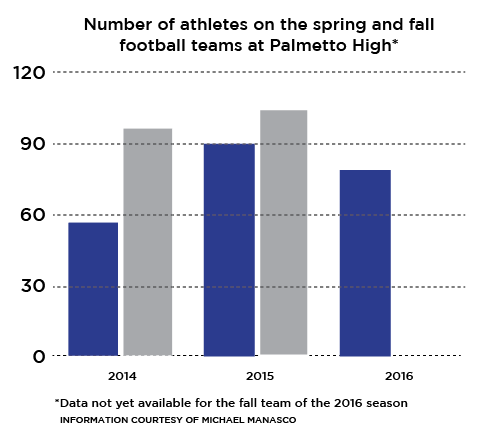 In all of Florida, participation in high school tackle football increased on average, while Palmetto's student population over the years has steadily declined, indicating athletes are not losing interest in the sport due to attention to safety in the media.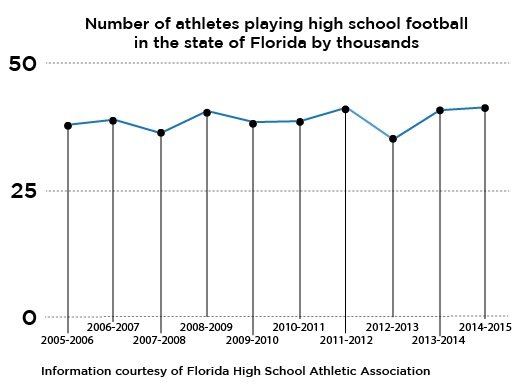 According to the Religious News Survey, however, trends are quite different in the rest of the country. Since 2015, the percentage of parents who would not allow their child to play tackle football increased from 22 percent to 31 percent.
Miami-Dade Public Schools and University of Miami compiled data that reveals that from June, 2012, until December, 2015, 399 concussions in football were recorded – over half (about 68 percent) of the 586 total concussions reported in the county for all sports, boys and girls.
Within football in Miami-Dade County itself (during the same time period), different positions received different numbers of concussions, and football caused the most concussions in Miami-Dade out of all high school sports at a total of 399.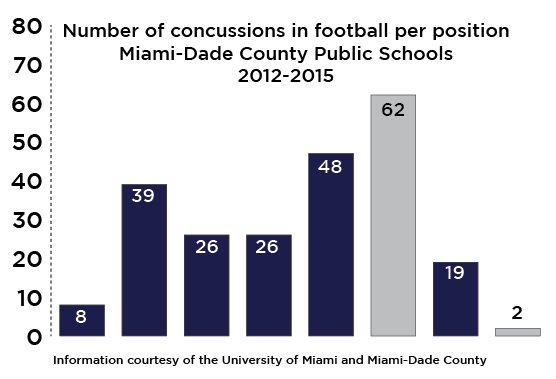 Resources such as the King-Devick test (sideline number-reading screenings to check for signs of a concussion), the Gradual Return to Play rule restricting immediate return to the game and youth concussion legislation in each state helped reduce and limit the amount of concussions obtained in high school sports.
The efforts to increase safety in football seem to satisfy the concerns of parents. The occasional parent may distrust the science behind the latest helmet technology, but for most, the love for the game overrides serious concerns about potential injuries. Sophomore Vernon Williams, wide receiver and cornerback for the Palmetto Panthers, received a mild concussion during a spring game against Miami High. Despite the incident, in which the opponent fell on his head, he claims his parents continue to support him playing football due to a shared love of football.
"I can't explain the love I have for the game," Williams said.
About the Writer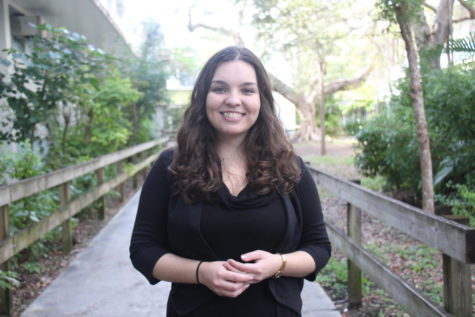 Marlowe Starling, editor-in-chief of The Panther
Marlowe Starling is a senior and editor-in-chief of The Panther. This is her third year on staff and she looks to inspire The Panther staff to value the...