Suicide has its day
1-800-273-TALK. One call. The simple action of picking up the phone and knowing someone cares. That's all it takes to potentially save a life. The American Foundation for Suicide Prevention operates for 24 hours a day, all week, all year and there are still not enough people who know about it. In fact, when searching "September 10", any mention of National Suicide Prevention day fails to show on the first, second, or even the third pages of google. This is a shocking fact, considering 39,518 suicides were reported in 2011 alone, making suicide the 10th leading cause of death in the United States. The American Foundation for Suicide sates that every 13.3 minutes, someone takes their own life. Did most of them even know about AFSP's crisis line?
"If you think no one will care if you're gone, think again," sophomore Dylan Barallobre said. "To the people who matter most, it'll break their hearts."
Dylan's dark thoughts began in his early teens when reflecting upon the death of his father, the most valuable man in his infantile life. He hardly has any memories with his father, since he passed away so early in Dylan's life. When difficulties began to arise at home, the thought of being reunited with his father pulled him into a force field of depression, full of "what if's". Among them: "what if I just killed myself?"
Unlike most people suffering from depression, Dylan's desire to leave earth became more about searching for joy than running from grief. It soon was apparent that bliss can be found here on Earth. He found joy in making friends. Though this task seems impossible to ample people, but to Dylan it was much simpler than thought.
"This September 10th life has just started. You have years beyond years to come," Dylan said.  "You don't know if your life will suck forever. Stop stating it as a fact."
Suicide Awareness: a Q & A with Dylan Barallobre.
Q: "Did you only used to be suicidal or do you still have some dark thoughts?"
A: "February was the last time I had some thoughts."
Q: "When and why did you begin entertaining the idea of suicide?"
A: "I start to think about what my life would be like if he was still alive. That day this
year I started thinking that if I ended my life I would see him somehow and I would
know what life would be like if we were together. "
Q: "So why are you no longer thinking about this?"
A: "What finally snapped me back into reality was the fact that I would've taken my
life. It would no longer be life. No matter if I saw him or not."
Q: "Do you have any aspirations?"
A: "I honestly feel like myself and others alike were put on this earth to be hopefully
living examples of the dangers of suicide."
Q: "What do you have to say about the suicide itself now?"
A: "To destroy the life who or whatever gave to you just makes me furious. Anything
could be done to better that life but instead it is thrown out. Sometimes literally."
Q: "Do the thoughts ever come back? Maybe at a certain time or day?"
A: "February 17th is the day my father died. My state of mind wasn't exactly sane that day."
Q: "Were there any outside forces that seemed to encourage your thoughts about suicide?"
A: "I felt extremely alone, because I was. Event after event made me feel that I didn't
need to live any more. Nobody would care and that my life would never get better. I
would stay alone and sad for the rest of my life. I was fortunately wrong."
Q: "Anything in particular encouraging you to stay happy?"
A: "I've made friends and my life is at its peak and I don't see myself going back down."
Q: "I cannot thank you enough for this interview. Again I'm sorry if this was an useasy topic for       you to talk about"
A: "Nah, you sort of got me in a good mood. Talking about it reminds me of the amazing choice          I made to stay alive.
Q: "Do you have anything else to add?"
A: "Most of this stuff is just like buried in my head. I usually don't get a chance to dig it up. Thanks to this, like you said it'll be used to help instead of being ignored."

Hang on for a minute...we're trying to find some more stories you might like.
About the Writer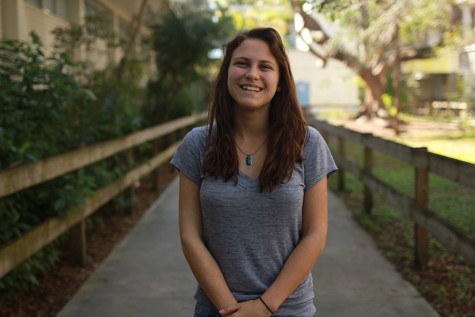 Agnes Bartha, Photo Editor
Agnes Bartha is a junior and the Photo Editor for The Panther. This is her second year on staff as she looks forward to improving her writing alongside...