Students flock to local Farmer's Market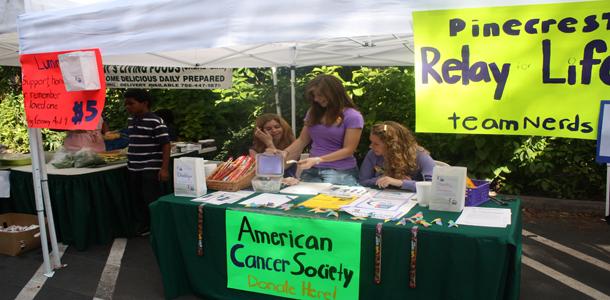 Jenna DeNight
December 14, 2010
Autumn is here and the weather is crisp and sunny. Take a Sunday morning bike ride over to Pinecrest Gardens' Farmer's Market.
The market is open every Sunday from November 7 to May 28 from 9:00 a.m. to 2:00 p.m. Admission is free for all to enjoy fresh produce, organic products and much more.
Every Sunday, the market offers locally-grown and organic fruits and vegetables, freshly prepared foods (from local chefs and caterers), fresh cheeses and dairy, local honey, fresh herbs, orchids, plants and aromatherapy products.
Students who regularly attend Pinecrest's Farmer's market look forward to the fresh, local foods.
"I really like the diversity of the foods at the Farmer's market," junior Hannah Williams said. "I think it's great because it encourages localization within the community."
The market is filled with many of the earth's most natural items. With such great reviews, many local residents are eager to check the market out for themselves.
"I'm very excited to go to Pinecrest's Farmers Market," biology teacher Ann Nelson said. "I love fresh fruits, vegetables, and organic foods."
This market is a larger version of the South Florida Farmers Market, formerly held at Gardner's Market. Pinecrest's Farmer's Market has been a huge success and was voted the best in Miami in Miami New Times' "Best of 2010."
"The Pinecrest Farmer's Market is worth visiting," the Miami New Times advised. "Produce is extraordinarily abundant here. We're talking carrots, bok choy, salad mixes, tomatoes, radishes, oyster mushrooms from Paradise Farms, and rare beans harvested the day before. Other items likely to make their way into your reusable, eco-friendly bag: local goose eggs, organic hummus, local honey, zucchini flowers, and artisan breads."
Going to the market on a Sunday afternoon can provide an excellent opportunity for families to get together and do activities. Teachers agree that families can browse all the local products and then go home and make a delicious meal with all the fresh ingredients.
"I think it's a great family bonding activity," AP World History teacher Julianne Farkas said. "They have an interesting variety of fruits and vegetables. I also feel like it's good to support the local farmers."
Attending the local Farmer's Market is a great way for many students to end their weekends. Senior Caryn Moon believes gathering up some friends and heading to the Farmer's Market becomes a fun, relaxing, and healthful day.
"This was my first time here. My friend invited me," Moon said. "It's definitely not like Publix."