Prom: Expectations vs. Reality
Anything can happen at prom. While seniors spent one last night relishing in the treasures of their high school experience, did prom disappoint or live up to the hype? Senior Laetitia Gerrier counted on the latter before the event.
"On a scale of 1-10, I would rate my expectations a 8-10. I expected the after parties to be fun and long-lasting," Gerrier said.
While the venue, music and event itself lived up to Gerrier's expectations, the after party was a different story.
"It didn't really meet my expectations because not a lot of people showed up and danced," Gerrier said. "I didn't really like the music and it got shut down early."
So much for fun and long-lasting. Senior Morgan Geltzer decided to skip out on afterparties completely with more casual plans.
"I went to my friends' house and ate more food after prom. I wasn't anything special honestly," Geltzer said. "My favorite aspect of prom was being with my date and our friends in a limo and looking fabulous."
This, along with dancing and the venue itself excited Geltzer at first and enchanted her afterwards. On a scale of 1-10, with 10 being the highest, she gave the experience a solid nine. Senior Ryan Stoler enjoyed the event too, specifically the soundtrack atypical of the romantic, slow songs typically expected to be played at prom.
"It was more of a rave than an actual prom, because it was all electronic music," Stoler said. "I kind of expected it to be that way, because the times have changed, [but] I didn't expect the entire prom to be electronic."
Gerrier had high expectations for the music going in.
"My favorite aspect from prom will be the music because if I like the music it is guaranteed I will have a great time," Gerrier said.
As it turns out, she did.
"Prom did meet my expectations because the venue was really nice and they had varieties of food and there was really good music and everyone danced and had fun," Gerrier said. "On a scale of 1-10, I would rate my experience a 10 out of 10."
About the Writer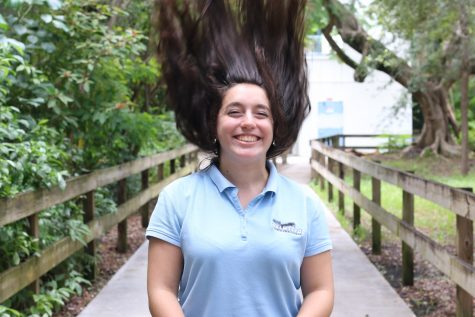 Carmella Jimenez, Copy Editor
Carmella Jimenez is a senior and the Senior Copy Editor. This is her second year on staff and she hopes to improve The Panther's quality of writing....