Palmetto's Fall Dance Show
At Variations and the dance electives' fall show excited families fills the auditorium. Cheering backstage, many of Palmetto's dancers eagerly await the start of the show and many showgoers hold bright bouquets for the dancers after the show. 
"This is the fall show and we've been working on these dances since the summer. We have some dances that are in a competition we're going to in December," junior Variations dancer Mary Oliver said. 
The show opened with a speech from Palmetto's dance director, Balli Logan. She thanked the dedicated dance moms and tech crew, and said all of her classes were performing; Dances 1, 2, 3, 4, and Variations.
"Almost all of Variations' dances are ones we learned in the summer at a special camp and it was super fun, it was a great experience," sophomore Brooke Young said, "We worked really hard on our dances to clean them and put certain people in each. We worked super hard and it's going to look great."
Variations is one of Palmetto's official dance teams. They perform at school events like pep rallies, sports games, etc. Tryouts are held in the spring. For more information speak to  Logan.
Variations juniors opened the second act of the show. In "Kill This Love" they performed a jazzy, feminine hip hop routine to the K-Pop song of the same name. 
"Well at first it was a lot, I guess. It's a lot more dancing and practicing and as you get used to it and learn to manage it, it becomes a lot of fun to be with your friends and dance together," senior Kristen England said about her first year on Variations.
The dancers practiced in school all day on the day of the show. Variations had many practices after school. They started learning dances for this show in the summer at camp. The dance elective classes started learning the dances in September. 
"The show is very strong. My elective classes are doing less dances than the dance team," Logan said. "They have a lot of dances because they practiced some dances at camp. We've had various choreographers come in and choreograph on the kids and there's even student choreography in the show." 
Dance 1 students performed an upbeat hip hop routine choreographed to Beyoncé's "Run the World (Girls)" mashed up with other songs. They wore red, white, and black coordinated shorts, shirts, and bandanas. Diamond earrings and lip gloss shine under red spotlights. 
"I like to do student choreography because kids this age have a lot of talent so I like for them to get to show whatever comes up in their mind as choreography and put it on a stage. I think it's good practice," Logan said. 
The dance "Nails, Hair, Hips, Heels" was choreographed by students of Dance 4. Dancing to the Todrick Hall song, the dancers emulated the sassy charisma he's known for on stage. "Someone you Loved" was choreographed by students of Dance 3. The slowed down, modern-contemporary piece brought a different vibe than other 
To close the show, Variations performed "Cake." Choreographed by the captains of the team, the dancers utilized many of their signature moves from pep rallies with other steps to create the closing piece. They matched the explosive energy of the Rihanna song they chose, "Birthday Cake." Following the dance, all of the classes came to the stage to take their final bows. As cheering parents and celebration music plays loudly in the auditorium, the curtains close.

Hang on for a minute...we're trying to find some more stories you might like.
About the Writer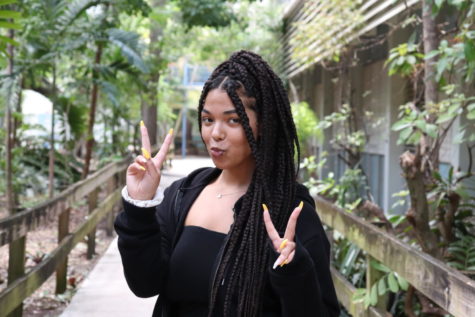 Mobolade Presley, Staff Writer
Mobolade is a sophomore and staff writer. This is her first year on staff, and she looks to improve on her writing flexibility. Outside of newspaper she...