Palmetto Has No Official School Walkout Planned for Columbine Anniversary
According to administration officials and student organizers, Palmetto has not planned an official walkout on Friday, April 20 in support of stricter gun control measures.
The National School Walkout movement has organized walkouts in protest of gun violence in schools across the country to begin at 10 a.m. on Friday that will last until the end of the day. The date, April 20, coincides with the 19th anniversary of the 1999 shooting at Columbine High School in Littleton, Colorado.
Palmetto has not authorized a school walkout in accordance with the nationwide movement; instead, the administration plans to hold an assembly in the auditorium during both lunches in which students can sign a banner with their answers to the question "Where Do We Go From Here?" The school has also begun circulating a hashtag with the same name. The administration will also play a commemorative video on the morning announcements. The events have been organized by Student Council and Psychology Club.
"The first [walkout] was about anger," activities director and Student Council sponsor Elizabeth Valero said. "The second one was about remembering the victims [of the Parkland shooting]. For the third [protest]…we've been angry, we've prayed, we've protested, we've done it all. So we have to figure out what do we do next."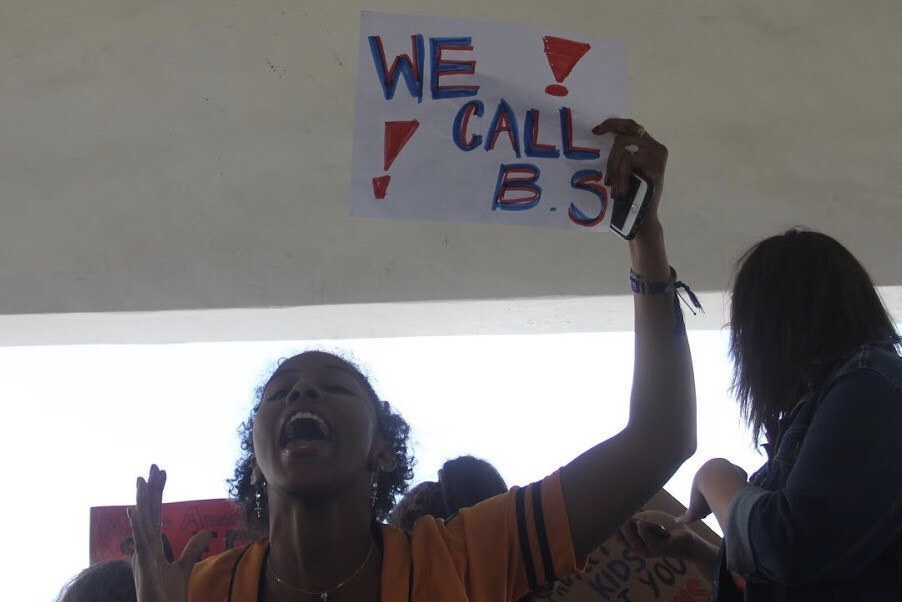 Palmetto has organized a school-sanctioned walkout before; on March 14, students gathered on the field for 17 minutes of silence in remembrance of the victims of the shooting at Marjory Stoneman Douglas High School in Parkland, Florida. Students have also walked out without approval in protest of gun violence; on February 21, students extended their approved 15-minute protest in the Pawvillion and left campus.
In regards to tomorrow's events, Valero said nobody asked about organizing an official walkout with the school and hasn't heard about people planning to walk out. She said the school is prepared to deal with students who decide to walk out (an email to teachers advised that if students decide to walk out of their classes they should not stop them) and expressed concern that because Friday is April 20 or 4/20, a day associated with smoking marijuana in celebration of the drug, people would walk out simply to go smoke if a school-sanctioned walkout took place.
"Our whole goal is to still hear people's voice and opinions," Psychology Club president Audrey Paz said. "However, we'd like to do it in a peaceful manner as well as spread the message of moving forward together."
CLARIFICATION: A previous version of this story said Palmetto will not authorize a walkout. Administration officials have clarified that teachers were advised if students decided to walk out of their classes at 10 a.m. to not stop them.