On the road to States
January 13, 2016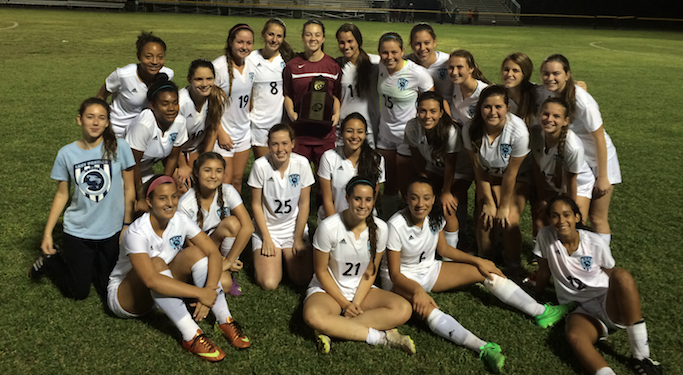 The Panthers girls soccer team beat Ferguson 2-0 on January 8th to win the Greater Miami Athletic Conference (GMAC) tournament. Coming off of a season that saw the team win districts but lose in the regional quarterfinals, the Panthers have already improved on last year, one in which they did not even qualify for the GMAC tournament.
Hard work has paid off for the girls this season, as they now hold a 20- 0 record. The team practices every day Monday through Friday after school for two hours, excluding game days. Last season, the Panthers loss in the regional quarterfinals was mostly due to injuries to several key players, however this year's group seemed to improve from the incidents.
"All the injuries were senior players and it forced the younger players to step up to the plate creating more experience for this years team," soccer coach Lyndsay Segarra said.
At the district semi-finals game, against the South Dade Buccaneers, it was made clear that both teams were at the opponent's level of success last season. South Dade went into the District Semi-Finals versus Palmetto with a streak of 18-0 until Palmetto defeated them last year. Fast forward to a season later, and the Panthers dominated the Buccaneers 3-0 in their quest for revenge.
"Every game from here on out comes with pressure…this team handles pressure very well," Segarra said.
Segarra, a Palmetto alumnus and former Palmetto girls soccer player, took the girls soccer team to states in 2011 and won the GMAC championship title that same year. Both goals scored in the final game against Ferguson were off the foot of sophomore Emily Lamas, who now has thirty-four goals this season, making her one of the top scorers in the district.
"[The feeling] is great but all the goals are a team effort and I just happen to be the person who puts it in the net," Lamas said. "We work hard and we all want to win."
The undefeated record has built the team's confidence. The Panthers are now focused on getting themselves mentally prepared and focusing on one game at a time in this late stage of the season, with states getting closer.
"If it wasn't because we work as a team and communicate on and off the field, we would not be in the the position we are in today," senior and co-captain Stephany Diaz said
At district finals against Coral Reef Senior High School on January 13th, the Panthers once again took care of business and beat the Barracudas 2-1. The girls will now look ahead to regionals on Thursday January 21 and possibly states, as the Panthers have not shown any signs of slowing down.         
"What makes this group of girls different from previous years is their perseverance, determination, and overall heart," Segarra said. "Not only for the game, but for each other."