New Voter Suppression Legislation Appears Across the U.S.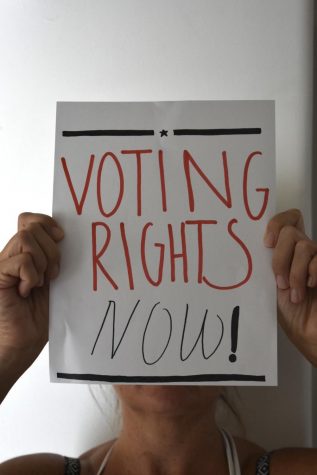 On Monday, Apr. 26, the Florida Senate advanced a bill limiting mail-in ballots and dropbox voting. The bill, H.B. 7041, includes numerous new restrictions on voting  after the events of 2020's presidential election.
The new rules regarding the distribution of supplies to voters waiting in long lines caught the public's attention, due to the impact it would have on certain communities.  Back in March, the Florida bill proposed that restrictions against passing out food, water and campaign merchandise  move from 100 feet within the poll site to 150 feet. In addition, only authorized election workers may distribute these supplies. Now, according to NBC News, language regarding those restrictions have been waived, but the bill's sponsor suggests that the restrictions can be implemented if the distribution of supplies takes place in order to sway the opinion of voters. 
H.B. 7041 has set other impactful limits for voters in Florida. Regarding dropbox voting, the bill limits the placement of these boxes, reducing the availability of this resource, but it also restricts certain individuals from taking advantage of the dropbox, and requires official identification for voters at dropbox locations. Mail-in voting also faces changes under the legislation, with a new requirement that  voters must consistently re-apply for mail-in ballots.
Florida's new bill follows the hundred of new laws across 28 states that have passed in an attempt to suppress voting, according to NBC News.
Most notably, Georgia's new voting law drew national criticism. Signed on Mar. 31 by Georgia Governor Brian Kemp, SB 202 passed multiple restrictions against voters, with a majority of the provisions coming to effect on July 1.
Similar to H.B. 7041, SB 202 restricts certain voters with its requirements for official identification for absentee ballots, and greatly reduces the placement of dropbox sites to one dropbox per voting location, with an additional one box per 100,000 registered voters. The bill also calls for the official training of poll watchers, extending the cut-off date for mail-in ballots to just 11 days before the election. 
Public criticism focuses on the claim that the bill attempts to target minorities, specifically black communities. Last election, voting centers in these communities had hour-long waiting lines; the new bill restricts anyone that is not an official election worker from passing out water and other supplies, placing barriers for these voters. Georgia has also decided to include a limit for voting buses to emergency use only.
The fight against voter suppression continues throughout the country. Recently, the Texas Senate passed SB 7, notably changing the placement of precincts for counties with over one million residents. According to Vox, this sets restrictions for the five biggest counties in Texas, which lean  Democratic. 
In addition, HB 6 has  received approval for a floor vote. If passed, the bill  allows for partisan poll watchers with a history of suppressing black voters to remain prominent, as well as limiting the practice of 24-hour voting. However, large Texas-based corporations have voiced their criticism of these bills.