Pop at Palmetto: Met Gala Favorites
Paul Yan, Design Editor
September 20, 2021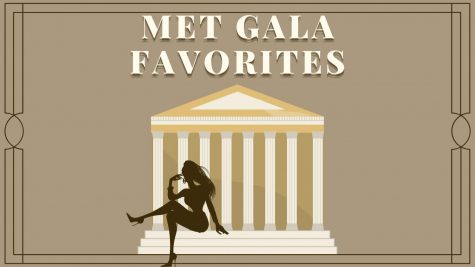 On Sept.13, the annual Met Gala took place after a year-long hiatus due to the COVID-19 pandemic. Hundreds of celebrities gathered to raise money for the Costume Institute Gala in the Metropolitan Museum of Art in New York City. Celebrities pull together their best looks to represent the year's theme. 
The theme, "In America: A Lexicon of Fashion", had the rest of America on the edge of their seats, waiting to judge the final outfits. This year's fashion show had many iconic looks, as well as a few questionable ones. Despite the difficulty of narrowing down hundreds of looks, these looks stood out the most.
Quannah Chasinghorse remains hands down one of the best looks of the night. Chasinghorse, an indigenous model, represented her Native American culture through her outfit with Navajo jewelry. Her look not only stood out fabulously fashion-wise, but sparked important conversation on the treatment of Native Americans in American culture. 
Billie Eilish stunned in a custom Oscar de la Renta ball gown. The dramatic peachy tulle train grabbed everyone's attention, and her short curled hair complemented the theme perfectly. Her gown and hair served as a clear nod to Old Hollywood glamour drawing inspiration from iconic figures like Marilyn Monroe. Additionally, the announcement Eilish made that Oscar de la Renta would begin going fur-free from that point on remains noteworthy.
Lil Nas X's three looks were definitely memorable. He started off the carpet with a gold cape, which then got taken off to reveal full-body golden armor. In order to finish off the look, he  removed the armor to reveal a gold embellished bodysuit. The three outfits signify his journey in the entertainment industry and having the freedom to express his true authentic self. His changing of looks combined with the meaning behind it creates a theatrical effect.  
Saweetie represented her culture with a Christian Cowan dress. The dress features cutouts that compliment her body and consists of two trains depicting a Black American Heritage flag and Filipino flag. The representation of both cultures combined depicts Saweetie's identity perfectly and shows the diversity that exists among Americans..
Nikkie de Jager, also known as Nikkietutorials, paid tribute to Marsha P. Johnson with her Edwin Oudshoorn gown. Johnson served as an activist and icon for the LGBTQ+ community, especially as a prominent figure of the Stonewall riots in 1969. The quote "Pay no mind" on Jager's dress and the flower crown serve as clear references to Johnson. Nikkie's tribute honors the legacy of Johnson, a key figure in American history.
Gemma Chan was a favorite in her Prabal Gurung dress. Chan paid homage to Anna May Wong, a prominent Chinese-American actress during Hollywood's golden era. The dress featured some gorgeously extreme details as well. A dragon on the front of the dress both referenced a similar dress Anna May Wong wore, and a handscroll from the Metropolitan Museum of Art. The tribute to Wong beautifully highlights Asian representation in Hollywood throughout American history.
Lastly, the Met Gala would not be complete without Rihanna. Rihanna wore a dramatic outfit by Balenciaga. The silhouette of this look remains absolutely stunning and eye-catching. Rihanna's jewelry complemented the outfit perfectly. Her jewelry came from an upcoming show, "Brilliant & Black: A Jewelry Renaissance," by the fine arts company, Sotheby's. Highlights black jewelry designers, the collection and jewels worn by Rihanna continue to uplift black designers in the fashion world.