Meet The Panther's 2021-2022 Leadership Team
Every year, leadership chooses a new group of leadership consisting of the most dedicated staffers from the school year. These new leadership members will maintain the work standard of The Panther and each have unique qualities to elevate The Panther to a new level. Beginning May 1, new leadership will take over their positions. They have spent the past month shadowing old leadership and learning the ins and outs of their jobs and responsibilities.
Meet Leadership
Bella Martin, 2021-22 Editor-in-Chief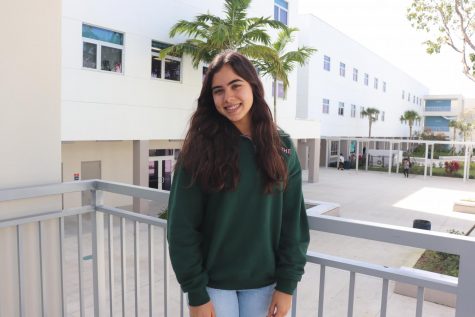 Martin serves as The Panther's Editor-in-Chief next year. This means that she leads both leadership and the rest of staff on all fronts, including writing quality, deadlines, social media, creative direction and more. Martin serves as the face of The Panther and will make any final decisions necessary.
"I am very excited to work with writers in every section of the paper and help to create well-written and informative stories for our audience to read. I am also extremely excited to work alongside new leadership to lead the paper to the best of our abilities and uphold the true values of the paper," Martin said. "Alongside the rest of leadership, I am most excited to work on the print section of our paper. Everyone on leadership has amazing ideas for our print issues, and I am really excited to implement them. For example, we are planning on creating a 'fun and creative' column page in our issues where we include our staff favorites of the month and include school statistics for the month. Overall, I am extremely excited to lead a paper that represents hard-work, determination, and the values of our school."
Martin works hard in her communities inside and outside of school, and old leadership is confident that she will continue to bring these qualities of dedication to The Panther next school year.
"In school, I am a member of the National Honor Society, Social Science Honor Society, and the Class of 2022 Cabinet. I am also a Peer Health Educator with the Health Information Project. Outside of school, I am a grants researcher and writer for the Pinecrest City Music Project and the Vice President of Logistics and Execution at Tutoring for Tomorrow. I am also an advocate and fundraiser for the Juvenile Diabetes Research Foundation, an organization that I donate money to through my community service project," Martin said.
Allison Gould, 2021-22 Print Editor-in-Chief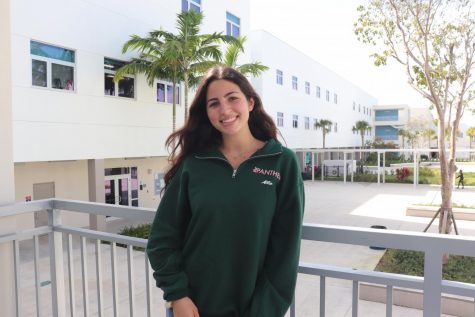 Gould serves as next year's Print Editor-in-Chief. This means that she will primarily focus on The Panther's print issues, ensuring their quality in writing, design, multimedia and structure. For anything involving print issues next year, Gould has the final say.
"I am happy to be a part of leadership because with my position I can really hone in on the Palmetto community and work hard to tell the story for those who haven't had their stories told," Gould said. "I think that as the Print Editor-in-Chief I will also have the ability to help other staffers grow their passion for journalism, which makes me very happy and proud."
This year, due to the pandemic, The Panther staff were not able to physically print issues, something that Gould looks forward to bringing back next year. Old leadership knows that she is the right person to make this transition back to a more normal printing schedule.
"I am most excited to hopefully have a printed issue that the whole school can physically hold and read. I think that there is something so special about holding the issue and reading the stories that cover Palmetto and the Palmetto community. I am also super excited for writing the stories and collaborating as a team to produce the best print issues possible," Gould said.
Ana Martinez, 2021-22 Online Editor-in-Chief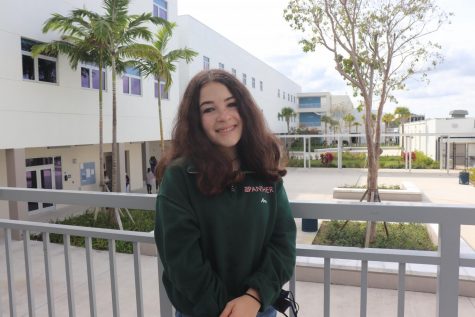 Where Gould focuses on print issues, Martinez directs her energy towards next year's online publication. As The Panther staff affectionately states, "online never sleeps," and Martinez has the qualities to ensure that the website does not only remain up to date with newsworthy content, but also that the online publication expands to a place where MPSH students can come to learn about the school happenings.
"One of the things I am most looking forward to next year as Online Editor-in-Chief is managing the website. I am so excited to manage it and can hopefully add some features to it, whether visual or content-wise, to further enhance the site. Hopefully, we can add new things such as podcasts, Spotify playlists, up-to-date MPSH sports teams scores, and more," Martinez said. "I also can't wait to get back into some of the Panther's old traditions next year, such as monthly parties after we send to print. Spending time with the other staffers on newspaper is the best part of my day, and I am so excited to have everybody back next year."
Martinez's strong background in multiple communities gives her the ability to cover a wide variety of topics, and old leadership has no doubt she will transform the online website into a place where all students can visit.
"Outside of the Panther, I participate in other activities and clubs. For instance, I am the President of the Pinecrest Youth Advisory Council, a local municipal organization with other youth leaders dedicated to enhancing the community. I also am a player of MPSH's varsity lacrosse team, and have been playing for over five years. Aside from sports, I also have been playing the piano for almost 10 years and now tutor other students through PCMP. In my free time, I love baking. I have made anything and everything from homemade triple-layered cakes to pasta from scratch," Martinez said.
Kate Stuzin, 2021-22 Managing Editor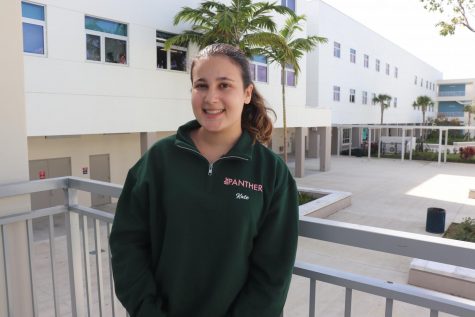 Stuzin has experience as Managing Editor, and old leadership knows that she will use this experience to expand her influence even further. As Managing Editor, Stuzin oversees The Panther's social media and also assigns grades to staffers. Stuzin has creative direction over some of the most viewed areas of the publication.
"I am happy to be a part of leadership since it will allow me to have a greater influence on decisions that affect the whole staff, and to make writing for "The Panther" an enjoyable experience for all," Stuzin said.
Stuzin has some ambitious ideas for next school year, but ones that new leadership knows she can and will execute to the best of her abilities. 
"I am most excited to expand our social media presence and hopefully increase our readership by using the Apple News platform to publish some of our stories," Stuzin said.
Julia Strasius, 2021-22 Business Manager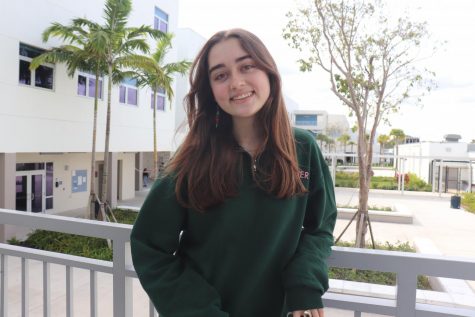 Strasius takes over the financial operations of The Panther on May 1. Her job involves expanding The Panther's advertisement outreach, raising money for new equipment and handling all of The Panther's purchases. Strasius's creative mind and design background allows her to take this job and expand it, making it a central part of The Panther.
"Currently, I am involved in multiple clubs at Palmetto like Finance Club, Capstone Club and  Student Council. Outside of school, I work as a graphic designer for Pinecrest City Music Project, where I am able to continuously improve my design and social media skills," Strasius said. "I also volunteer at Zoo Miami through their Conservation Teen Scientist program, where we educate visitors on conservation efforts and the exhibits."
Strasius has the ability to exert influence on all fronts of The Panther, and old leadership knows she will do this with grace, always putting a smile on staffers' faces in the process.
"I look forward to being a part of leadership next year and having the opportunity to work with my close friends on improving our paper every day," Strasius said. "The Panther staff is truly a family and I feel extremely lucky to be able to take on a larger role next year."
Katriona Page, 2021-22 Senior Copy Editor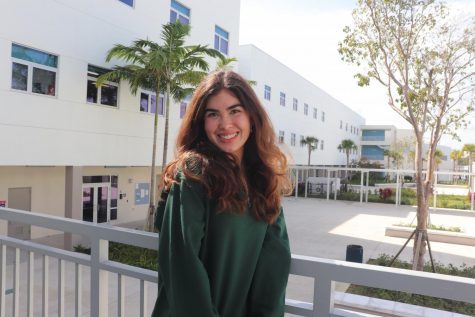 Copy editors are tasked with maintaining the high writing quality of The Panther at all times; they must find minute errors in stories and correct them. Page takes over the difficult role of overseeing and teaching this team of editors while also reading The Panther's stories as well.
"I'm so excited to meet and work with new copy editors and help improve their writing and The Panther's," Page said. "I miss having everyone together, so I'm looking forward to (hopefully) seeing everyone together next year."
As Page takes over the main writing component of The Panther, she will work closely with the rest of new leadership to ensure quality is met at all times.
"I'm happy to be part of leadership because the other members are amazing and I know we'll be able to get so much accomplished this year," Page said.
Gianna Hutton, 2021-22 Senior Media Editor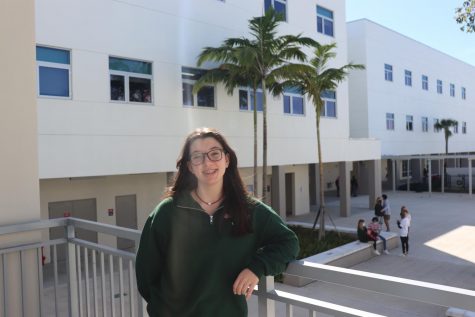 Next year, Hutton takes over the combined roles of design and multimedia, a difficult task that will elevate the quality and cohesiveness of The Panther's visual components. 
"Design and multimedia are really exciting fields for me to continue to explore. I've been a designer who mingles in photography in the past so having a team of designers and photographers to collaborate and create with will be a fantastic experience," Hutton said. "I hope to continue developing The Panther's multimedia skills in video and photo editing and am eager to implement a newer design system to expand designers ability to cooperate and generate innovative designs."
Leadership is confident that Hutton will be able to use her skills to effectively combine the two visual aspects of The Panther. 
"I want to help improve The Panther overall. I've been a dedicated designer for the past two years and have a host of ideas to help improve the paper. I have always been a creative person and my eye for art and organization created my love for graphic design. The visual aspects of The Panther make our publication special. If I can help continue to highlight the work we write with beautiful aesthetics people are gripped to I will know I have done my jobs well," Hutton said.