Marines Appoint First Female Infantry Officer
On Sep. 25, 2017, the Marine Corps made history by appointing the first female infantry officer. The position entails leading and commanding the main land combat force for the Marines. The lieutenant, who has withheld her name, graduated with this honor in Quantico, Virginia. Of the 131 lieutenants that began the process in July, only 88 graduated this September.
On Twitter, Marine Corps General Commandant Robert B. Neller tweeted about the first female infantry officer.
(Sep. 25, 2017) "Proud of this officer & her fellow leaders," Neller said. "Now they focus on what's important: preparing to lead Marines in combat."
The new infantry officer is one of the few female officers in the Marines.
"I think that a female becoming an infantry officer is incredible," Naval Academy sophomore and Palmetto alumnus Emma Seckinger said. "Her courage and determination makes her a role model for female officers, enlisted and civilians and her assuming an infantry job is a huge step towards equality in the military."
Women serving in the Marines is a relatively recent development in history. The first woman in the Marines was Opha Mae Johnson, who joined on Aug. 13, 1918. Over 300 other women followed her in rushing to help serve the U.S. that same year. Almost 25 years later, in February 1943, the Marines Corps Women's Reserve was established as a part of the American Armed Forces. However in June 1948, the reserve disbanded and with the Women's Armed Services Integration Act, women were officially part of the Marines. By the beginning of the Korean War during the 1950s, there were around 2,787 women in the Marines.
In what is a male-dominated service branch, it is rare that females are bestowed with an officer title. According to the U.S. Marine Corps, in 2010, 94.2 percent (19,437 officers) of the active duty officers in the Marines were male, compared to 5.8 percent (1,202 officers) who were female. In addition, specifically in the infantry department, there have been 2,376 male infantry officers and as of September 25, only one female. While the women in the Marines have a rich history, according to the Women Marines Association demographic report in 2012, women only occupy 7.11 percent of the U.S. Marines.
At Palmetto, there are many girls who have a growing interest in enlisting in the Marines.
"Sadly, I think there will always be an imbalance of male and females in anything," junior Caitlin Dennis said, who wants to join the Marine Corps. "It's disappointing but hopefully soon it will change."
Today, there continues to be a growing population of young women who are interested in joining the Armed Forces. Seckinger is one of the many girls who has taken the step and enlisted.
"I decided to join the military because I wanted to give back to my country for all that I have been provided," Seckinger said. "Many people don't realize how lucky they are to live in the United States and I want to make sure people will continue to live with the same freedoms."
Even at Palmetto there are many girls who want to join the Marine Corps.
"Personally, I want to join the Marines because I've had family in the military service; it's something I've always wanted to do," Dennis said. "I want to serve this country and I would like the educational benefits."
For years, there has been an imbalance of the amount of male to female Marines.
"All of the Military Occupation Security codes have not been available to women until fairly recently. The Marine mission is more physical than other service branches so officers must be able to meet those physical qualifications," Seckinger said. "I see this changing though because of the better treatment women are receiving and people like the marine infantry officer who is paving the way for more females.
As more females are trained and elected as officers, the Marine Corps are beginning to become a more integral branch of the U.S. Armed Forces.
"If a man and woman have the same skill set when it comes to being a Marine, then there is no reason why the female shouldn't be able to have the same opportunities," Seckinger said.

Hang on for a minute...we're trying to find some more stories you might like.
About the Writer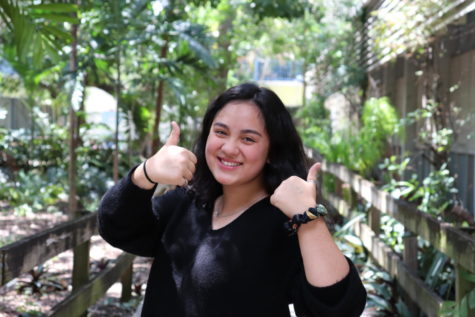 Gemma Torras, Senior Design
Gemma Torras is a senior and Senior Design Editor. This is her third year on staff, and she looks to improve her design skills. Outside of newspaper, Gemma...