LATEST NEWS: Palmetto Bay Declares a Climate Emergency
On Mar. 2 at a village council meeting, Palmetto Bay council members unanimously voted to declare a climate emergency. The legislation, introduced by the Youth Community Involvement Board, namely senior Nicole Gazo, serves as the first step in a mobilization solution to the climate crisis. 
What is a Climate Emergency?
The declaration of a climate emergency is a piece of legislation that serves as a backbone for the enactment of supplementary environmental policies. In the case of Palmetto Bay, the climate emergency legislation states that Palmetto Bay will transition to renewable energy as quickly as possible, develop a 10-year "Climate Mobilization Plan" which will guide educational programs, resilience programs, advocacy, research, etc. The efficiency of this policy will be revisited in 2025.
What other municipalities have done this in Miami-Dade County?
The City of Miami, the City of Miami Beach, the Town of Surfside and the City of Coral Gables have all declared climate emergencies. Many of these declarations have come after climate strikes at government centers by organizations such as Fridays for Future, Extinction Rebellion, Florida Climate Strike, 350 South Florida, The Sunrise Movement and the CLEO Institute. The City of Coral Gables, declared an emergency after weeks of striking in front of Coral Gables City Hall by members of the Fridays For Future Miami Movement. Additionally, after the Sept.20 Climate Strike in Miami Beach, which witnessed a mobilization of over 200 people, the City of Miami Beach passed climate emergency legislation.
How you can become involved in climate action and the declaration of a climate emergency in your municipality:
Voting: Vote for a political candidate who realizes this is an issue and is willing to take measures to address it. 

Contact your local officials: Speak to them about your concerns regarding the climate crisis and your municipality. 

Advocate for climate action: If you are unable to vote, get involved with local environmental organizations that seek climate action, such as Fridays For Future, Extinction Rebellion, Florida Climate Strike, 350 South Florida, The Sunrise Movement and the CLEO Institute.
About the Writer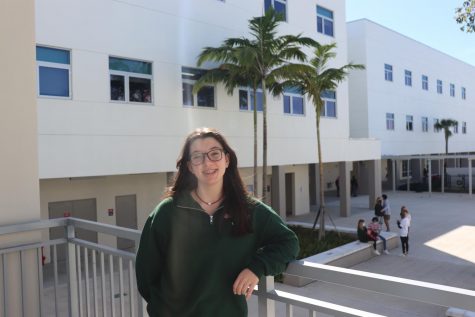 Gianna Hutton, Design Editor
Gianna Hutton is a junior and design editor. This is her second year on staff, and she looks to improve her design skills. Outside of newspaper, Gianna...