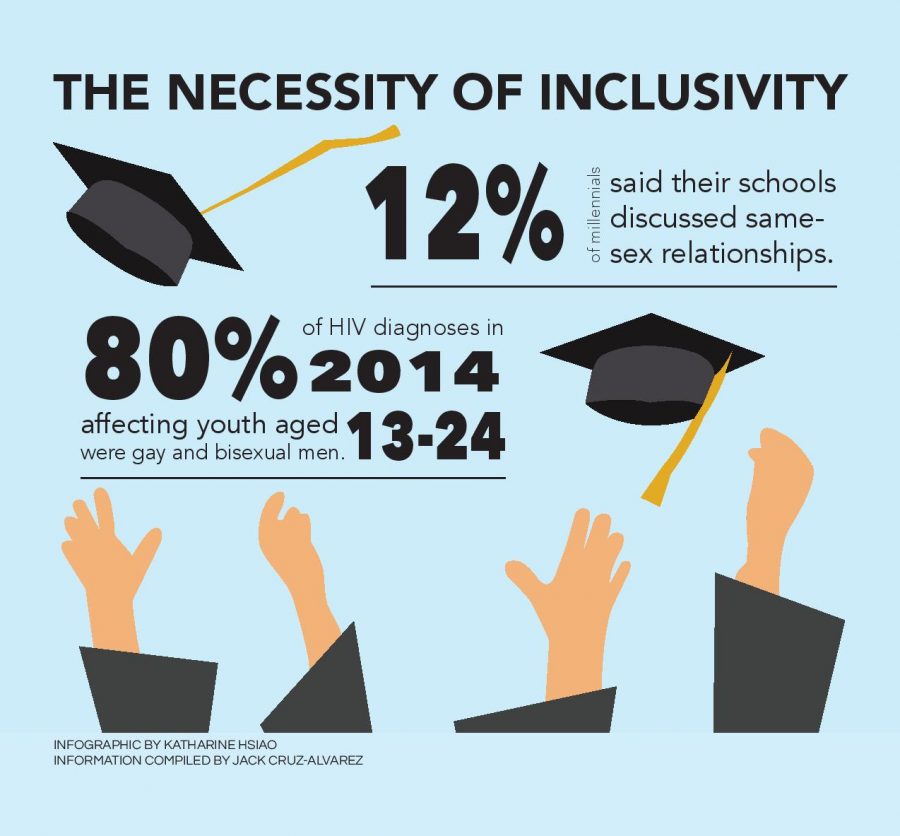 Day 5: The necessity of inclusivity
February 5, 2017
When the Supreme Court legalized same-sex marriage in June 2015, many people in the heterosexual-cisgender community felt that this was the epitome of a victory for the LGBTQ+ community. Yet while they rightfully celebrated the exceptional event, they also seemed to promptly forget that the LGBTQ+ community still faces other challenges in American society. Sex education and its failure to specifically address the needs of LGBTQ+ students has contributed to the deterioration of the physical and mental health of this community.
Physically, the lack of inclusivity in American sex-ed has done very little to combat the HIV/AIDS problem amongst men who have sex with other men. According to the Centers of Disease Control and Prevention, 80 percent of HIV diagnoses in 2014 affecting youth aged 13-24 were gay and bisexual men. Transgender people also face high rates of HIV/AIDS; their prevalence rates are more than four times the national average.
Nonetheless, HIV/AIDS is not the only sexual health concern facing the LGBTQ+ community. The CDC also says that about two-thirds of new syphilis cases arise in gay and bisexual men, a figure that may be rising, and that young gay and bisexual women in high school are more likely to contract an STI or become pregnant.
Mentally, the perception and treatment of the LGBTQ+ community causes much higher rates of mental illness. Young gay women are more likely to experience sexual assault and young bisexual women are the most likely to experience sexual assault and dating violence. Transgender and nonbinary people youth experience high rates of sexual violence as well, particularly non-white members of this group. Sexual violence is known to have significantly damaging effects on the minds of victims, including PTSD, depression and dissociation.
Many of these problems can be tied to the lack of discussion of sexual orientation and gender identity in schools. According to a survey by the Public Religion Research Institute, 12 percent of millennials in 2015 said their schools discussed same-sex relationships. The nature of these discussions is also relevant; a GLSEN survey concluded that only 4 percent of middle and high school students recalled having positive discussions about same-sex relationships. Discussion of these subjects is also often wrong. Only 13 states require the information presented in sex-ed to be medically accurate. Even more shocking is the fact that no states require discussion of gender identity.
How does this contribute to problems in the LGBTQ+ community? Regarding safe sex, LGBTQ+ students receive little to no information about how to conduct their sexual relationships and turn to the internet to find information, that is oftentimes wrong. How can they trust information taught in sex-ed classes if the information is not credible or painted to not apply to them? This also promotes a lack of understanding amongst straight, cisgender students of their LGBTQ+ peers, allowing a culture of prejudice and persecution to persist in American society.
Americans need to remember that the movement for LGBTQ+ rights did not end with the legalization of same-sex marriage. Young people are still being fed negative and wrong information about how to live their lives safely and we cannot tolerate it anymore. Sex education must be reformed to keep our children safe.