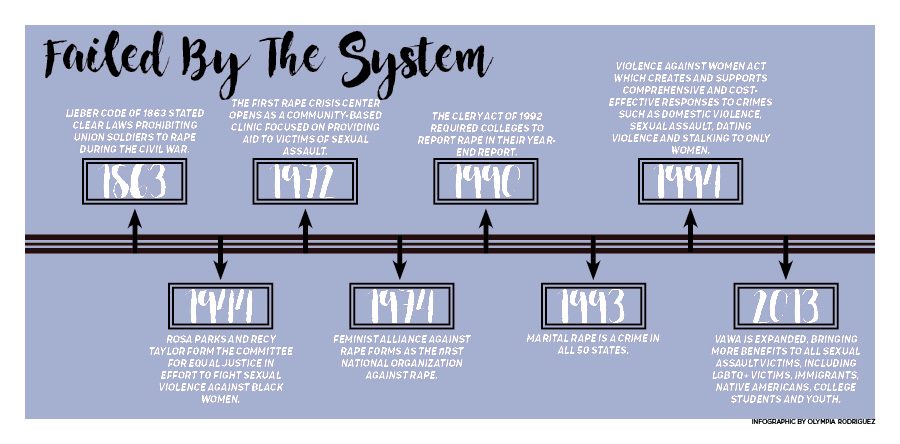 Day 12: A recent history of sexual assault victims being failed by the state
February 12, 2017
Sexual assault is notoriously difficult to prosecute. Consent is almost always impossible to prove and oftentimes physical evidence is not as common as shows like CSI would portray it to be. Fluids and fibers are rarely present and medical examinations are not always clear-cut evidence. Thousands of cases involving sexual assault are thrown out every year due to faulty police investigations, insufficient forensic evidence and a victim's unwillingness to testify.
According to Daily News, direct evidence usually comes from the victim. A victim's recount of possibly the worst thing to ever happen to them stands at the forefront of every case, ready to be relived and torn apart by vicious lawyers whose main goal is destroy their credibility. Most victim,  it seems, would rather save themselves the pain.
According to RAINN, out of every 1000 rapes, 994 will walk free and only six perpetrators will be incarcerated. Two out of three sexual assaults are not reported due to reasons like believing the police would not or could not help them and believing the crime was not important enough to report.
The list of victims who had the courage to come forward and were let down by the justice system could continue endlessly. The more public cases in which the assailant was acquitted or not even charged are the cases against Brock Turner, Bill Cosby, Dr. Luke (Kesha's producer), pro-baseball player Alfredo Simon, actor Marlon Brando and director Bernardo Bertolucci, Donald Trump and more.
Thousands more are acquitted or given a lenient sentence every year and are spared media scrutiny. This includes college student David Becker, who was charged with two counts of rape and one count of indecent assault and battery, received probation instead of jail time so he could "enjoy the college experience," according to the judge. Austin Smith Clem raped a teenager three times and only received probation. Former Air Force cadet Daniel Ryerson who was convicted of raping his fellow cadet and was given no prison time.
Juries, judges and police officers are individuals with sometimes detrimental opinions and biases based on cultural assumptions of rape. Many police officers do not take sexual assault seriously or place the blame on the victim. According to Vice, when police investigated a case of marital rape caught on tape, they asked the victim to count how many times she said no, 35 times after five tapes, and yet her case was rejected because to them, it looked like she wanted it. Another victim set up a Google Alert, a service that sends the user an email when it finds webpages, news articles, blogs, etc matching the user's terms, to tell her any criteria to identify her rapist. When the alert went off signalling her rapist struck again she alerted the police. Her only response from them was suspicion to what a Google Alert was and if she needed therapy, not to mention the evidence they destroyed and the general disinterest the victim felt the police had in finding her attacker.
When the justice system fails so many times at such a deeply personal level, how can future victims be expected to come forward? Rape and other forms of sexual assault cut at the credibility and trust that a justice system is supposed to have. Too many police officers, lawyers and judges fail to take sex crimes against women and men seriously. Too many assailants slip through the cracks, leaving the victims without the closure that only justice can provide.