Countdown to Graduation Day 7: Doomsday has arrived – time to switch teams!
For those of us sports fans, the most dreaded day of our lives is not the day we start paying taxes, not the day we sit in purgatory and not even the first time we get fired — it is the day we must come to terms with our adult decisions and realize that college will force us to switch team loyalties. Ouch!
It seems hard to believe that after rooting for a particular college team for seventeen or eighteen years, a switchover occurs. I, myself, can recall details about the long tailgates outside of the Orange Bowl that few people expect me to remember; to this day, I am an avid Miami Hurricanes football fanatic and cannot bear the thought of adopting a new team in the near future. Unfortunately, this is an issue that only applies to those who revolve their seasons of the year around the NCAA – even if a family moves from Miami to Cleveland, they most likely will (rightfully) continue to root for the Heat. But college presents a much more complex situation that will force you, the graduates, to make one of the most emotional decisions of your young life. As with everything, however, there is a solution.
For starters, committing to a college with no athletics (or sport of interest) at all is probably the best case scenario. Boom–no conflicts. The best option under that would be if the college of choice has no rivalries with your childhood team. For example, a lifelong Hurricane fan might have no qualms about attending a university like Oregon, but a lifelong Gator fan will have a heck of a tougher time attending the University of Georgia. It sounds impossible. But it's not.
Those closest to me know that, despite my orange-and-green wardrobe and football season euphoria, my dad is a Gator. Yep: graduate of the University of Florida (and Florida International University) and diehard Gator who has a shrine for the Swamp in his home office and a crush on Tim Tebow. My grandparents, however, raised me properly. I learned early on that it's all about the U, that Sebastian will always remain my best friend in times of trouble, that the school colors come from the orange and green of an orange tree, and that the mascot is an ibis because they are the last to leave before a hurricane hits and the first to return afterward. I learned that face tattoos are a must at every game, and the first word I ever knew how to spell was "C-A-N-E-S" — arm formations included.
My dad was raised the same way. He acutely remembers feeling the urge to gag every time someone mentioned the Florida Gators or Florida State Seminoles, yet at eighteen years old, he turned North for Gainesville and the rest was history.
It is possible, even in this worst of all scenarios, to hold a special place in your heart for one team and make room for another. This is college – you will inevitably end up rooting for your own team out of pride and for the sheer fun of attending games and smack talking students from rivalry schools. Even though my dad, for example, swears that God made the sky blue and the sun orange for a season, he still roots for the Canes. Besides, it's fun to smack talk.
Take it with a grain of salt. Get excited for college. Tough it out, get past the heartbreak and embrace the school that will get you to higher places in life.
About the Writer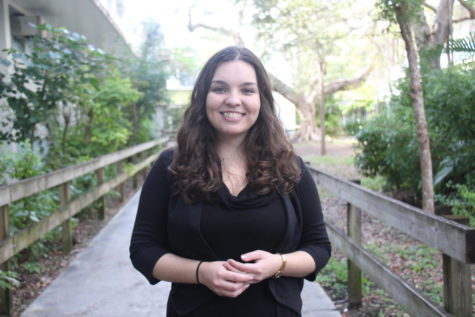 Marlowe Starling, editor-in-chief of The Panther
Marlowe Starling is a senior and editor-in-chief of The Panther. This is her third year on staff and she looks to inspire The Panther staff to value the...