Be Smart, Be Healthy, Be HIP!
Often, when figuring out how to navigate school, homework and relationships, high schoolers become so preoccupied that it comes at the expense of their mental and physical health. On top of that, high school students often feel immense pressure to succeed, which can be detrimental if they do not receive the ample resources to get help. 
That is where the Health Information Project — a non-profit organization based in Miami — comes in. HIP offers a different approach to teaching health education: rather than teachers and professionals presenting information to students, HIP empowers teens to inform their high school's ninth graders about health education. 
Health information was previously covered in Physical Education as part of "life skills." When the program was in place, P.E. teachers taught the curriculum, but many students found it embarrassing or too general to truly convey the importance of health education. Eventually, the program was dropped, leaving students completely in the dark with regard to health education.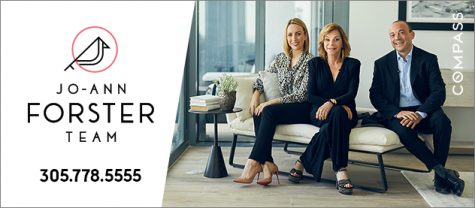 HIP was founded in 2009 by Miami Palmetto Senior High School alumni and sisters Risa and Valerie Berrin. They noticed there was a lack of comprehensive health information in Florida and that existing health information was outdated. Through HIP, students have a platform with up-to-date materials and learn from peers. Palmetto was one of the very first schools that implemented HIP, but the program has now expanded to Broward County, and there is the possibility that it will extend to other states. 
"[The ninth graders] were very enthusiastic about it and very eager to participate. Myself as well as our HIP sponsor Ms. Brislawn got back extremely positive feedback from teachers and other students," HIP President of the Palmetto chapter and Palmetto senior Ari Rolnick said. "Freshmen from our school actually emailed [HIP] and went on their website and left comments about how great HIP at Palmetto was and how they're excited to spend the year."
This year alone, HIP interacts with 50,000 ninth graders and trains over 2,500 Peer Health Educators. PHEs (juniors and seniors) undergo a lengthy interview and selection process to teach each HIP session. Once they qualify, the students undergo training, where they are taught how to present the curriculum to the class. 
"Before we started teaching this year, we had an orientation from 7:20 to 2:20, and we just taught them the basics. We taught them how to present, how to deal with scenarios and how the kids might react to a certain topic. You don't know what's going on in someone's life," Rolnick said. 
The PHEs practice public speaking and reading, particularly while standing in front of a class. They also learn about the content itself before presenting it. 
"There's [learning how to] deal with the students who do make those side comments and how to professionally handle it, and how to give them proper resources and correct information," Palmetto junior and PHE Valentina Nicolini said. 
HIP addresses topics ranging from nutrition, anxiety, depression, abuse, drugs, eating disorders and more. While PHEs cannot give a medical opinion on any of these topics, they ensure that the students know that they are not alone and can always get help. The PHEs provide students with resources from counselor information to the HIP website.
"I like it better because it's easier to talk to them. They understand better than most adults do. And I don't feel as pressured and less stressed to speak freely," Palmetto freshman Zachary El-Assad said.
During HIP sessions, PHEs encourage the students to read passages aloud, interacting with them through PowerPoints, videos and more. Students also have the opportunity to write anonymous letters at the end of each session about any struggles they might be experiencing.
"We've had people that were rape victims, people that were abused, people that have abusive parents… If the students need help, they write notes that they need help and we provide it," Palmetto HIP Sponsor and Health Science Instructor Joyce Brislawn said. 
HIP aims to encourage open discussions about health education, especially by letting youth know it is okay to feel certain ways. 
"By having a safe space that students can talk about these things that historically are stigmatized, by saying, 'Hey, it's okay to talk about it.' That is inherently going to remove some of the stigma," HIP Program Manager Katelyn Rozenbroek said.
At Palmetto, students are encouraged to reach out to their counselors about any problems they are going through. Students can also get help through HIP's website, which has several resources. 
"There's a place where you can type in any question; let's say you want to know where to get birth control. You type that in and for our zip code, it will show you right in our area where you can get help. Say you need a psychiatrist, or you need a counselor, or you have a sore throat, you type it in and the HIP website will tell you where you can go," Brislawn said. "It tells you where you can go for free or if you need insurance. It's just really simple and clear and precise."
Due to the COVID-19 pandemic and the hybrid learning system last year, HIP operated virtually over Zoom. This year, HIP has resumed its in-person lessons, allowing PHEs to make more personal connections with the ninth graders during each session. At Palmetto, the sessions occur during every ninth grader's World History class every other Wednesday and Thursday. With a total of eight modules, students learn a vast range of health information by the end of the year.
"I've been taught more about foods and what we should eat and what we shouldn't eat. [We learned] what we should do during the day and how to manage our time," Palmetto freshman Lucas Varela said. 
Beyond giving resources and opening up the conversation regarding health education, HIP also teaches its PHEs valuable skills they can apply to other areas of their life. 
"I feel like HIP has personally made a very large impact on my public speaking because before I would always be very, very nervous. But when you realize that you're there with good intentions and you're there to properly educate people for their benefit, it kind of gives you that confidence," Nicolini said. "I feel like later on, if you're ever going to give a speech to a meeting at your job, it definitely will help out." 
Having a program where students teach other students that they are not alone in their struggles has proved extremely successful. During sessions, students can learn life-saving advice and learn they are not alone. At the end of each session, PHEs tell the class to chant HIP's motto: "Be smart, be healthy, be HIP!" 
"It really just teaches the kids that mental health and physical health issues are real, they are prevalent in today's society, but there is help and there is a way to deal with it," Rolnick said.