An Underwater Museum: How The Reefline Project is Mixing Art and Climate Resilience
Reefs in Florida are at their most vulnerable, with only 2% of original coral cover remaining, according to the National Oceanic and Atmospheric Agency (NOAA). Climate change, the primary cause for the decline of coral cover, has become an issue for which Miami has been given the title 'ground-zero' for. As a solution to this issue, ReefLine plans to design an underwater sculpture park and artificial reef. 
"ReefLine is a seven to nine-mile artificial reef and sculpture park that we plan to build across Miami Beach starting around Third Street and going up towards Ball Harbor," Vice-Chair of Blue Lab Preservation Society Kate Fleming said. 
Coral reefs — the most biologically diverse ecosystem in the ocean — support over 25% of all marine life, according to the Smithsonian. Beyond building biodiversity, they help protect shorelines against hurricanes and tropical storms and also provide economic benefits through commercial fishing, tourism and recreation. Artificial reefs help bring back the diverse benefits of a traditional reef that were lost due to decreased reef cover.
"Artificial reefs… help reestablish the biodiversity that was in that area. One of the benefits of our reef system that used to exist is the reefs as hurricanes come in they… intercept some of that energy from the storms just like if you have a lot of red mangroves along your coastline," Miami Palmetto Senior High school's AP Environmental Science teacher Pamela Shlachtman said.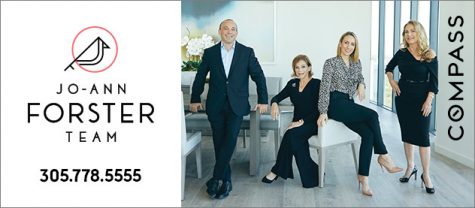 Starting as a conversation between Ximena Caminos, Chair of Blue Lab Preservation Society and Collin Ford, co-founder of marine biological art duo Coral Morphologic, the team grew quickly after receiving a grant from the Knight Foundation, which they matched from the Blavatnik Foundation.
"Now we have a huge advisory board with scientists from NOAA…  Diego Lerman, of the University of Miami and then a bunch of other amazing advisors that are assigned a lot of conservation and team is just growing every day," Fleming said. "The art direction people which I'm on that panel as well as Brandi Reddick who is the Cultural Affairs Manager for the City of Miami Beach. And then we have a growing list of ambassadors which are kind of people that have multiple hands in our direction, connecting and advising." 
Not only does ReefLine act as an ecotourism spot, but the project also seeks to bring awareness to the beauty within Miami's ecosystems and the need to preserve them. 
"I hope that it will bring awareness about how beautiful Miami is, sandwiched in between two major national parks: Biscayne Bay National Park, as well as the Everglades. So, the ReefLine will hopefully give people a peek into this amazing ecosystem and all that we have that is working and what we can do to fix the many problems and challenges that are not working," Fleming said. 
As an interdisciplinary project, ReefLine can not only help restore the ecosystem but also acts as an artistic installation underwater using eco-concrete materials. 
"This will be a very kind of different project where it's really bringing in art, tourism, ecotourism and then scientific innovation in how we can solve the reef crisis," Fleming said.
Constructing and opening ReefLine to the public in Phases, the first phase will have art commissions by Leandro Erlich, who plans to recreate his "Order of Importance" piece from 2019 Art Basel which features cars stuck in traffic aimed at bringing attention to climate change and pieces from OMA. OMA's role as master planners will entail them having a module and also organizing the designs connecting different artists' work. After the initial phase, an open call for artists will take place conducted with the city so selected local, national, and international artists can add to ReefLine.
"You're reaching out to a portion of the population that might not come to a science talk, but they might go see an art exhibit, and then you can backdoor the information in about climate change," Shlachtman said. "Because different people process things differently so whatever way we can get you to buy in, we will get you to buy in as, as long as the long term is that we address this problem because we need to address it."
Many youth in Miami already feel the effects of climate change among them, with the loss of the reefs making this project ever more important. 
"We live in South Florida and because we are the ones that will have to deal with the forefront of the consequences at the lack of action from legislators, etc. It is sad to see something so beautiful like our reefs and Earth and nature around us is being taken for granted and people aren't going to respect it until it's gone," Palmetto junior and GenCLEO member Daniela Hernandez said. 
For students interested in Miami, this project represents hope for a more resilient Miami in the future.
"I see the effects of climate change firsthand and.. projects like this give so much hope. I love the ocean, and whenever I go out on the boat, I see a lot of brown, dead coral, so I think that restoring the reefs through this project is so amazing. I think the fact that it mixes arts with solving climate change will get a lot of people interested in discussions about climate change in Miami, and spreading awareness and getting people to act on this topic is such a great thing," Palmetto junior, Climate Leadership Information Project member and podcast host of "Let's Speak Green" Lacey Buckwald said.