2020 G7 Summit at the Trump National Doral Miami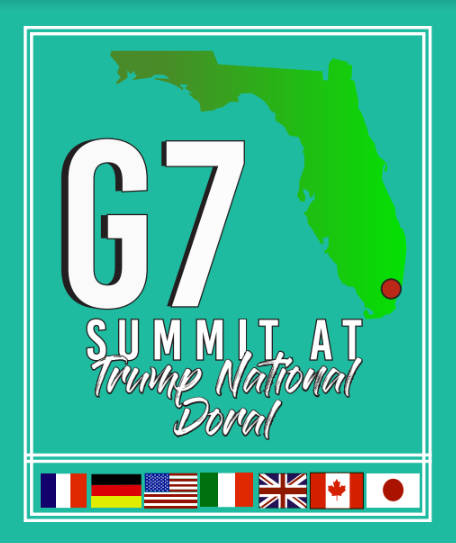 On Aug. 26, the final day of the 2019 G7 Summit, President Donald Trump told reporters in Biarritz, France that he hopes to host next year's meeting at the Trump National Doral Miami. Since then, much controversy over the location has arisen. Considering that Trump owns and profits from the golf resort, having the 2020 G7 Summit there may violate the Constitution. 
Democrats from the House of Representatives believe Trump has infringed on the Emoluments Clause of the U.S. Constitution—a law that prevents the president from accepting gifts or money from foreign governments— without the consent of Congress. Unlike in previous years, foreign leaders would need to pay for hotel rooms, transportation and security while staying at the Trump National Doral. 
"I think we're in the process of investigating different instances with the president where he has abused his power, obstructed justice and now we're investigating the violation of the Emoluments Clause," Miami Democratic Representative Debbie Mucarsel-Powell said. "He made it very clear that he was advertising his resort. He can't use the presidency to enrich himself, his company or his family."
Trump has used the presidency for his own benefit more than once. In the past, he has held summits with Chinese and Japanese leaders at his Mar-a-Lago Club, as well as scheduled detours on business trips to Trump resorts in Ireland and Scotland. In total, his private businesses have earned at least $1.6 million from federal officials who must pay to follow him around, according to the Washington Post. 
Trump defended his bid to host the summit by claiming that the presidency has cost him between $3 billion and $5 billion—a false overestimation according to Forbes—and that he "doesn't want to make money." Despite claiming that he would never use the location as a marketing ploy, many still think otherwise. 
"I don't think that's a good idea. Trump should be doing this out of his own accord. If he's just going to be making a profit off of it, then he doesn't really care about what's going on in the world. I think the other six countries should definitely have a discussion as to what they could do to combat this," said sophomore Julian Orrego.
According to the New York Times, his resort's net operating income fell by 70% since he became President. The publicity his resort could get from the event would draw huge crowds to the property, which in turn would help boost business, so it makes sense that Trump would want to host the Summit on his property.
The public opinion shifts from negative on a federal level, to positive on a local one. Doral Mayor Juan Carlos Bermudez sheds light on the situation because he believes that it will bring publicity and tourism to Doral.
"I think it is a golden opportunity for Doral and Miami-Dade County to shine," said Bermudez. "We are better prepared than other cities."
Even so, the debate seems to continue in an endless cycle. The Judiciary Committee has requested a list of documents from the White House to see if Trump has done something unconstitutional. The White House has until Sept. 19 to respond, and if they fail to produce the documents, House Democrats plan to battle Trump in court.
"We don't have all the evidence. This is why it's so important for the Judiciary Committee to continue to investigate," Mucarsel-Powell said.