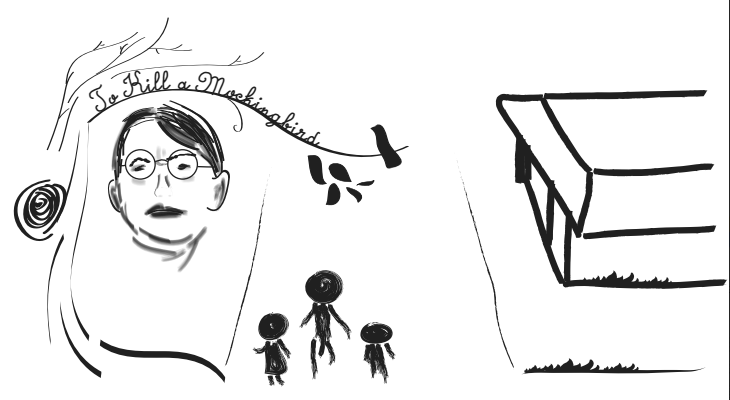 The spirit of a literary inspiration lives on
March 1, 2016
On the morning of Feb. 19, 2016, the world lost a literary inspiration. Nelle Harper Lee, 89, took her last breaths while asleep at an assisted living facility in her hometown of Monroeville, AL, leaving an enormous legacy behind her.
Lee, world-renowned author of "To Kill a Mockingbird", published in 1960, went on to win the Pulitzer Prize for fiction in 1961 and oversaw the making of the novel's movie version starring the dashing Gregory Peck in 1962.
These accomplishments were not the things that made her great, famous or inspiring. Some people are born destined to make an impact on people they will not even meet in their lifetimes; Lee was one of those people.
There is no debating whether or not the novel touched the hearts of all who flipped through its pages. Even in our present-day generation, half a century after its publication, we remember the first time we met Scout and Jem playing in the southern Alabama heat, whether for English class or for pleasure.
Many people do not know the story behind the story: the life of Lee hidden just beneath the surface of Scout's nostalgic childhood tale. Atticus Finch, the ideal father figurehead, possesses the same persona as Mr. A.C. Lee, Nelle's father and Monroeville lawyer. Dill, Scout's mischievous partner in crime, exudes all the sass and wit of a young Truman Capote, Nelle's childhood companion and adult writing buddy. Scout's absent mother presents an eerie resemblance to Lee's distant relationship with her own mother, who suffered medical problems. And so–take a guess–Scout is the fictional portrayal of Lee herself as the precocious tomboy the literary world adores.
Perhaps that is why, on that sunny Friday afternoon, I felt like I had lost a good friend. At least once a year, I retreat to the laid-back Southern lifestyle of the 1930s and relive the iconic tale over again with my friends Scout, Jem and Dill. I see straight through to the heart of a man who loves his children just as much as he believes in justice. I learn the tenets of hospitality in the bedroom of a dying woman weaning herself off of morphine. I come to understand the realities of a segregated society in a tragic loss of innocence. I realize that books cannot be judged by their covers–some people may not show it, but they have hearts too.
The rest of America apparently feels the same way. It is no surprise that since her peaceful death, dozens of articles have appeared online in memoriam of the humble author. Though her public appearances were rare, her spirit shone like the north star through the eloquent words and nostalgic aura of "Mockingbird."
For some, the novel served as a companion during hardship. For others, a lawyer's right-hand man. For the bookworms, an inspiration and a masterpiece.
Regardless of what it means to each reader, its legacy will never be forgotten. Scout and Jem will continue to play in the streets of Maycomb; Atticus will continue to personify justice; Miss Maudie will continue serving plates of cakes and scuppernogs; the Ewells will continue to skip school; Calpurnia will continue to make sweet lemonade in the hot summer months; and Arthur "Boo" Radley will continue to mystify us and capture our hearts, long after the physical absence of Lee's being.
The teachers will continue to analyze its passages with students; the critics will continue to reference it and praise it in other works; the authorities in select places will continue to ban it for its strong social messages, long after the physical absence of Lee's being.
Sad songs and tragic events are hastily paired with rainy days, but that Friday, the sun shone down on Miami with a golden glow that countered the whirl of mournful thoughts running through my head. Although her smile will only be preserved in photographs, her legacy will cast an everlasting light over the literary world for eternity.
So cheers to the woman who taught us all that it is a sin to kill a mockingbird. We will never forget it.