The Life of Pablo: The Review of Pablo
February 21, 2016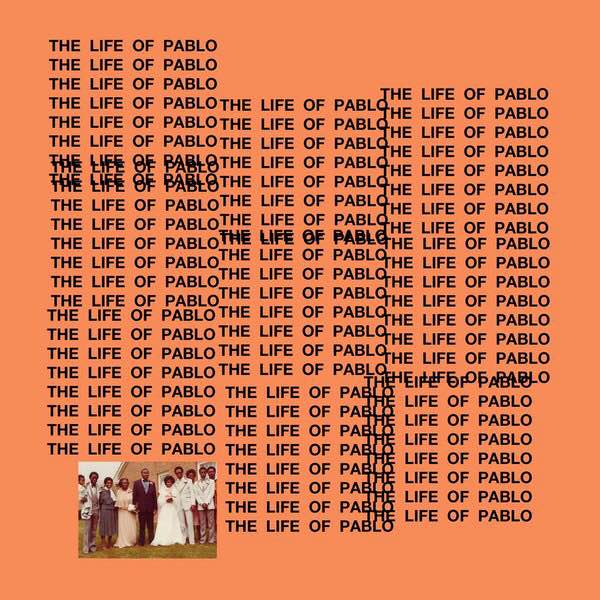 Shortly after performing on Saturday Night Live on February 14, internationally renowned rapper Kanye West released his seventh full-length album, The Life of Pablo (T.L.O.P.) through GOOD Music and Def Jam Recordings. West grew up in South Side, Chicago and first acclaimed fame with his work as a producer for Roc-A-Fella Records and Jay Z's The Blueprint.  
His first album, The College Dropout, was released in 2004 after five years of production and instantly showcased his creative, soulful music (which diverged from Gangsta rap) and perfectionism that still comes to define his music approach today. "Through the Wire," a song on the LP in which he detailed his recovery from a near-fatal car crash with his mouth wired shut, is credited as the song that catapulted West's fame. Two more albums followed which reflected his academic tribulations, the similarly soulful Late Registration and the pop inspired Graduation. After his breakup with girlfriend Alexis Phifer and the death of his mother, West created a heartfelt, non-rap and auto-tuned 808s & Heartbreak in only two weeks, followed by the baroque and electro-inspired My Beautiful Dark Twisted Fantasy (MBDTF); arguably his most critically acclaimed album, in which he proclaims his love for current wife and reality TV star Kim Kardashian in the track "Lost In The World" featuring Bon Iver, along with mentioning his breakup with Amber Rose and the notorious Taylor Swift incident at the 2009 Video Music Awards.
Nearly three years after his latest album, the abrasive and experimental album, Yeezus, Kanye took a drastically different approach. Unlike the private and secretive approaches to his previous work, for T.L.O.P. he took to Twitter to seemingly address any progressions in the album, originally slated to release in early 2014. The album endured three working titles, equally infuriating and confusing fans, while building hype for its release in a manner that is unparalleled in the rap industry.
The excitement continued to build when fashion designer, Kanye West teamed with rapper, Kanye West at the Yeezy Season 3 show on February 11, before a sold-out Madison Square Garden to preview the album. West's full arsenal of flowing lyrics and fashion design gave fans a preview of all his work, in an interconnected glimpse.
The album had only 11 official tracks at the time, but Kanye decided to include songs such as "No More Parties in LA" and spoken-word transition tracks such as "I Love Kanye" and "Silver Surfer Intermission."  Shortly before his appearance on Saturday Night Live, Yeezy took to Twitter to blame collaborator Chance the Rapper for wanting to include the track, "Waves" featuring Chris Brown on the LP. After the endless changes, additions and edits to every facet of the album, The Life of Pablo was released to the public exclusively on Jay Z's music streaming service, Tidal, at 1 A.M. on Feb. 14.
The 58:02, self-proclaimed gospel album starts with the polarizing "Ultralight Beam." The song begins with a sample of a little girl praising Jesus, followed by gospel choruses and that familiarly autotuned West in a way that fans have become accustomed to. While autotune seems to damage and in some cases, ruin Kanye's songs (i.e. "Blood on the Leaves" in Yeezus) he uses the effect to exploit his weaknesses and imperfections, a theme that is rare amidst the boastful and narcissistic lyrics that have come to define his most recent works (i.e. I am a God ft. God in Yeezus). Chance the Rapper's appearance in the song furthermore solidifies its value as an intro and builds excitement into the upcoming songs.
Father Stretch My Hands Pt. 1 and Pt. 2 follow the powerful introduction. The two-part track is meant to quantify Ye's relationship with his father with Kanye going as far as to admit to crying while writing it. On Pt.1, he raps, "Up in the morning/miss you bad/sorry that I ain't call you back/the same problems my father had." Despite the emotional meaning behind the song, its lackadaisical production, meandering flow and unfitting appearance from declining rapper Kid Cudi humbles expectations for what is to come, despite the presence of acclaimed co-producer Metro Boomin. After the slightly better and glossy Pt.2, comes "Famous," featuring an electrifying performance by Rihanna. The song makes references to Kanye's car crash and uses of an interpolation from Late Registration's opening track, "Wake Up Mr. West."
The strong track is followed by "Feedback." The song makes references to the cotton-picking motif on the track "New Slaves" from Yeezus, the death of rap legend Tupac Shakur, along with a comparison of Jay Z's greatness to Michael Jordan and the explosive behavior of retired basketball player, Dennis Rodman, to himself: an obvious ode to critics of West and the black community as a whole.
"Low Lights" and "Highlights" follow. The productive aspect of T.L.O.P. momentarily in the former track, where Kanye's presence is nowhere to be seen and samples of So Alive, by Kings of Tomorrow make up a forgettable 2:11. Highlights, however is entertaining and showcases many aspects of West's previous works. The track incorporates Kanye's autotuned singing voice along with fellow rapper Young Thug toward the beginning, which transitions to gospel singing from guests The-Dream, El Debarge and Kelly Price. It ends with a humorous and boastful verse over a soulful beat that leads, yet misguides the listener to the next song.
Freestyle 4 is nothing like Highlight and although the 2:02 track is exciting, it is out of place and is an example of West's tendency to focus more on the production of the song and the flow of that one song, without any regard for the purpose of its surrounding tracks. The flow of Freestyle 4 ignores the eerie beat of the track, which seems straight out of a horror movie and aims for a glossy-like one minute in between the experimental beats.
Ironically enough, Kanye reverts to humor in his next… rant. "I Love Kanye" cleverly takes shots at skeptics and even some fans in a freestyle rap with no added elements, in a manner that portrays these critics as easily swayed by his work and by his words.
Kanye ends the song in a comical manner by saying, "What if Kanye made a song, about Kanye? Called 'I Miss The Old Kanye,' man that would be so Kanye. That's all it was Kanye, we still love Kanye. And I love you like Kanye loves Kanye."
The boisterous "Waves" ensues and also ensures listeners that West can still emulate his vociferous music from Yeezus. The song features Chris Brown, or rather Chris Brown screaming, but seems to have been shunned and underappreciated by fans and critics alike, simply for his appearance. In reality, the track improves on Kanye's attempt at aggressive rap and flows in accordance with its following track.
"FML" similarly explores an aggressive yet vulnerable side of West, yet in a more subtle way through the use of repetitive beats that correspond with autotune that helps bring out this side of Kanye. Moreover, the song's more emotional undertones are expressed through The Weeknd. The rising singer's heartfelt appearance coordinates well with West's intentions and production on the track and is sure to be ranked among the best collaborations of T.L.O.P.
The next song, "Real Friends" featuring Ty Dolla $ign, was released as part of Kanye's G.O.O.D Friday series in preparation for the album's release. Although there have been some aforementioned songs that incorporate several tendencies and aspects of a young West, this one is the most relatable to his early, soulful and family-oriented music on The College Dropout. The introspective track details Kanye's relationships with his family and friends; and he blames himself for not being able to maintain relationships with many important people in life, due to his undeniable fame. The song depressingly recounts a story of how his cousin stole West's laptop, which contained classified information, and Kanye had to pay him $250,000 just to retrieve it.
The next track, "Wolves" showcases techno-production and Kanye uses autotune yet again. The song was made public at Yeezy Season 2 in late 2014 as part of a promotional video from the show and was later performed at SNL 40 on Feb. 15 of last year. The track, however was altered in the editing process and the album version includes a final verse from singer and rapper Frank Ocean, who rose to fame in 2011 as a feature on Kanye and Jay-Z's collaborative album Watch The Throne and through his popular debut album, Channel Orange.
The transition track, "Siiiiiiiiilver Surffffeeeeer Intermission" is really nothing more than a phone call between West and incarcerated rapper Max. B. It lasts 0:56 and simply addresses Kanye's previous album name, Waves, which was criticized by many; and, subsequently caused a Twitter feud between West and Wiz Khalifa.
The song "30 Hours" follows and reflects on his seven-year relationship with Sumeke Rainey. Its name derives from the distance, by car, from Chicago to Los Angeles, a trip Kanye completed multiple times so he could visit Rainey when he was not in the studio, up until their breakup in 2004. The song was a late addition to the album and was still a work in progress after the Yeezy Season 3 show.
The next track, my personal favorite, is "No More Parties in LA" featuring Kendrick Lamar. It has been a work in progress since the making of MBDTF, as Kanye references producer Madlib, who was an important part of both albums. The two criticize Los Angeles' fake celebrity lifestyle and how many value fame above friends and family. The track refreshingly draws parallels to Late Registration and Lamar's feature is arguably the most powerful in the whole project, rivaled by Frank Ocean's verse on "Wolves." The song marks Kanye's first collaboration with Kendrick, who opened for West on the Yeezus tour in 2013 and created the Grammy award winning album To Pimp A Butterfly.
"Facts (Charlie Heat Version)" is the penultimate song on TLOP and yet again presents an energetically-charged and arrogant Kanye. The track is essentially a remake of Drake's "Jumpman" featuring Future, appearing on the duo's recent mixtape. Drake's song pays homage to his sponsorship with Jordan (a subsidiary brand of Nike). Given the Kanye's messy breakup with Nike and recent partnership with Adidas is an integral part of his financial means, the diss-song is neither shocking nor effective. The lyrics are forced, the song has no place on the tracklist and West's absurd claims on the track are not even saved by the wonderful production from Charlie Heat, which replaced the overly-extravagant and repetitive contribution from Metro Boomin. The most important detriment to the song is that the song has no justification and does not point out any facts, given the fact that Nike regularly dominates Adidas in terms of sales, fans and endorsements.
The song "Fade" ends T.L.O.P. on a bad note. What it has in production, it lacks in substance and lyrical content. The track is essentially 3:13 of the repetitive lyric, "I feel it's fadin'." Kanye's presence on this track is nearly nonexistent and fans are treated to about 2:45 of Ty Dolla $ign and Post Malone.
While The Life of Pablo's last two songs are its worst, it is hard to overlook the promising and intriguing qualities of this LP. The album is very messy, yet it seems to reflect Kanye's personality, which has become more and more polarizing over the years. The album is definitely an improvement from Yeezus and it seems to be, out of his last four albums, the most relatable to his first three projects as a solo artist, which is certainly invigorating for longtime fans. Despite its flaws, The Life of Pablo is definitely worth 58:02 of your time.
Favorite songs: Ultralight Beam, Pt. 2, I Love Kanye, Real Friends and No More Parties in LA.
Least favorite songs: Low Lights, Facts and Fade.
Score: 6.5/10.