Substitute Locator is irreplaceable: Meet Mirta Nieves Office Employee of the Year
March 16, 2016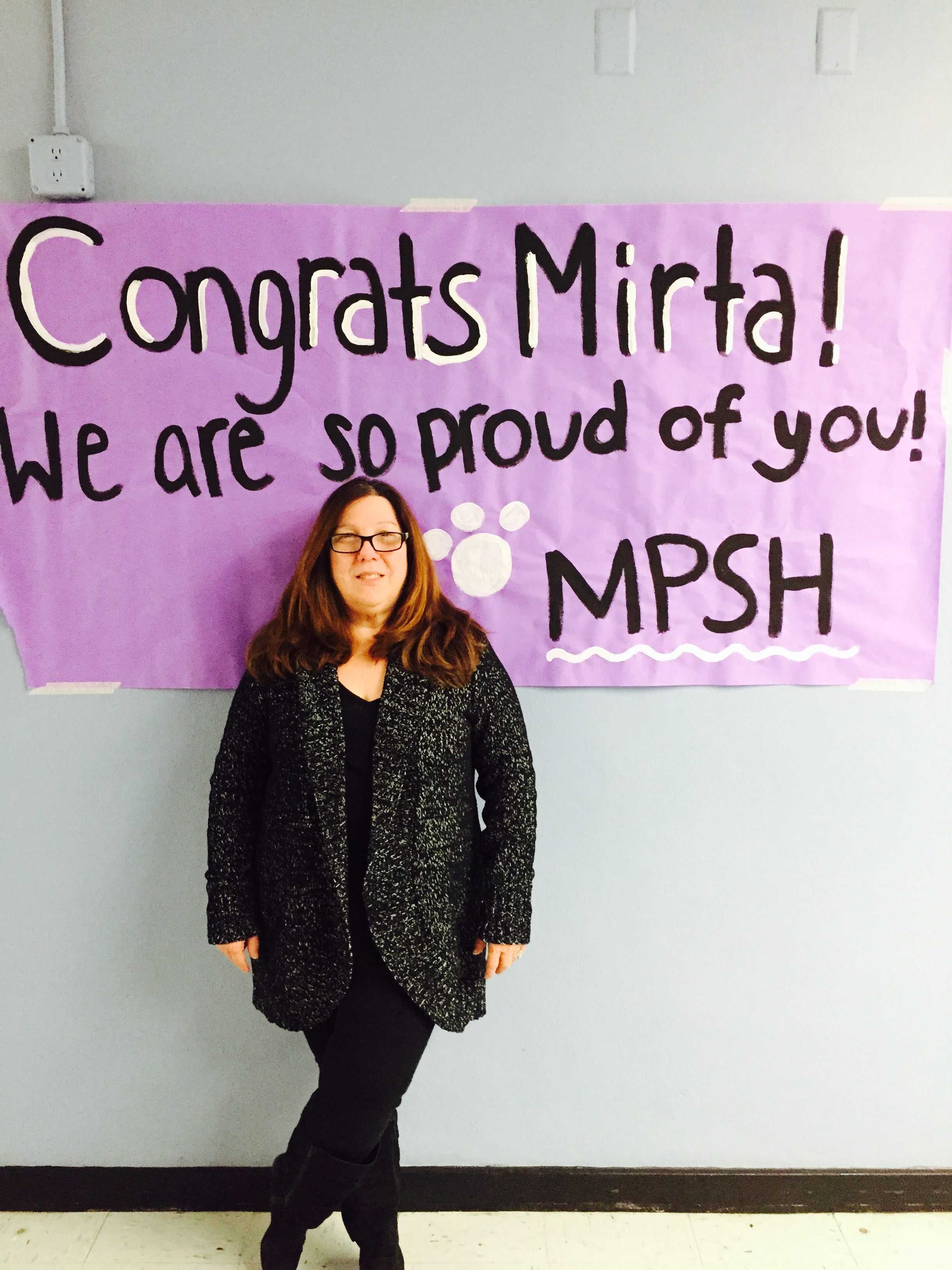 She wears glasses high on her nose as she receives calls for Principal Victoria Dobbs. She smiles at passersby who approach her for information and welcomes their inquiries with warmth and friendliness. She organizes substitutes and records teachers' absences. From 6:30 a.m. to many times, hours after school, Mirta Nieves works as Dobbs' secretary, substitute locator and payroll secretary in the main office; except now she has another hat to add to her list of roles: Employee of the Year.
Every morning, Nieves welcomes incoming substitutes with their prepared lesson plans after calling them in, which is one part of her job description. Nieves says she relishes at the opportunity to work with others on a daily basis.
"I know all of the teachers by looking at them," Nieves said. "I can give you everybody's name."
Nieves' experience, friendliness and professionalism has allowed her to surpass the standard expectations for a substitute locator.
"That has become such a difficult task for most schools for various reasons and she has been able to grow the pool of people we have here," Dobbs said. "They're happy to work for her because she treats them so well and she's so professional, so it's really an asset to us."
Nieves began working for Miami Dade County Public Schools in 1989 at Springview Elementary School, as a paraprofessional in the Compensatory Education (Comp Ed) program. As an instructional management specialist, Nieves tutored at-risk students who scored in the lower twentieth percentile of Standard Achievement Testing (not to be confused with the Scholastic Aptitude Test), which was later replaced by the FCAT. She also worked with two kindergarten classes as a paraprofessional. When the county cut funding for Comp Ed, Nives moved on as a clerical worker in the school's office.
"I have been lucky enough to do almost every single job you do in a school office within the 26 years," Mirta said.
Nieves moved on from Springview to Palmetto in Sept. 2000 to ease her burden of commuting to Miami Springs for work and driving two of her children to Palmetto for school. Mirta began working at MPSH as a payroll secretary when Mrs. Hupp was principal, and eventually took on the role of principal's secretary alongside of that due to budget cuts. She has since been the secretary of Mr. Weiner, Dr. Harley and now Ms. Dobbs. This role coupled with being a substitute locator and organizing the payroll for all of the employees at Palmetto fills Mirta's day with an extensive list of demands.  
"My job is very time- sensitive. Everything has a deadline and I have to have everything by a certain time. It's like this from the time I walk into the time I leave. It doesn't stop," Nieves said.
When Mirta leaves the office everyday, she spends copious amounts of time with her four grandchildren, two of which she picks up from school after leaving work. Nieves lives with her parents, her husband, her son, her daughter, her son-in law, two granddaughters, her nephew and her two shih tzus. She collects clothing for the homeless and donates them to charities in her free time. Mirta also advocates for animal rights through People for the Ethical Treatment of Animals (PETA).
Alongside her efficiency at work and generosity at home, Dobbs noted that Mirta has the unique ability to soothe and redirect others through difficult situations.
"Even when you're having a frustrating moment she can come into the office and she has a very lovely smile and she's so sweet… She can make that bad moment kind of disappear," Dobbs said. "Her temperament is really very conducive to making my job easier."
Data Specialist Bonnie Karriger agrees. She works at a desk across from Nieves and came to Palmetto this year after working at Killian for 28 years. Karriger remarked that Mirta helped her transition to the new school through her welcoming attitude.
"[Mirta] helped me understand how this school works and how loving this school is," Karriger said. "She represents it as a wonderful loving school and how the teachers care and the staff cares and she's just like that all the time."
Dobbs believes that Karriger is not the only employee who fully appreciates what Mirta brings to Palmetto's staff.
"All the rest of the office staff love her. We were super happy that she got it," Dobbs said. "She deserves it."