Serving for Greatness
March 9, 2016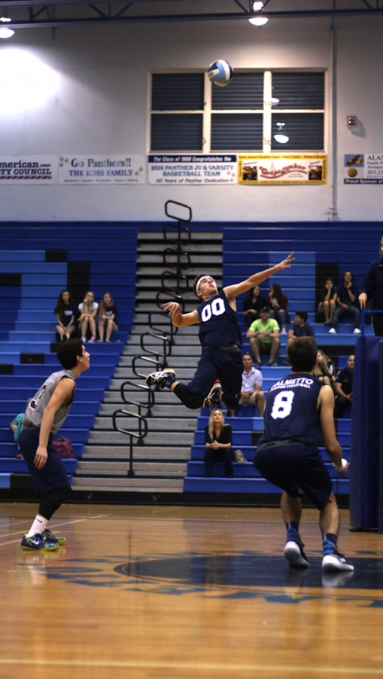 Sophomore Luke Arill had no idea volleyball would have a major impact on his life. Arill began to play competitive volleyball four years ago and quickly developed a passion for the sport.
"My passion for volleyball separates me from other players because my family has played volleyball and I was born to play," Arill said.
Arill has played for three different teams including: Miami Volleyball Academy(MVA), Miami Select and Palmetto. He was taught how to play the sport by his father, who used to coach Sunset High School's volleyball team and has played the largest role in developing Luke's passion and performance on the court.
Arill's dad initially taught his sister, Addie, a senior at Palmetto, how to play volleyball which later encouraged Luke to try out for Palmetto's Junior Varsity team in his freshmen year.
"My dad inspired me to play volleyball because he coached college and high school volleyball and he later got a bacterial infection which made him lose two legs and his right hand. After, he still went back to coaching, but then retired and taught me to be a good player like he was," Arill said.
Arill is in his first season on the varsity team and is already achieving and attaining high regard and respect from his teammates.
"Luke helps the team by serving well in the games, being a great teammate, and always being the funny guy on the team," senior and teammate Hugo Henry said.
The Palmetto Varsity volleyball team practices every day for two hours after school, and Luke is currently the only sophomore on the varsity team. Arill prepares for his games mentally by listening to music and thinking about the game plan. Arill then prepares himself physically by stretching, making sure he is fully hydrated and running.
"Volleyball is a fun sport because when you hit the ball hard and get a kill, all your teammates are all pumped and the crowd is screaming," Arill said. "You have to be very athletic, smart, and have good technique to succeed though."
The Panthers are off to a 1-1 to start this season, beating Columbus at Columbus but losing to Killian at home. Arill hopes to contribute to the varsity team this season after making a large impact on the junior varsity team last season.