Seniors Hit the Court One Last Time
January 25, 2016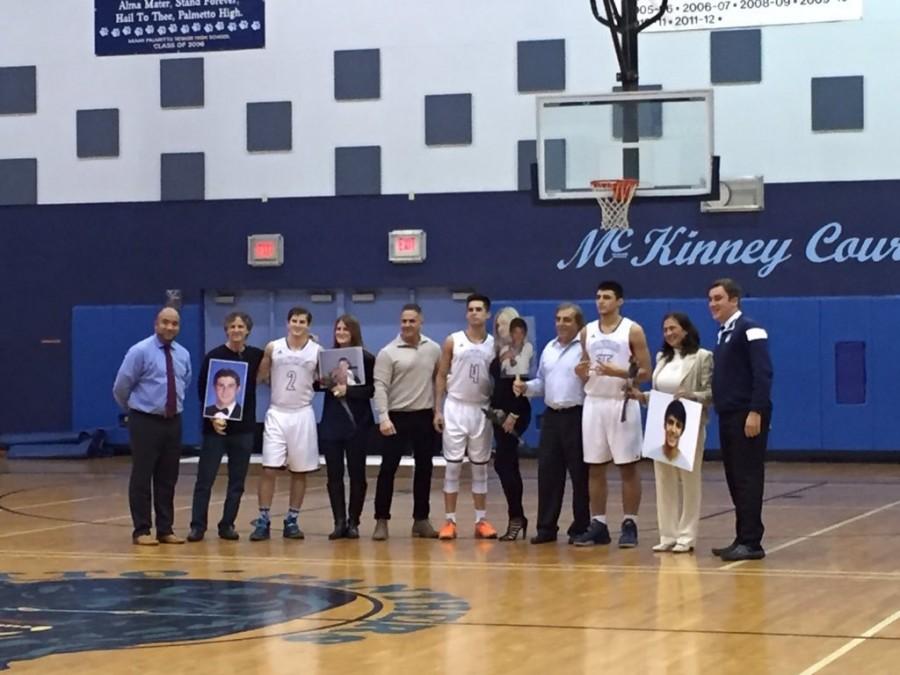 The Palmetto Panthers Varsity Basketball team hosted their last game of the 2015-2016 season, against the Southridge Spartans on January 20th. The Panthers finished their season 6-16, This night was not only significant because of it being the last home game, but it also marked the end for the seniors basketball careers at Palmetto.
The three seniors on the team, Jacob Eisenberg, Iason Arvanitopoulos and Tyler Escobar, started their last games as Panthers. Jacob Eisenberg has been playing basketball for eight years, Iason Arvanitopoulos has been playing for seven years and Tyler Escobar has been playing basketball for Palmetto the past three years.
"My thoughts are how amazing time flies by and how I'm glad I always left my heart and gave my all on the court no matter if it's practice or not, I just wanted to win everything," senior Tyler Escobar said. "Hard work beats talent when talent doesn't work hard."
During halftime, each of the seniors were personally recognized for what they have contributed to the Panthers this season and seasons prior. They each took pictures with their family and held a rose in their hand while doing so.
"Even though we lost the game I couldn't ask for anything more. All that mattered was for me to have fun and be with my family in my home gym one last time," senior Iason Arvanitopoulos said.
The cheerleaders cheered on the three seniors by wearing red ribbons on their heads to support them and show thanks and appreciation towards their contributions to the basketball program.
Friends of the seniors made posters of the players' senior pictures and used them to show their support.
Although the Panthers lost the game 34 to 73, the seniors' fighting attitude throughout the season will not go unnoticed.