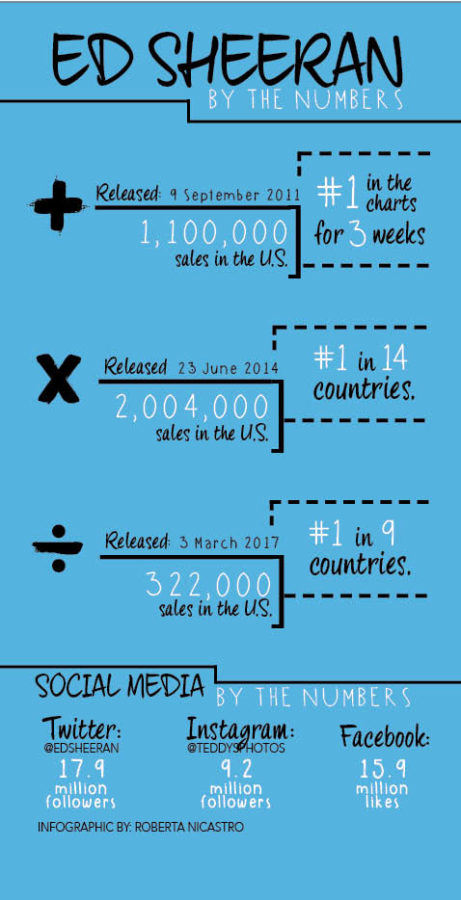 Reviewing Ed Sheerans "Divide"
March 26, 2017
December of 2015, English pop-rock and acoustic singer and songwriter Ed Sheeran posted a statement on his social media accounts saying he would be taking a break from all networking outlets, to take a year off. As fans marked the days off their calendars, counting down the days until he would get back, Sheeran fell off the grid for a year exactly. When December of 2016 rolled around, low and behold Sheeran came back on social media and announced he would be going back on tour, fans scrambled around wondering when he would release new music.
On March 3, 27 year old Ed Sheeran released his third album "Divide" following the mathematical footsteps of his older albums, "Plus" and "Multiply" to the public and fans immediately responded positively. This album displays a very unique perspective compared to his other two albums because of the cultures incorporated in songs such as "Barcelona" and "Bibia Be Ye Ye" plus the stories behind the lyrics of each song. As fans waited for his album to come out, Sheeran released his first two leading singles to the public in early January, "Shape of You" and "Castle on the Hill." Then two months later, he released the rest of his 16-track album, which is his best album yet.
Starting with Sheeran's first released song, "Shape of You" he describes a not-so-traditional love story; meeting a girl at a bar and instantly falling in love. Fans automatically responded with enthusiasm for his similar pop beats and the new mixture of instrumentals such as the guitar, xylophones and percussions. In his previous albums, most of his songs discuss the topic of love and heartbreak which represent a more emotional feel, however, Sheeran's "Shape of You" reveals a more physical relationship, "I'm in love with your body." Although many love this song for its pop feel, this song in comparison with the rest of the album has no power over their hidden meanings and powerfully emotional lyrics.
Ed Sheeran's second release "Castle on the Hill" tells the story of his life, chronologically from the age of six to his adult age. Although this song has a more upbeat feel compared to some of his other songs, the lyrics are very emotional. At first it sounds like he only talks about a girl because of the chorus, "And I miss the way you make me feel," but after a couple more listens the deeper meaning talks about his upbringings. He starts off with singing about breaking his arm at the age of six and then begins sharing his teenage years, singing to "Tiny Dancer" by Elton John and at 15 smoking hand-rolled cigarettes and drinking with his friends. In the bridge of "Castle on the Hill" he shares all the people who helped raised him in his hometown of Halifax, West Yorkshire, England, "One had two kids but lives alone, one's brother overdosed, but these people raised me…" This song proved very overwhelming at first because of the sentiment and pain behind the lyrics, but seemed one of the most personal songs Sheeran has ever written. The end of the song was brought to a perfect ending when he did his famous raspy scream-like note, "When we did not know the answer." By this time, all you want to do is drive down the country lanes and sing to "Tiny Dancer" just like Sheeran did when he was younger.
Following "Castle on the Hill," the first song on Sheeran's album is "Eraser," which differs from all other songs on this album and previous albums. This song's mixture of hip hop and a chorus layered with his strong vocals and an instrumental backing of acoustic guitars, discusses the hardships endured because of fame: the ruin of his relationships added to drinking and smoking too much. Although this song is not the traditional soft pop rock that Sheeran knows so well, the lyrics really describe his personal trials with fame and relationships.
The third song on his album, "Dive," sounds more like a traditional Ed Sheeran for his soft instrumentals and the emotional part of love he describes. "Dive" provides background female singers which give the song more emotion and melodies, sounding similar to one of his most famous songs, "Tenerife Sea," from his previous album. This song describes his confusion with a particular girl and her intentions with him, "So let me know the truth before I dive right into you." Roughly two minutes into the song, in comes the electric guitar which gives a rock-feel to the song and provides a different perspective.
The next two songs, "Happier" and "New Man," while both very different compared to each other, both provide the same message of seeing his ex-girlfriend with another man. "Happier," is definitely very emotional as Sheeran describes his point of view of the failed relationship, walking down 29th and Park, seeing her happier with another man and how everything reminds Sheeran of her. The different use of guitars, drums and piano in this song provide mature lyrics and a more steady beat that accompanies the ballad well. "New Man" differs from "Happier" because the lyrics provide a mocking tone to his ex-girlfriend's new boyfriend. At first listen, the beginning of the song sounds similar to the voice of artist George Michael, which while completely unexpected was greatly appreciated. The entirety of the song shows Sheeran's thoughts on the new boyfriend by pointing out all his obnoxious characteristics, "I heard he spent five hundred pounds on jean/tribal tattoos and he don't know what it means." This song provides a sense of humor unlike the other songs in the album, therefore completing it perfectly.
The most unique songs on "Divide" are "Bibia Be Ye Ye" and "Barcelona" because Sheeran not only speaks fluent Spanish in the song "Barcelona," but incorporates the Ghanaian dialect in "Bibia Be Ye Ye." "Barcelona" is a very upbeat song that incorporates Barcelona's vibrant history and culture along with historic cities into the song, "La Sagrada Familia," and "La Ramblas." "Bibia Be Ye Ye" (translating from the Ghanaian dialect to "everything will be alright") has a very influential and positive vibe in the song because of the reggae feel along with the background vocals and different use in instruments.
"Supermarket Flowers" pulled serious heart strings because it included some of the most endearing lyrics ever written with the soft piano that accompanies. Love seems to be the topic that most artists gravitate towards but Sheeran took the topic to another level by writing this song from the point of view of his mother. Listening to this song the first time meant automatic tears because of how he portrays the death of his grandmother. The mixture of vocals, the piano and the lyrics make this song so special. He begins by describing the exact scene of her death.This song it describes his mother's perspective of seeing her own mother pass away. At the same time, he talks briefly about heaven and God in his chorus when Sheeran said, "Spread your wings as you go, when God takes you back he'll say Hallelujah. You're home." By far, this is the most influential song he has ever written and the power in the lyrics give listeners a perspective into his life because this song demonstrates one of the most personal he ever written, "A heart that's broken is a life that's been loved."
The rest of Sheeran's songs on "Divide" prove unique in their own way such as "Nancy Mulligan," for the Irish incorporated themes, "Save Myself," for his perspective on life, "Galway Girl," for the hip hop feel, "What Do I Know?" for the brief description of his relationship with his father and his dreams, "Hearts Don't Break Around Here," for the indie sound and sweet perspective on a relationship. Finally the last song "How Would You Feel (Paean)" describes Sheeran falling in love.
Over all, the personality in Ed Sheeran's third album "Divide" seems the most influential album he has ever released. There are no bad songs on this album and it gave listeners a wider view on his life and definition of love and heartbreak. All the songs tell a unique story with his mature lyrics, different instrumentals and the different cultural sounds that complete his third album perfectly. "Divide" deserves a 10/10 overall and it's safe to say most would think so as well, but what do I know?
Favorite songs: Supermarket Flowers, Castle on the Hill, New Man, Eraser, Dive, Happier, Barcelona, Hearts Don't Break Around Here, Bibia Be Ye Ye, Perfect
Least favorite songs (but still good): Nancy Mulligan, Galway Girl, Shape of You, How Would You Feel (Paean), Save Myself, What Do I Know?