PTSA Presidency inspires political calling
January 20, 2016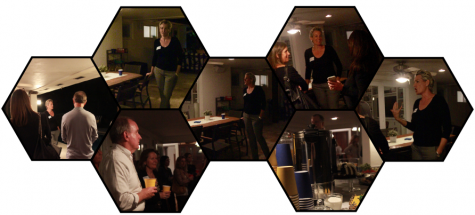 [heading size="22″]Getting started[/heading]
A passion for Palmetto High School has fueled Anna Hockhammer's passion for the Village of Pinecrest. Anna is in the race for for Pinecrest Village Council Seat #1 with Election Day on Tuesday, November 8, 2016. The Pinecrest mother of three– Sophia, 16, Gracie, 13 and Vivian, 10– has been an advocate for improving education her entire life. She grew up in Michigan and then attended Northwestern University, majoring in Comparative Literature with a specialization in Latin American Literature. Hockhammer, following the advice of one of her professors, moved to Quito, Ecuador to earn a Master's Degree in Latin American Literature.   There she met her husband, Roger, and took up residence with him. She remained in Quito for 15 years before moving to Pinecrest in 2009 with her three daughters.
During her time in Ecuador, Hockhammer taught middle school algebra and got involved in many community service opportunities. One of which, Fundación Saltamontes, put together private and public partnerships to help create children's libraries in the poor neighborhoods of Quito. Hockhammer then founded a group by the name of Professores para Professores which provided free professional development to public school teachers.
When she arrived in Pinecrest, she did not know anyone and sought friendship from the fellow parents involved at the Parent Teacher Student Associations at her daughters' schools. This early interaction and involvement sparked her passion for the PTSA and she is now serving her second term as President of the Miami Palmetto High School PTSA.
[heading size="22″]Inspired by the Palmetto PTSA[/heading]
Her membership in and leadership of the PTSA opened her eyes to the struggles and frustrations of the almost 8,000 students learning within the schools of the Pinecrest community, 4,000 of which live within Village limits.
"It was imperative that Palmetto become a significant political actor so that the needs of our community were met," PTSA President Hockhammer said. "We set out to become known to the politicians that represent us."
She strongly believed that by getting to know the members that represent the Pinecrest community, the PTSA would in turn receive an increase in response and resources from the government when help was sought.  These relationships shined through in planning the Color Run; the aid of the Mayor and Council members of Palmetto Bay made the event possible.
It became increasingly important to the PTSA president that Palmetto be represented in the Pinecrest government. She became more involved in the workings of the Village of Pinecrest's planning, budgeting, workshops and council meetings. This led to relationships with the people working to run the Village.
"I know she is going to be a great liaison between the school and the Village," PTSA Third Vice President Dina Lara said.
Last fall, after encouragement, Hockhammer decided that she should jump into the race for an open seat on the Council.
"It's always good to have someone on the Village Council in the local [Pinecrest] schools' corner," Palmetto's Activities Director Elizabeth Valero said.
[heading size="22″]Work to be done[/heading]
Within the Village Council, there are five seats: three seats based on location. Nonetheless, every voter in the Village may vote for each Seat. The fourth seat can be held by anyone throughout the Village and the final seat is for the Mayor. The fact that the Village Council has the ability to design Pinecrest's strategic plan and set the budget is of great significance.
"I think it's a Village that needs some real work on communication," Hockhammer said. "It's the biggest challenge we've had in the PTSA. It's effectively communicating with 1300 families and 2600 students… There are too many people in Pinecrest who are disenfranchised from the local political process."
Hochkammer has reached her term limit as PTSA President and looks forward to working with next year's president. Fall, the PTSA's busiest time of year — bringing in 80 percent of PTSA's total funding– coincides with election season, making it difficult to be involved in both. Yet, Hochkammer hopes to chair a PTSA committee and stay involved.
"The public schools and the families in Pinecrest will really benefit from having people on the council with school aged kids," Hockhammer said.
Hockhammer represents the families of Pinecrest and has a vested interest in the village as someone who uses its parks, gyms and other resources that make Pinecrest a family-friendly community.
[heading size="22″]Upcoming plans for the PTSA[/heading]
The PTSA delivered and analyzed surveys showing the views of every student at Palmetto in relation to the PTSA, in an effort to become certified as a PTA of Excellence. A PTA of Excellence is one that meets the vision of the PTA on a national and local level. They are now working to productively respond to the results of that survey and then survey Palmetto again, in hopes of seeing improvement. They discovered that their biggest weakness was in the area of communication.
"We realize that we serve a very large and very diverse international population and we realized that we weren't communicating with them in any language other than English," Hockhammer said. "So we decided to create the Palmetto Ambassadors program in order to cater to those families who need help communicating with teachers and administrators in other languages."
The Palmetto Ambassadors program is a collection of students and parents who are fluent in more than 12 languages, from Spanish to Mandarin and even Farsi. The PTSA also plans to place signage in other major languages throughout school and communicate to parents about the resources of the Educational Excellence School Advisory Council (EESAC) committee and the school improvement plan.
The PTSA has raised over $25,000 from their first campaign for excellence that will go to re-equipping the weight room for Palmetto's athletes. The next PTSA fundraiser is the VIP Auction. Inspired by a similar event held at Palmetto Elementary School, the VIP Auction is making various items available to seniors, that include everything from preferential parking to VIP Graduation seating.
Hockhammer looks forward to a lot of fun during the next few months of her campaign leading up to election day.
"There is nothing that I like more than standing around and chatting with people, so I must be a born politician," Hockhammer said. "That is to me, the best way to spend an afternoon."
She spends everyday talking to people and has three to four small fundraisers a week. She gets endorsements, donations and invites daily.
"I've been talking to people about Palmetto for years," Hockhammer said. "Now I talk to people about Pinecrest."