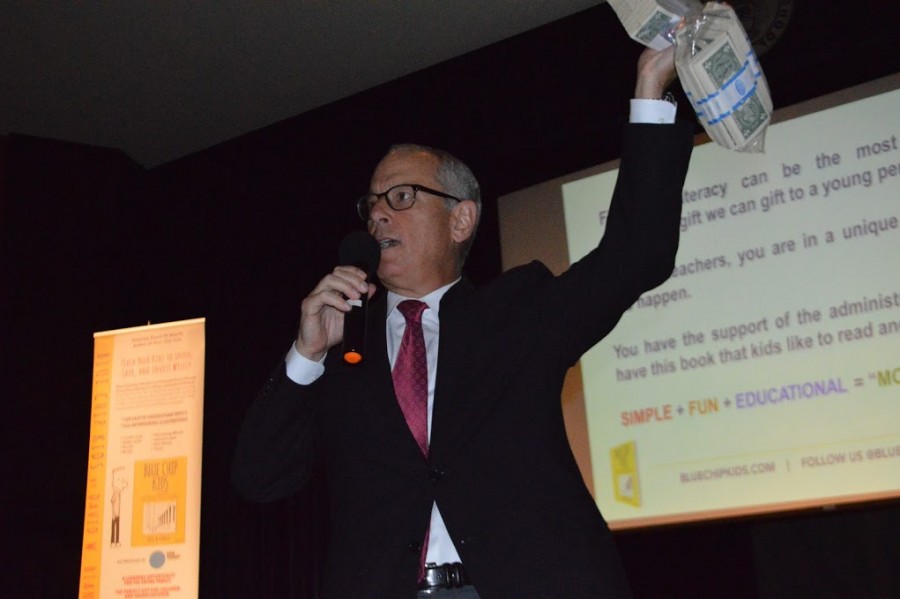 Panthers talk Blue Chip Kids
January 11, 2016
On Friday, Palmetto's Distributive Education Clubs of America (DECA) hosted their fifth official Panther Talks. Attorney and author of Blue Chip Kids, David Bianchi, visited Palmetto to educate students about the basics of finance and money management. Bianchi's book, directed toward children of all ages, offers a fun and simple directory toward how to invest money, how to manage earnings and how to build substantial savings.
Bianchi credits his inspiration for Blue Chip Kids to his 13 year old son, Trent. Bianchi arrived at the realization that students have not received adequate training in basic money management and felt compelled to ensure his own son's future. Soon enough, he saw the demand amongst fellow parents.
"Parents everywhere say the same thing," Bianchi said. "'I wish I had this when I was a kid,' 'How come they don't teach this in school?' and 'I'm going to get this for my kids but I'm going to read it first 'because I don't know enough about it either.'"
After a feature in USA Today, Bianchi's presence in the finance and education has gained traction, even attracting Vice Chair of the Miami-Dade County Public School Board, Dr. Larry Feldman to Friday's Panther Talks.
"This Panther Talks became especially important when we found out Dr. Feldman would be coming," senior and DECA member Victor Lovo said. "We just want all students to have access to the valuable information that us DECA members have."
Bianchi's book is available for purchase in major retail book stores, on Amazon and on iTunes.