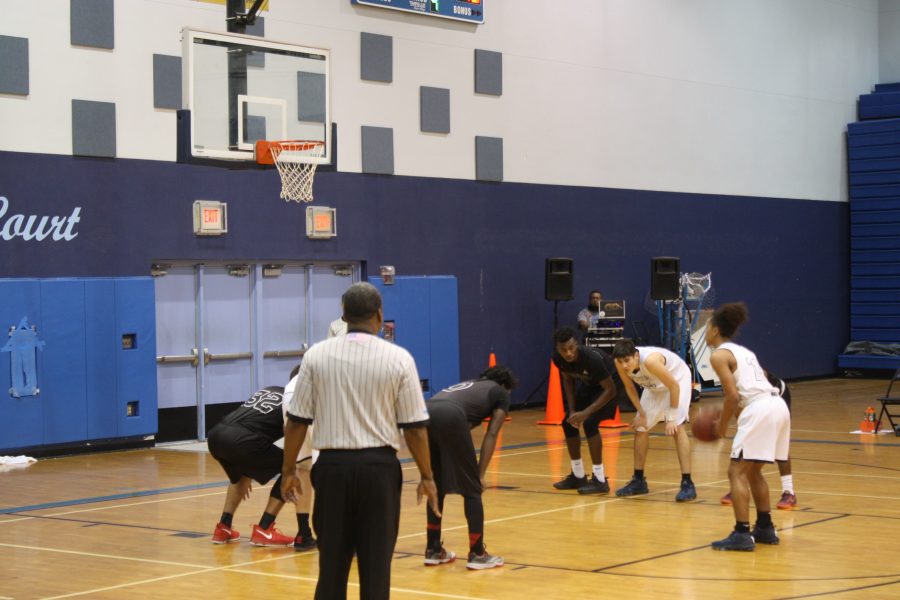 Panthers basketball wins thriller and keeps dream season alive
February 17, 2017
On February 16 at nine p.m., Palmetto's varsity boys basketball team defeated the Coral Gables Cavaliers in triple overtime on McKinney court. The fretful match began at 7 p.m.; tickets were sold for seven dollars and lines extending outside the gymnasium filled with eager fans waiting to enter. The fans saturated the stands with blue and white.  
"The crowd was great.  They gave great energy, but we definitely could get more people out there," senior shooting guard, Matthew Hellinger said.
Palmetto advanced to the Regional Quarterfinals after winning the District 9A-16 Championship last week against Killian by a margin of  65-56. The team has been training non-stop to get to this point and they do not plan on stopping here.
"In order to prepare for all of these important games, we have been following scouting reports," senior guard Justin Shinhoster said.
The game kept everyone on their toes, as  neither team showed signs of retreat.  In the end, Palmetto's tenacious attitude paid off. In the last ten seconds of the game Palmetto gained possession, and point guard Mikal Starks scored the game-winning layup with one second remaining, resulting in the final score of 63-61.
"Our goal is always to win. There's no doubt about that," Hellinger said.
After the team won, the whole gym roared with excitement, releasing pent up anxiety from the intense game. The team joined at center-court to celebrate.
"We had to keep the same mentality throughout the game, no matter how much over time there was, it ended up being the the funnest game I have ever been a part of in my life," Shinhoster said.
The team will now advance to the semi-regionals, taking on the South Miami Cobras this upcoming Tuesday, February 21 at Mckinney Court in the hopes of progressing to states for the first time since 2010, when Tim Hardaway Jr., who is currently a shooting guard for the Atlanta Hawks of the NBA, was on the team.
"For us, we are looking at each game one by one, with our goals set for a state championship of course," Hellinger said. "We have the talent and drive to achieve our goals, and we sure have the confidence to get there."