Girls Lacrosse bids farewell to their season
April 9, 2016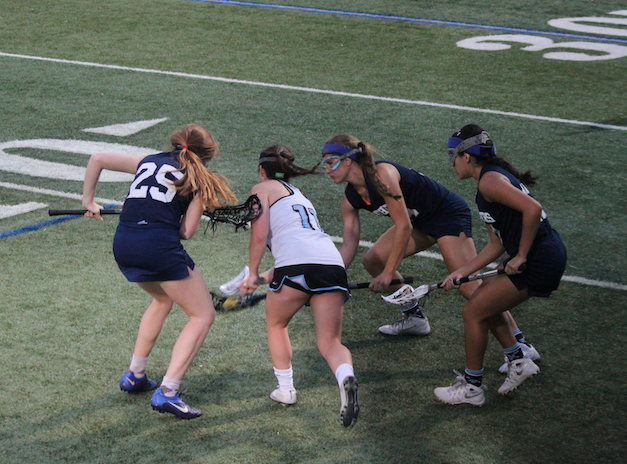 On Wednesday, Apr. 6, the Palmetto girls lacrosse team lost in the District 31 championship against the Ransom Everglades Raiders by a final score of 18-3. The match concluded a 12-game season, that saw the Panthers finish second in the district and have their most successful season in six years.
"It was a good end to the best season I've ever been part of at during my four years at Palmetto," senior captain Christina Miranda said. "Our players were definitely discouraged but we all realized this was our last time on the field this season and just had fun with our last game."
Between pep talks from coaches Alexander Osuna and Selina Pirkau during halftime and encouraging yells from a crowd of parents and friends during plays, Palmetto did not lack motivation. The Panthers were, however, exhausted due to a grueling quadruple overtime victory in the district semifinals against Coral Reef the night before.
"Even the Ransom coach talked to us after and said that she respected us for running the whole game and performing even after the game we played the night before and it was unfair to us," sophomore and defensive player Michelle Monjarrez said.
The Panthers were large underdogs, since they had yet to beat Ransom Everglades and were at a disadvantage since Ransom had more rest and home field advantage. The turf field, with which a ball loses momentum quicker, and sore legs from the Coral Reef matchup also weighed in on the way Palmetto played. According to Coach Osuna, they played with the right attitude and drive throughout the game.
"I am very proud of the way that the entire team kept playing and cheering till the last second of the game," Osuna said. "I believe that their attitudes, even after the game, showed how mature and responsible they are."
Osuna wants the girls playing next year to keep in mind that merely getting to the district finals took an exceptional amount of hard work. Monjarrez said that in preparation for the game, the team went over the basics and practiced sprints to ensure a solid foundation. Monjarrez said that the loss brought the team closer together despite the disappointing end result.
"The only other people that really understand what you're feeling and how it felt to be on that field are your teammates," Monjarrez said.
The team remains optimistic about how the season turned out and hopes for an even better one next year.
"We're ready to get that district title next year because we are #hungry, #determined and #resilient," Monjarrez said