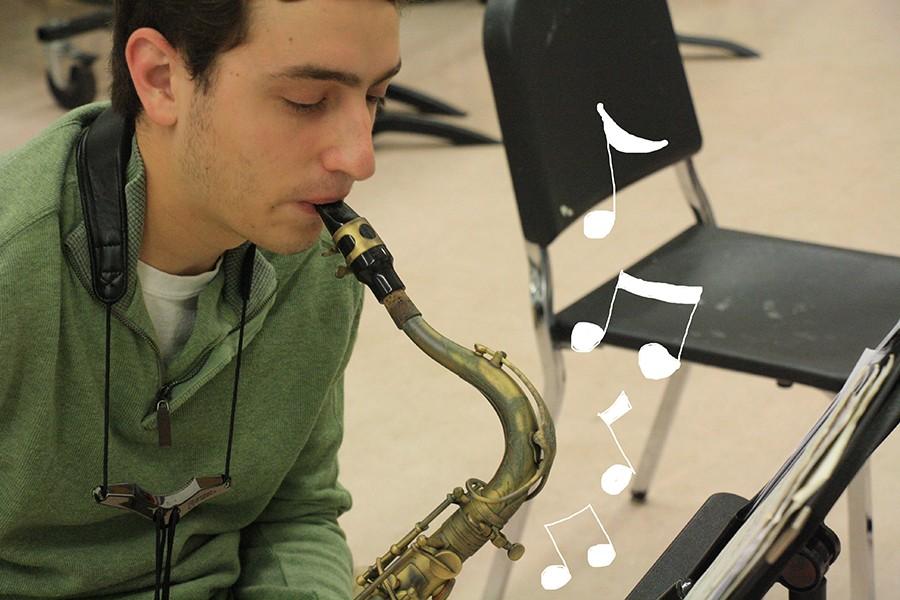 Jonathan Schleien: From inspired to inspiration
January 10, 2016
Senior drum major, Jonathan Schleien, holds the highest leadership position in the marching band, leading and conducting the band. Schleien also plays lead tenor for the jazz band. His start in music began at a temple service his parents dragged him to when he was in the second grade.
"I learned the drums and when I [started] middle school, I joined the band class because of that," Schleien said.
He now plays the saxophone and clarinet, after losing touch with his first instruments- the drums, and the french horn, which he loathed. Schleien's array of musical knowledge and dedication to marching band and jazz band influenced his leadership positions in both and allows him to manage both roles.  
"Being drum major has been both the best and hardest thing I've ever done in high school," Schleien said. "It's taught me that true leaders lead by example in order to gain respect so that they have legitimacy in their leadership."
As a leader, Schleien values developing relationships with his band. Fellow band members praise him for being a hardworking individual who sets a high standard while remaining thoughtful..
"He is a very understanding and caring person. He's like family to the band and I," junior band member Grace Orlando said. "He has shown me that you can be a leader but not berate us at the same time."
Schleien demonstrated that it is possible to balance five challenging Advanced Placement (AP) classes and still dedicate the necessary effort to excel in band. For him, band is not simply another class, but both a break from his other classes, and a place to continuously explore his passion for music.
"He's inspiring for me because if I can get students like him to take a bunch of AP classes and still commit to the program, with the amount of effort and time that he has put into it, then that means that there's more students like him," band teacher Kennan Torgerson said.
Torgerson is not the only one that he inspired. In Schleien's junior year, he played the saxophone with the All-Army Jazz Ambassadors during a song before an audience of one thousand people, mostly professional jazz musicians and enthusiasts, at the South Dade Cultural Arts Center. Schleien and his fellow performers were approached in the lobby after the show by a man from the audience, who admitted that the performance caused him to find his love for jazz again. He was inspired to pick up the saxophone after many years away from music.
Schleien was touched by the fellow jazz musician, who saw him the same way he had once seen the drummer at his local temple. Music has become an integral part of him, and has greatly impacted the way he sees life.
"I think the world would be a lot less colorful if we didn't have music to express ourselves," Schleien said. "Despite being different around the world, music is one thing we share as humans, and I think life would be very black and white if it weren't for music."