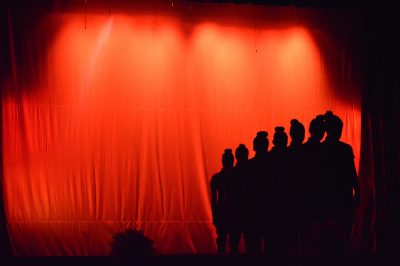 ICYMI: Fall into dance
November 15, 2015
On the evening of November 12th, parents and students alike gathered in the auditorium to watch Palmetto's annual fall dance show, unprepared for the extraordinary performance they would witness. This year, the production featured dancers from Studio 33 and Howard Drive Elementary performing alongside Palmetto's Variations and Palmetto's dance levels one through four.
Howard Drive's dance team brought the heat with their hip-hop dance to Pitbull's "Fireball" and things cooled down after a Variations number with a modern dance to I Will, in light, flowing, blue and purple dresses.
Through Japanese, camouflage, Indian and American business woman costumes, Palmetto dance teams fully represented not only diversity at Palmetto, but also diversity across the nation. Between different choreographers, dance levels and outfits, dance themes ranged from 'sexy soldiers' to 'conservative coworkers', and the audience enjoyed every bit.
"It's actually a funny story. The costumes were in the costume closet and we loved them and how fun they were so we thought we would do a dance inspired by that." said junior  Anabelle Paz.
Even so, the crowd grew wild as the Variation's Sweethearts took the stage.
"I'm really looking forward to the environment," said Sweetheart Sy Lam. "We've been practicing and having a lot of fun"
The boys showed off their Two-steps, taught to them by senior Variations, while warning the audience to "please watch your step because "I'm feeling myself". Sweethearts pumped up the audience and themselves successfully this year, as they watched wide-eyed when senior Garet Weinstein gracefully leaped into a fellow Sweetheart's arms.
"Four days, four practices, a week and a half," said senior and Sweetheart Nathaniel Parker said. "I'm looking forward to being better than the actual Variations."