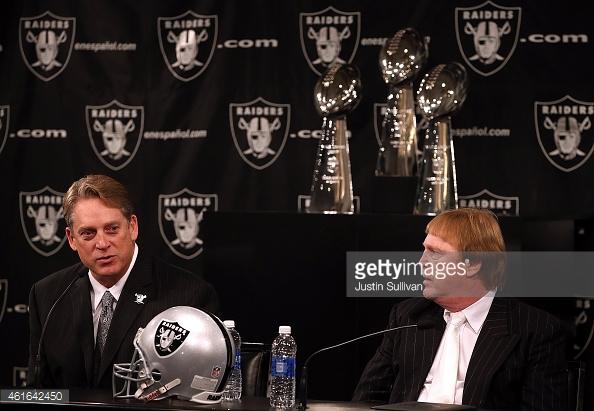 Justin Sullivan
From a game to a business
March 27, 2017
The Oakland Raiders, after going 12-4 during the 2016 regular season, made the playoffs for the first time in 14 years, losing to the Houston Texans in the wild card round. Giving the fans reason for hope for the first time in a long time, the Raiders were beginning to make some noise as a Super Bowl contender. Fans woke from this dream today though, as the Raiders announced that they would be moving to Las Vegas at the conclusion of the 2018 season. Not only did this move shock their fans but the players on the team were also surprised by team owner Mark Davis's decision. Although the move will occur gradually, Raider fans could not be more dazed by the decision.
Beginning in 1960 as an AFL team, the Raiders have an extensive history in Oakland. The Raiders won the AFL championship in 1967, and won their first out of three Super Bowls in 1976. Then, in 1982, they moved to L.A., where they played 12 seasons as the Los Angeles Raiders in Los Angeles Memorial Coliseum. They moved back to Oakland in 1995 and have played in the Oakland Alameda Coliseum since.
The franchise has been used to winning since its inception, and their fans have carried out a "Just Win Baby" mantra throughout recent years, a quote coined by late owner Al Davis. Even though the team was on a playoff drought for the better part of the 2000s, the fans known as 'The Black Hole' still came to support their team. Now, with the move to Las Vegas, you must wonder what these loyal fans have been thinking: has the NFL become too focused on money?
In a 31-1 decision by NFL owners, the Raiders successfully were granted their approval to relocate for future seasons by the NFL. They did not begin this trend though, as the San Diego Chargers and the St. Louis Rams announced that they would both move to Los Angeles over a year ago respectively.
As a way to generate more revenue and attract more attention to the NFL, teams have begun to move to larger television markets in the past few years. The Raiders are expected to move into a stadium priced at about 2 billion dollars and have 750 million dollars in public financing. More money will be poured into the project as Bank of America is expected to give a 600 million dollar loan and the NFL to give 200 million dollars which includes revenue and more deals.